At The Australian Open With Marcia Frost...

Friday, January 21st-
Main Draw, Day Five
Junior Qualifying, Final Day
It seems to be late in the night when the sun stops shining on Melbourne and Friday was no different. As temperatures hovered around 90 degrees and the sun was beating down, a cool wind also blew through the courts, making play a little challenging, but keeping spectators from overheating.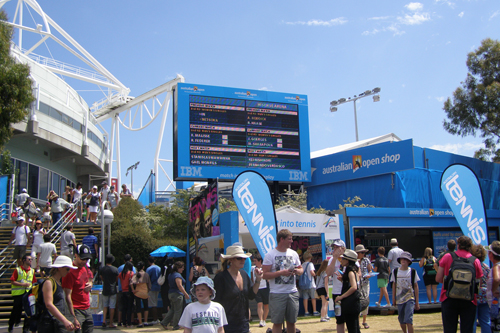 Without any past, present or future college players to watch in the first part of the day, I caught up on some work while I kept an eye on Andy Roddick's match against Robin Haase. I had to wonder if Andy was even awake in the first set as he dropped it 6-2. It wasn't until the middle of the second that he seemed to come alive, taking that set in a tiebreaker and easily winning the next two.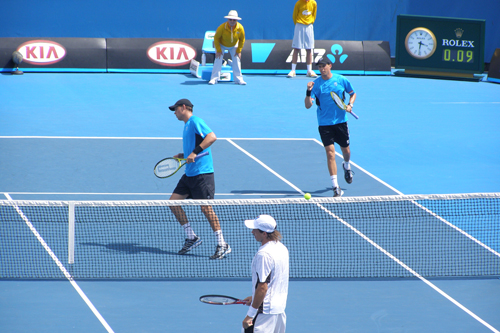 I never pass up a chance to watch Bob & Mike Bryan play and today was no different. They came one step closer to the Grand Slam with another win today. For a moment, it looked like it might not happen as they were in a close one. After a tight first set with no breaks, the match with Carlos Berlocq of Argentina and Pere Riba of Spain headed into a tiebreaker .
The Bryans got themselves into a hole in the tiebreaker as they were pulled wide on the court in some tough points. Down 2-5, the unseeded duo continued to dominate the court until they had three set points at 6-3. It seemed like the perfect moment for some quick points, and that's just what Bob Bryan did, pulling out two aces. The third match point disappeared in a double fault and it was the Bryans who took the next two points for a 7-6(6) set. The second set was a piece of cake in comparison and the twins closed it quickly with a 6-3 score.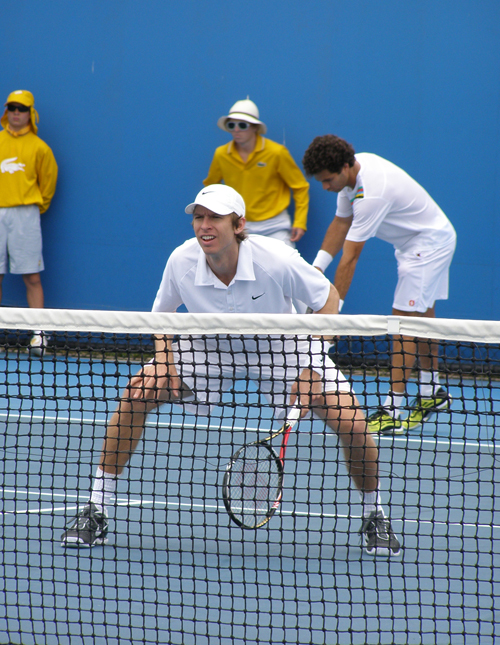 Eric Butorac, who played NCAA Division III tennis for Gustavus Adolphus, has forged a great professional tennis career in doubles and today was certainly one of the highlights. Eric and partner Jean Julien Rojer not only made their way into the third round, but they did it with an upset over one of doubles greatest.
Mark Knowles, a former player at UCLA, has enjoyed the title of being one of the greatest doubles players of all time, once sharing the world No. 1 spot with partner Daniel Nestor. Mark Knowles owns four Grand Slam event titles, the last of which was the 2009 Mixed Doubles with Anna-Lena Grönefeld. The Bahamian is playing this year's Australian Open men's doubles this year with Slovakian Michal Mertinak. The 12th seeded duo ran into a roadblock today and it was led by Eric Butorac.
The first set was full of long games with multiple deuces and terrific doubles from both teams. Mark & Michal broke for a 4-3 lead, but they lost the break at 6-5 and then headed into a tiebreaker. Despite some great points, the breaker belonged to the Eric & Jean Julien at 7/2 and they carried the momentum in the second set, even though a group of "Knowlezees" serenaded their namesake with hopes of getting a break. It wasn't going to happen as Eric Butorac & Jean Julien Rojer pulled out not only an upset, but one sealed with a shutout second set.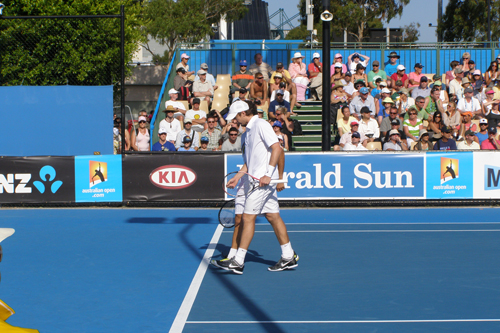 Qualifying for the Junior Championships concluded today. It was offsite, over an hour from Melbourne Park, so I was unable to attend. In the boys draw, Bruno Sant'Anna of Brazil (1), Darius Florin Bragusi of Romania (who upset second-seeded Amercan Shane Vinsant), Oriol Roca Batalla of Spain (3), Jaden Grinter of New Zealand (9), Thanasi Kokkinakis of Australia, Axel Alvarez Llamas of Spain, (10) Thomas Szewczyk of France (14) and Mac Styslinger of the United States (8)advanced to the main draw. The girls qualifiers were Abbie Myers of Australia (13), Kanami Tsuji of Japan (2), Natallia Vavulina of Belarus (3), Teiwa Casey of Australia (15), Riko Sawayanagi of Japan (6), Azra Hadzic of Austalia. The final two matches -- Nigina Abduraimova (5) vs. Lina Padegimaite (9) and Mana Ayukawa (8) vs. Ashley Keir -- were still continuing into the night.
The Junior Championships begin on Sunday. In the meantime, I'll be back to catch some doubles and mixed doubles.
A special thanks to Tourism Australia and Tourism Victoria for making my Australian Open coverage possible.
Use Dosh to pay you automatically when you shop, travel, & dine out. Download app now. Link a card, and get a $5 bonus





Ibotta for Cash Back on Groceries AND Online Shopping
Earn Cash Back on your online purchases with Rakuten






A Few of My Favorite Things



The Mental Athlete

See A Review




Join Fabletics & Get
2 Pairs High Quality Leggings for $24










Inexpensive Grocery Delivery
At Instacart
Fetch Rewards
Use code V4NJK at sign up and get a $2 bonus
$12 off on your 1st
GrubHub order with this link!
Return to:
College And Junior
Tennis Homepage