At The Australian Open With Marcia Frost...

Saturday, January 22nd-
Main Draw, Day Six
I took advantage of the waiting time until the juniors get on court tomorrow to check out a bit of downtown Melbourne before I went to catch another John Isner classic.


I didn't need to rush to Melbourne Park, so I took a little time to walk through downtown Melbourne before heading down there. The streets were packed with people sightseeing and watching the matches on the giant screen by Flinders Station. I had used my willpower all week while looking at the delicious pastries in the media restaurant, but it was getting a bit more difficult as I walked down the street passing shop after shop of delectable goodies.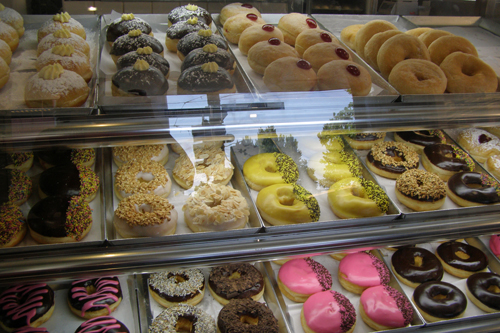 I was rather surprised at just how many coffee and dessert spots there are downtown, along with the fast food restaurants (and even a 7-Eleven). I finally succombed at Walker's Doughnuts to a custard-filled, chocolate frosted treat -- and then decided to walk the extra mile to the matches instead of taking the tram. It was a great way to take in the views (and burn a few calories) and I was pretty relaxed by the time I arrived at the media workroom.
The extra walking took me just past the time that former college players Raquel Kops-Jones (California) and Abigail Spears (UCLA) needed to complete their match, but there will be another one to watch as the duo took out the tenth-seeded Monica Niculescu and Zi Yan, 7-6(4),5-7,6-2.
There was no win today for Eric Butorac in mixed doubles when he teamed up with Monica Niculescu, but the two seemed to have a good time out there before succombing to Aussies Carsten Ball & Sally Peers, 6-1,6-2. Also in that event, Bob Bryan & Leizel Huber took the first step in winning another Grand Slam title with a straight set victory over Elena Vesnina & Mark Knowles.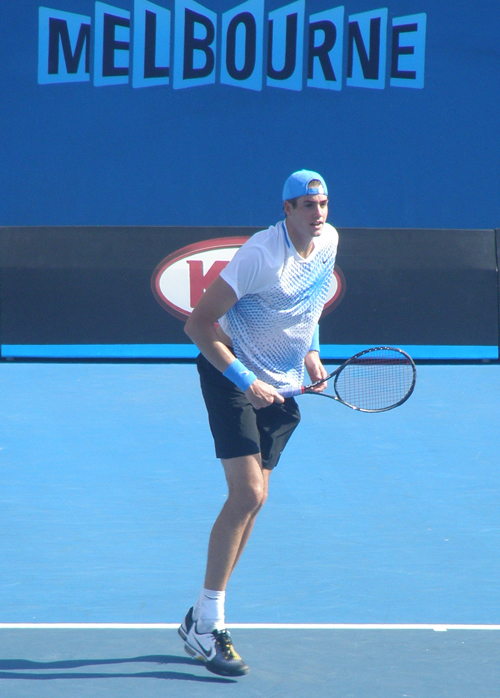 The match between John Isner and Marin Cilic wasn't straight or easy. The four and a half hour battle continued on Margaret Court Arena to a packed house, mostly cheering for John. I had known the former Georgia Bulldog had a pretty good fan base -- and as one of the most genuinely nice guys on the tour I'm not surprised -- but I didn't realize just how organized they were until they broke out in song, "If you love Johnny Isner, clap your hands!" It seemed to work as John then took the third set in a 7/5 tiebreaker (the two men had split the first two).
The 15th seeded Marin Cilic and the 20th seeded John Isner would continue from that point without a break for another 28 games. Marin would take the fourth set in a tiebreaker and the fifth would continue to 8-7. The first break/match point came with John serving at 30-40, but he saved it and then took the ad with an ace. Marin would come back, though, and finish it off with the second match point, 4-6,6-2,7-6,9-7.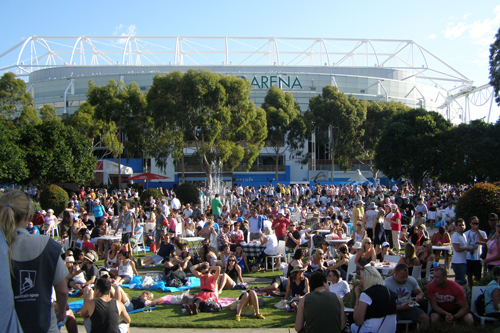 The juniors take the court tomorrow morning and I'm looking forward to seeing some players I haven't watched since the US Open. The weather is supposed to stay hot and sunny so it should be another fun day Down Under!
A special thanks to Tourism Australia and Tourism Victoria for making my Australian Open coverage possible.
The best at lower prices
Join SelectVIP today <

Kindle version for only $4.99
Print version & Sr Guides coming soon
---
Create an Amazon Wedding Registry
Return to:
College And Junior Tennis