Sunday, April 30, 2006-Final Day
Ohio State 4, Illinois 2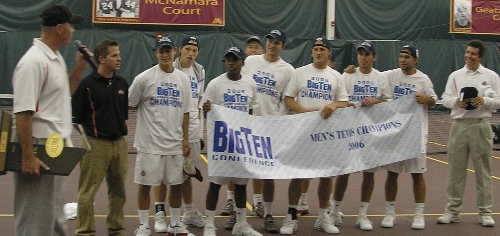 Today's Big Ten Men's Championship final lived up to all the hype -- and then some. The two tops seeds put on a spectacular battle that was of tiebreakers and heartbreakers.
The doubles matches were full of short points and long games as some of the very best college doubles players in the country put on the show. Kevin Anderson & Ryan Rowe, currently ranked No. 4, managed to put the country's No. 1 team on the defense and finished them, 8-4. It was the same score for Ruben Gonzales & GD Jones as they eliminated Chris Klingemann & Devin Mullings. Ohio State's Drew Eberly & Bryan Koniecko were just a bit (7-6) ahead of Pramod Dabir & Ryler DeHeart when Illinois took the early lead with the doubles point.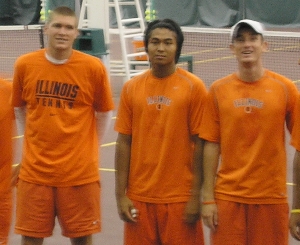 Out of the six singles matches half went into first set tiebreakers with one to Illinois and the other two to Ohio State. It was certainly anyone's match as all the players seemed to be at their best today -- reaching the unreachable shots and displaying the power games that got them to this point. But, of course, in tennis there always has to be a winner and a loser.
The first singles winner was a surprise to all when Ohio State's Bryan Koniecko took out Illinois top player (and one of the very top in the country) Ryler DeHeart, 7-6(4),6-1. Bryan was just too good today and there didn't seem to be anything Ryler could do to get past him.
The only exception to the close-as-can-be showdown today was the No. 5 singles where Dennis Mertens took an early lead over Marc Spicijaric and held it through to a 6-3,6-0 win and Ohio State's second point. Illinois came back with one of their own as Kevin Anderson took his tiebreaker and then shutout Chris Klingemann in the next set. Who would finish next was the big question and it became even less obvious when two courts split sets.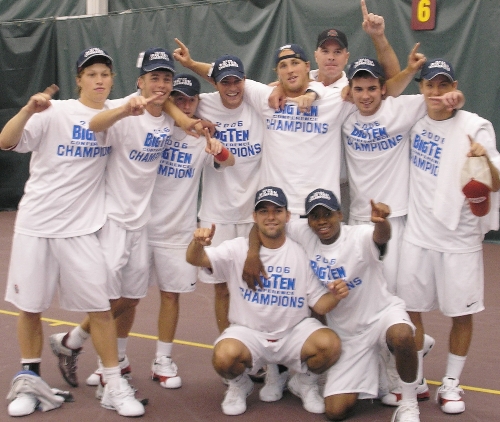 Illinois' GD Jones had been fighting off Devin Mullings all match, but he appeared to be winning the battle. A growing (and cheering) Ohio State crowd seemed to push Devin to a new level and he countered GD's 6-2 set with a 6-4 set of his own. Things were looking even again, though, because over on Court 6 Ruben Gonzales had come back to cause a split of his own for the Illini. Meanwhile, Ryan Rowe and the Buckeyes Steven Moneke had such a close one they couldn't even get out of the first set and were working on the breaker. There were three matches left and they were all up for grabs.
It is hard to imagine a loud level of excitement when there is no home team, but it was there. GD Jones broke in the third set, Ruben Gonzales & Ryan Rowe were serving for the match on their courts and it looked like the Illini had it. It was not that simple. Steven Moneke came back to take it against Ryan, 7-5. The score was Ohio State 3, Illinois 2 and the crowd gathered around Gonzales & Wilson. The cheering was louder and the players played harder. It was Ross Wilson who pulled it out and gave the Buckeyes the win while the Jones/Mullings match was left unfinished.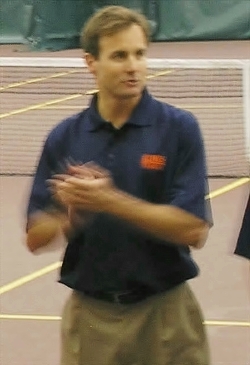 In the end, Big Ten Coach of the Year Ty Tucker was finally able to bring the conference trophy back to Ohio State after a four year absence, however, we saw enough of first year Coach Brad Dancer's Illini to know that trophy will certainly be challenged next year.
Until Next Year,
Marcia Frost