The 2006 Big Ten Championships was full of so much excitement I was almost afraid this year's event would be a let down,. Though Ohio State again took home the trophy, it took their hardest work of the season to get it.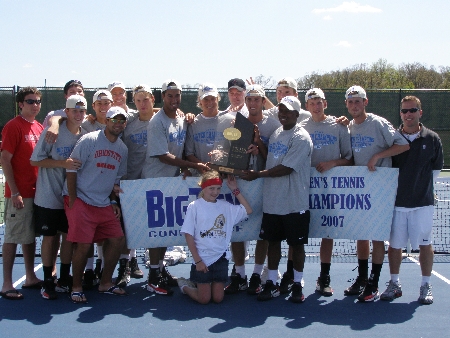 Tournament play began on Thursday with three back matches (Northwestern 4, Michigan State 1; Purdue 4, Minnesota 1; Indiana 4, Iowa 3). I arrived in the late afternoon and didn't get to see much and made sure I was well-rested for the long day Friday. The weather was not cooperating and matches went back and forth between inside and out, with the former being a favorite over the rare 50 degree cold with scattered rain. The Ohio State-Northwestern match presented no surprises, with straight sets to a 4-0 victory for the Buckeyes. Though the score was also 4-0 in the Wisconsin-Penn State showdown, it was a much closer match that ran a lot longer.
In the balance of Friday's quarterfinals, the hometown advantage did little good for Purdue as they only came away with one win (Paul Foley over GD Jones at No. 4) over Illinois, falling in straight sets in the other matches. Michigan had a similar 4-1 victory over Indiana, giving up only No. 1 singles as Thomas Richter took out Brian Hung. This set up a much-anticipated Saturday semifinal between No. 3 Illinois and No. 2 Michigan.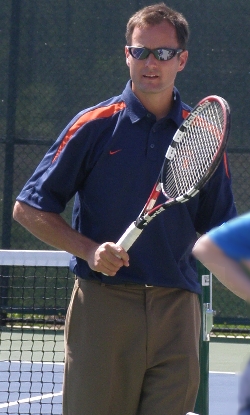 The Illini had ended up as the third seed solely based on the fact that they had one Big Ten loss this year -- to Michigan -- so the semifinal was sure to be a big one. The doubles point was easy with NCAA Champions Kevin Anderson & Ryan Rowe leading the way with an 8-3 victory over Matko Maravic & Brian Hung. Next came the No. 2 team of the recently returned Ruben Gonzales & Brandon Davis taking it with the same score over Ryan Heller & Andrew Mazlin and the Illinois team had there doubles point. From there nothing was easy, with Ryan Heller getting his revenge on Ruben Gonzales (6-3,6-1) and evening the score for Michigan. Though Brandon Davis took out George Navas next at 6-3,6-2, the final two Illini wins took three sets from GD Jones (over Mike Sroczynjski 7-6(5),4-6,6-3) and then Ryan Rowe (past Matko Maravic 6-1,6-7(6),6-2) with the encouragement of a host of Illini fans that included last year's Big Ten Player of the Year, graduate Ryler DeHeart.
The Wisconsin-Ohio State semifinal was nothing like the above match up. It actually started with three very close doubles matches that really could have gone either way, but followed with straight set singles victories for the Buckeyes. Defending champion Ohio State -- who had only lost once the whole season and that was to Georgia during the ITA Indoors -- had easily earned their place in the final, once again facing Illinois.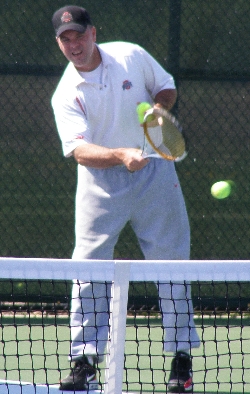 Saturday's bright skies and spring temperatures gave way to summer-like conditions Sunday as the crowd of Orange & Blue and Red & Black gathered at Purdue's Schwartz Tennis Center. Tension was certainly in the air since the Illini had suffered their only shutout loss to the Buckeyes. It was an exciting match from the very start with the doubles all running close. Bryan Koniecko & Steven Moneke took the first doubles with an 8-4 win in third position over GD Jones and Marc Spicijaric. The other two matches were running tight, but Ruben Gonzales & Brandon Davis held there break and took No. 2 doubles for the Illini a short time later. All eyes than focused on two of the best doubles teams in the country -- Kevin Anderson & Ryan Rowe vs. Devin Mullings & Chris Klingemen. It was just by a hair that the latter took it and gave Ohio State a 1-0 lead with last year's doubles stars -- Ross Wilson and Scott Green -- on hand to cheer on their former teammates.
Despite early leads from Ohio State in the majority, all of the singles matches remained edge of your seat thrillers with more service breaks than I could count. I tried my best to see it all and it became easier as the left courts finished in dramatic fashion. First it was Kevin Anderson who tied the team scores up with a 6-2,6-2 win over Bryan Koniecko, but the celebrating for the Orange & Blue didn't last for long as Marc Spicijaric fell to Devin Mullings (6-4,6-2) and GD Jones lost to Chris Klingeman 6-4,6-1. The score was Ohio State 3, Illinois 1. In any other circumstance one would have thought that it was all over, but it almost became an all day affair.
At the time Ohio State picked up its third point, they had the first set in all three other matches, HOWEVER, it looked like those three matches were about to split with Illinois' Ryan Rowe, Ruben Gonzalez and Brandon Davis all up a break in their sets. Unfortunately for the Illini, Brandon did not hold his break and fell 6-3 to Drew Eberly, giving Ohio State the fourth point it needed and abandoning the other two. It was the ninth final appearance for the Illini and only the third loss to Ohio State and for the Buckeyes it was a season finished at a very impressive 27-1.
With some of the very top teams in the country, the Big Ten Championships was a great preview of what's to come next month at the NCAA Championships in Georgia. I expect to see many of these players there next month in the team and individual events and I look forward to many surprises.

Until next year,
Marcia Frost
Pictured above: right-Illinois Coach Brad Dancer; left-Ohio State Coach Ty Tucker, Big Ten Men's Coach of the Year

P.S. Although I do have many ties to the Illini, I was happy to congratulate fellow New Yorkers (Ohio State Assistant Coach) Chris Garner and (Ohio State No. 1 player) Bryan Koniecko (pictured left to right).

Men's and Women's Big Ten Final Results & Awards

Monthly Guides to
College Tennis Planning
Available in Kindle, Print & EBook
for H.S. Seniors
and H.S. Juniors
Return to:
College And Junior
Tennis Homepage