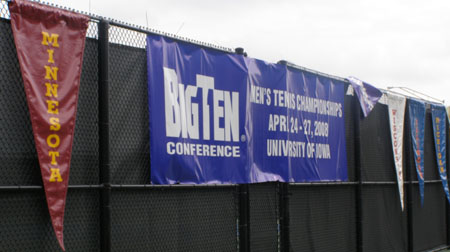 Friday, April 25, 2008-Day Two
This is my third year covering the Big Ten Men's Championship. Every year I consider going to another conference event this weekend and every year I gravitate back to this tournament. And today I had no doubt that I once again made the right decision.
Within the Big Ten Conference there are three teams ranked within the top 20 of the country, and that doesn't even include the second seed here, Wisconsin, who earned that place with a near-perfect conference record that happened to include one win over Illinois. Every match is a battle within this group and the talent pool is endless.
I arrived just as the doubles was ending on the indoor courts of the University of Iowa. The rain had forced the match inside and though it had cleared up a bit, they were staying in.. The doubles point went to Ohio State with the first two matches and the third stopped. It looked like the Buckeyes, ranked No. 2 in the country, would walk away with this one easily, but the hometown Iowa team drew support from a small crowd. First sets went to Ohio State's 5,3,4. At the No. 1 position, Bryan Koniecko dropped a 3-0 lead until 4-4, but came back to take the Buckeyes 4th set. The Hawkeyes were not going down so easy on their own courts. At No. 6, Gregory Holm took a 6-4 set off Drew Eberly and Christian Bierich did the same to Justin Kronauge at No. 2. It looked as if the Hawkeyes had a fighting chance. It quickly disappeared, though, as the matches seemed to drop 1,2,3 (actually 5,3,4) and Ohio State had their 4-0 victory.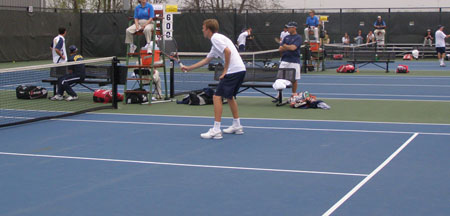 The excitement of Michigan vs. Penn State was not to be beat -- and it wasn't even all on the court. The Penn State Nittany Lions have been the "watch out for" team all season, as 2nd year coach Todd Doebler builds a great group. They shocked Indiana last week and looked poised to do the same to Michigan Friday.
The match began outdoors despite heavy clouds and heavy winds. The referee was keeping one eye on the weather charts and the other on the match the chair was overuling. After Penn State took No. 3, Michigan came back for No. 2 and it all came down to the first court. It was Michigan's Matko Maravic/Andrew Mazlin vs. Brendan Lynch/Michael James tied at 6-6. After a questionable call went to Michigan for 7-6, arguments followed and the Lions just couldn't get back into it, dropping the doubles point. By that time the weather was looking ominous and the match was moved indoors.
It wasn't long after Michigan-Penn State was underway inside that the sirens began to go off. As a native New Yorker, I don't have a lot of tornado experience, but the University of Iowa staff did an excellent job of calmly getting everyone safely into locker rooms. We spent about a half hour in there until the loud speaker announced that it was safe to come out and the match resumed. The players, still feeling the sting from the doubles controversy, were in tough form as sets were traded and some went the distance. It was with a tiebreaker that Michael Sroczynski took the first set at No. 4 and then would be Michigan's tying point after Penn State took singles at the sixth and then first position. The go-ahead match for the Wolverines was Andrew Mazlin's 2-6,6-2,6-2 win over Brendan Lynch and the clincher for them was Chris Madden defeated James Dwyer, 6-4,4-6,6-2.
It was after 6:00 pm when the originally scheduled. for 2:00 pm match between Illinois and Indiana finally went on court. The Illini dominated the doubles, first with a 8-4 win by Ryan Rowe & Billy Heiser. The other two doubles matches were actually both at match point -- 7-6 at No. 2 and 7-5 at No. 3 -- soon after. When it was decided with the win at the third position everyone was a bit disappointed that they didn't let the second team at least finish the point, which could have closed the match.
Friday was a day full of surprises at the University of Iowa and Brad Dancer had one of the biggest ones of all. The Illinois coach brought it Roy Kalmanovich for his very first match of the season at No. 5 singles. The freshman, who joined the team in January, just became eligible to play and wasted no time in bringing in the team's third point with a Michael McCarthy, 6-2,6-4, after Marc Spicijaric's quick one. Billy Heiser followed and brought his team into the semis with a win over Lachlan Ferguson, 7-5,6-1. Both No. 1 and No. 2 singles were left in third-setters.
A 3:30 am (Eastern time) wakeup call on Friday kept me from making it until the "late night" Wisconsin-Minnesota match, the last of the quarterfinals. It looks like it was yet another exciting component to this day as Wisconsin squeaked by, 4-3. I will catch Wisconsin this afternoon in the second semifinal against Illinois, but first up will be Ohio State vs. Michigan and I have no doubt that will be worth watching.
Until tomorrow,
Marcia Frost
Men's and Women's Big Ten Final Results & Awards
QUARTERFINALS

(1) Ohio State 4, (8) Iowa 0
Bryan Koniecko (OS) vs. Bart Van Monsjou (I), 6-4,4-4 Did Not Finish
Justin Kronauge (OS) vs. Christian Bierich (I), 6-4,4-3 Did Not Finish
Steven Moneke (OS) defeated J.P. Ritchie (I), 6-3,6-1
Shuhei Uzawa (OS) defeated Reinoud Haal (I), 6-3,6-1
Balazs Novak (OS) defeated Tommy McGeorge (I), 6-1,6-0
Drew Eberly (OS) vs Gregory Holm (I), 4-6,6-1 Did Not Finish
Steven Moneke/Bryan Koniecko (OS) defeated Bart Van Monsjou/J.P. Ritchie (I), 8-4
Drew Eberly/Justin Kronauge (OS) defeated Gregory Holm/Patrick Dwyer (I), 8-5
Austen Kauss/Christian Bierich (I) vs. Shuhei Uzawa/Mike O'Connell (OS), 7-5 Did Not Finish

(4) Michigan 4, (5) Penn State 2
Michael James (PS) defeated Matko Maravic (M), 6-2,3-6,6-0
Adam Slagter (PS) vs. Jason Jung (M), 5-7,6-4,4-2 Did Not Finish
Andrew Mazlin (M) defeated Brendan Lynch (PS), 2-6,6-2,6-2
Mike Sroczynski (M) defeated Eddie Bourchier (PS), 7-6,6-4
Chris Madden (M) defeated James Dwyer (PS), 6-4,4-6,6-2
Guillaume St-Maurice (PS) defeated Peter Aarts (M), 6-2,6-1
Matko Maravic/Andrew Mazlin (M) defeated Brendan Lynch/Michael James (PS), 8-6
Mike Sroczynski/Jason Jung (M) defeated Adam Slagter/Guillaume St-Maurice (PS), 8-5
Eddie Bourchier/James Dwyer (PS) defeated George Navas/Chris Madden (M), 8-2

(3) Illinois 4, (6) Indiana 0
Ryan Rowe (IL) vs. Thomas Richter (IN), 4-6,5-5 Did Not Finish
Ruben Gonzales (IL) vs. Dara McLoughlin (IN), 6-3,3-6,2-0 Did Not Finish
Marc Spicijaric (IL) defeated Phillip Eilers (IN), 6-1,6-0
Billy Heiser (IL) defeated Lachlan Ferguson (IN), 7-5,6-1
Roy Kalmanovich (IL) defeated Michael McCarthy (IN), 6-2,6-4
Waylon Chin (IL) vs. Santiago Gruter (IN), 7-6,0-3 Did Not Finish
Billy Heiser/Ryan Rowe (IL) defeated Phillip Eilers/Lachlan Ferguson (IN), 8-4
Ruben Gonzales/Marc Spicijaric (IL) vs. Dara McLoughlin/Thomas Richter (IN), 7-6, Did Not Finish
Brandon Davis/Waylon Chin (IL) defeated Peter Antons/Santiago Gruter (IN), 8-5

Wisconsin (2) 4, Minnesota (7) 3
Mortiz Baumann (W) defeated Raoul Schwark (M), 6-3,6-4
Tobias Wernet (M) defeated Nolan Polley (W), 7-5,7-6(5)
Marek Michalicka (W) defeated Sebastian Gallego (M), 6-1,3-6,6-4 Dino Bilankov (M) defeated Jeremy Sonkin (W), 7-5,7-5
Felipe Bellido (W) defeated Chi-Lang Pham (M), 4-6,6-2,6-4
Pierre Dumas (M) defeated Michael Dierberger (W), 6-4,2-6,7-5
Polley/Baumann (W) defeated Bilankov/Gallego (M), 8-2
Diergerger/Rassow-Kantor (W) defeated Pham/Wernet (M), 8-5
Schwark/Dumas (M) defeated Sonkin/Michalicka (W), 8-6

We search millions of flight and hotel combinations, to get the best deals. Yes! Getaways makes booking your next vacation as easy as it can get - BOOK TODAY at Yesgetaways.com!
---

Monthly Guides to
College Tennis Planning
Available in Kindle, Print & EBook
for H.S. Seniors
and H.S. Juniors
---
---
---
---
CHECK OUT OUR
TENNIS BOOKSTORE
---
---

Monthly Guides to
College Tennis Planning
Available in Kindle, Print & EBook
for H.S. Seniors
and H.S. Juniors
---
Return to:
College And Junior
Tennis Homepage