November 10, 2004
Outstanding players and strong winds made for a day of upsets in which few seeds survived in any draw.
In the boys singles, nine of the sixteen top players didn't make it to the next round. The quickest uipset was Michael Venus' 6-2,6-1 dismissal of No. 7 Jose Tolentino, though Mariusz Adamski (over No. 11 Augusto Alvarado), Attila Bucko (over No. 16 Gustavo Carvalho), Giorgi Khrikadze (over No. 5 Branko Kuzmanovic), Jonathan Boym (over No. 12 Marcel Goodman) and Davey Sandgren (over No. 15 Gerki Tomita) all had straight set victories over the world's top players.
It was a mixed day for Lindsay Burdette. First, the No. 2 seed was stunned by Lauren Sabacinski, 6-4,6-2 in the morning singles, but later she teamed with sisther Mallory to eliminate the fourth-seeded Lauren Dossor and Laura Peterzan. Laura, seeded eight, also lost in singles to Chelsey Gullickson, 6-2,6-2. The day was not a total loss for Lauren Dosser as she upset No. 10 Marah Calvo in singles, 6-3,7-5. Americans caused most of the other upsets in the girls singles draw -- in straight sets. Among them, Reka Zsilinszka eliminated No. 16 Inga Janine Berman; Kimberly Couts beat No. 13 Jo-Ann Van Aerde; and Magdalena Bresson took out No. 14 Yana Sadouskaya, 6-1,6-1.
Of course the wind was overshadowing many victories today (I saw one player struggling through twelve faults before she could get a serve in the box), there is no doubt that there is a very talented bunch of juniors in the Chanda Rubin event at the Evert Tennis Academy.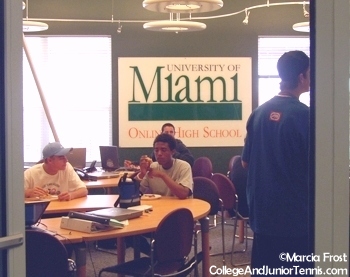 The University of Miami Online today held a Pizza Party for Chanda Rubin participants and its current students at the Evert Tennis Academy.
Until Tomorrow,
Marcia Frost
Click on a photo to enlarge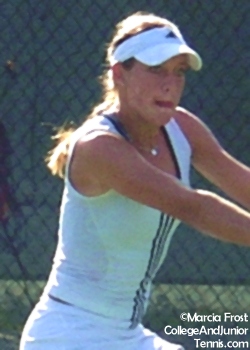 Lindsey Burdette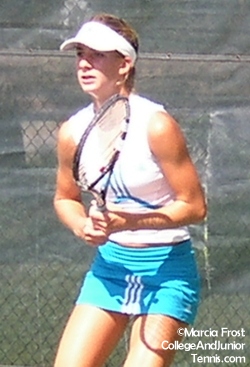 Lauren Sabacinski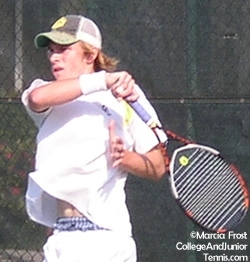 Rook Schellenberg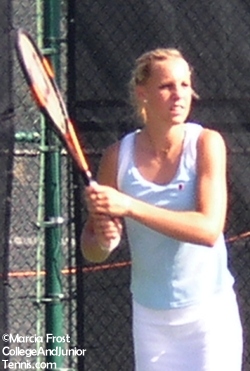 Lauren Dossor
Attila Bucko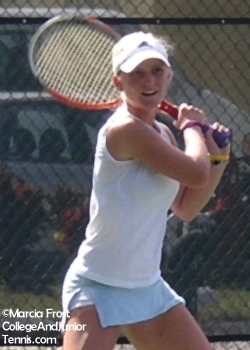 Jessica Sweeting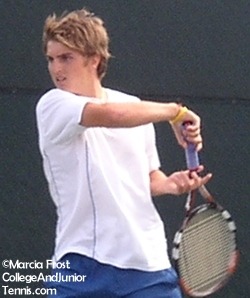 Marcel Goodman
Click For More Photos From 11/10
---
---
---
Return to:
College And Junior
Tennis Homepage