Tuesday, January 3, 2006-Day Three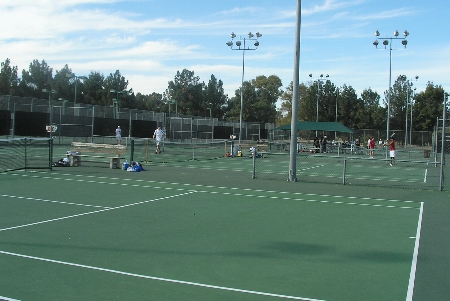 It's still a rather daunting task to cover so many players in so many places. I'm finding myself watching and photographing random matches. I promise to get better organized tomorrow and cover some specific matches with photos, but that doesn't mean I didn't get to see and hear about some great tennis today.
I spent most of the day over at the Randolph Tennis Center where the Boys and Girls 18s are located. I immediately came upon a great match up between Ahmed Ismail (right) and Dennis Polyakov. Both players are big serve and volleyers, making for some interesting play. They were in a third set and it was a close one. I enjoyed the points as Ahmed had a slight edge for the 7-6(4),1-6,6-4 win.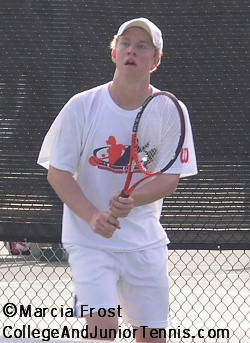 Just a few courts over I caught some incredible points on an even closer one between Whit Whitwell and Paul Chappell (left). This match garnered the largest audience even though it was on a backcourt so it really got my attention. Paul Chappell had upset No. 10 Tristan Biesecker in the first round so he was not one to give up so easily. As the third set went into a tiebreaker, the players traded points and Whit barely squeaked it out -- 6-4,6-7(4),7-6(7). At the same time Tristan was making up for his loss with a quick win over Craig Kessler.
The main draw matches (at all locations) are being played first thing each morning so I was checking out some more consolations around midday. I stopped for a great one between Christie Gattelaro (right) and Syndnee Bridger. Though the score was not impressive (6-3,6-3), the points were and I enjoyed it for awhile before taking a ride back to the Hilton El Conquistador to see what the boys 16s were doing. At the Hilton I came across another interesting backdraw match. This one was between Andrew Won and John Palmeri. There were some good points to watch in that one as the latter took it 6-2,6-2.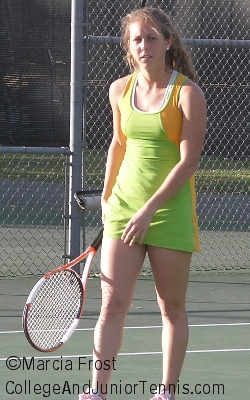 The doubles draws are winding down with the Girls 12s finished (Christine Kharkevitch & Nikki Parker won that one). Again, the matches were at the same time in different places. I plan to catch as many of the rest of the finals as possible tomorrow. In the singles there were no real surprises, No. 1 Girls 18 seed Elyse Steiner did advance in singles, though (also seeded No. 1) she and sisther Vanessa (pictured left) lost in doubles to Lindsay Clark & Stacey Lee. The Girls' 16s draw lost No. 12 Tiffany Tran, NO. 9 Kaitlyn Ritchie,< No. 15 Susan Ma, No. 11 Julia Baltas and No. 5 Courtney Byron. I will be heading over to the Saddlebrook Country Club first thing tomorrow to find out exactly what's going on out there!
Until Tomorrow,
Marcia Frost
click on a photo to enlarge
Craig Kessler
Alyssa Rouch
Dennis Polyakov
Elyse Steiner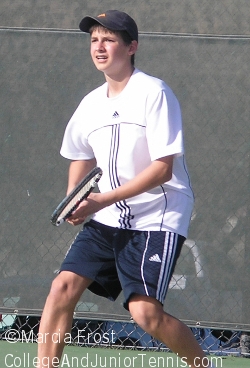 John Palmeri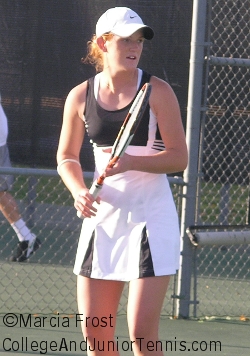 Lindsay Clark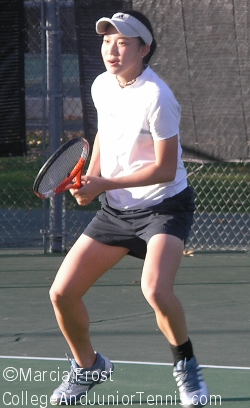 Stacey Lee
Andrew Won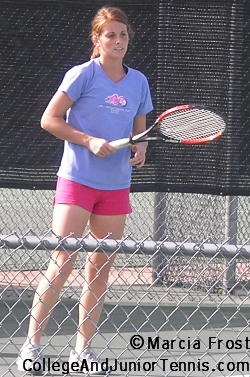 Syndnee Bridger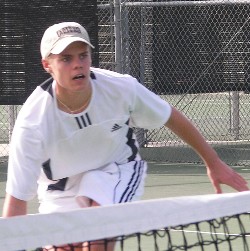 Tristan Biesecker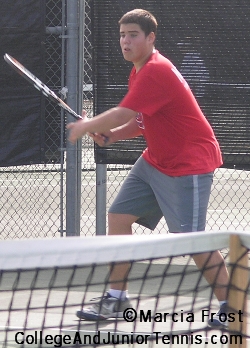 Whit Whitwell
Monthly Guides to
College Tennis Planning
Available in Kindle & Print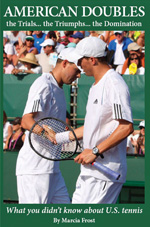 ---

Monthly Guides to
College Tennis Planning
Available in Kindle, Print & EBook
for H.S. Seniors
and H.S. Juniors
---
---
---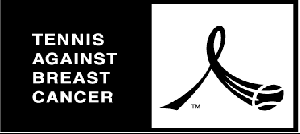 ---
Return to:
College And Junior
Tennis Homepage