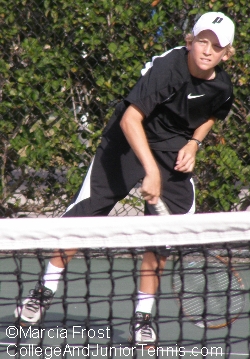 Mitchell Krueger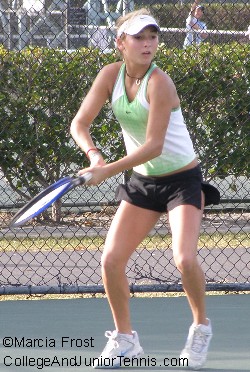 Mary Clayton
Attila Bucko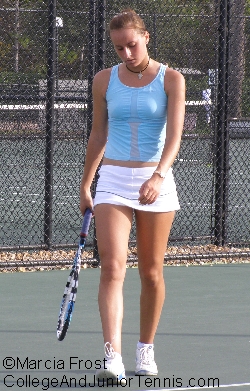 Marianna Milchutske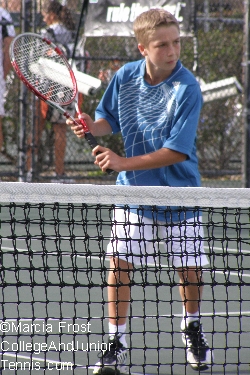 Liam Broady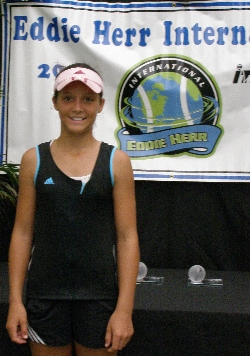 Laura Robson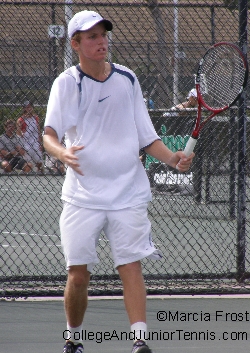 Jeff Dadamo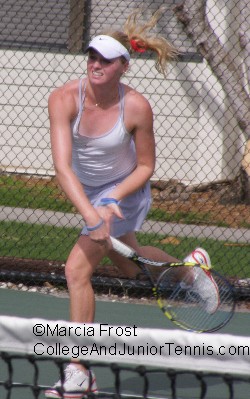 Kim Couts
Adam El Mihdawy
Click on a photo to enlarge
Friday, December 1, 2006-Day 8


My first moments at Bolletieri's Academy for the Eddie Herr Internationals was a bit overwhelming. What I thought was mass disorganization Colette Lewis of Zoo Tennis reminded me was the result of what happens when you put over 1,700 players in a tournament together. I faced the maze of courts and players and did the best I could to muddle through it all.
It's hard to not make my first stop to visit a fellow New Yorker and today was no different. And the girls 16s was a match worthy of my attention. Ester Goldfeld had been using her wildcard to its full advantage, defeating two seeds on the way to the quarters. Her opponent today was a fellow American with a family full of junior tennis talent. Mary Clayton played with sister Courtney and brother Alex's support. (Courtney recently won an ITF title and Stanford-bound Alex owns a U.S. Open doubles title). Mary has certainly inherited the talent gene, but Ester was just a little better today in closing out the points. Her 6-3,6-4 win puts her up against top-seeded Tanya Raykova in the semis. Tanya will have plenty of energy for that match as her quarter against Naomi Brody was over at 6-1,6-1.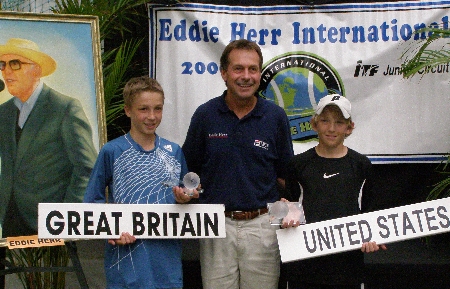 The boys and girls 12s had their finals today with three out of the four from Great Britain. In the boys final there were some interesting points, but Liam Broady (above, far left) just couldn't get anything past Texan Mitchell Krueger (above, far right), who called the match "the best in the world" when he picked up his first national title. I only saw some of the much closer girls' final as Laura Robson edged by Jessica Ren, 7-6(5),7-5.
I had to fight my way past the crowd at the Sorana Cirstea/Michelle Larcher de Brito (Sorana won 4-6,6-2,7-5) match to make my way to see Belgium native Tamaryn Hendler and American Kim Couts. Even though Kim had the No. 13 seeding, Bolletieri-trained Tamaryn had the crowd support (including Nick himself). She was on today and Kim was not as she lost 6-2,6-2. It was a different story in her doubles match as Kim and Madison Brengle teamed up for a great girls doubles display against Ima Bohush/Natalia Ryzhonkova. It was a photo finish for the Americans at 6-4,4-6,7-6(4).

Next door to the girls doubles was a great boys doubles match (which just happened to include another New Yorker). Adam El Mihdawy and Attila Bucko faced the second-seeded Brazilians Fernando Rombali & Nicolas Santos in a terrific doubles match that went back and forth until the end. All four players put up some great serve and volley. It was up for grabs until the last point, which the seeds took for a 6-2,4-6,6-4 win. The two Americans are heading to the Orange Bowl next before Attila goes off to the Baylor University and Adam plays some Futures while he makes the difficult decision of which college to go to.

It was a great run for American qualifier Jeff Dadamo that ended today. I wondered back and forth to the match and was suprised to learn that soon-to-be University of Florida player had lost. The first set against Rasid Winklaar had been Jeff's (6-3). He had also been up a break in the second and seemed to be commanding the match. He lost the second and couldn't get the third back, going down 6-3.
As for remaining Americans, they are still quite a few on their home soil. Dennis Lajola will partner with Roberto Maytin for the 18s doubles semi. The top boys 16s semi will feature Alex Domijan and tenth-seeded Devin Britton, while Ty Trombetta is teaming with Andres Bucaro to try for that doubles title. In addition to Ester Goldfeld, another wildcard -- Nicole Bartnik will play the girls 16s semi with Brooke Boldender and Maria Fuccillo going for the 16s doubles title. Dennis Kudla & Junior Ore are still alive in Boys' 14s doubles, with Sloane Stephens playing the girls doubles in that age group. One draw that is full of Americans surprises me the most -- the girls 18s doubles. While American girls have been behind in picking up Grand Slam junior titles the last decade, they may be coming back as in addition to Madison & Kim, the other semifinal inlcude be Julia Cohen (with partner Dominice Ripoli) against Maria Mokh (with partner Ksenia Pervak.)

Saturday will bring semifinals with a few finals in the doubles. The weather calls for less wind so it should be easier on the players. As for me, it will once again be difficult to know where to start, but wherever I do I'm sure I'll find some of the best junior tennis in the world.
Until tomorrow,
Marcia Frost
Monthly Guides to
College Tennis Planning
Available in Kindle & Print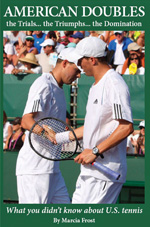 ---
---
See the best offers for flights, hotels & car rentals
at Skyscanner
---
Check Out
TENNIS WEEK
---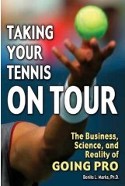 See a review of this book
---
---
---
---
---
---
---
Return to:
College And Junior Tennis