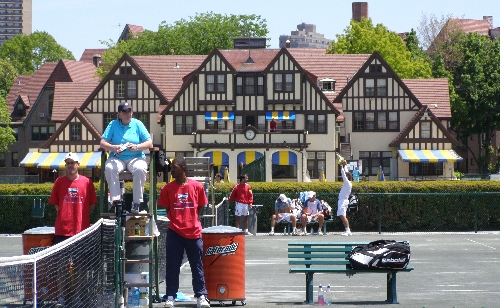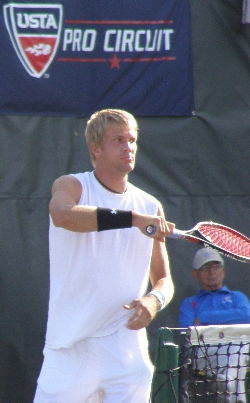 In case you are wondering what I was doing spending the day at a USTA Pro Circuit event, you only have to take a look at the draws to figure it out. Though there was only one amateur remaining (Adam El Mihdawy), the 2007 Forest Hills Clay Court Classic is filled with College and Junior Champions.
Within two 32 draws of singles and doubles I counted (with some help from Brendan Evans, who almost completed the Junior Grand Slam with Scott Oudsema, pictured right) the players on the courts of the West Side Tennis Club this week own a total of nine NCAA trophies and nine Junior Grand Slam crowns.
I spent the day watching a group of some of the most talented Americans to come out of college and junior tennis in the twenty-first century.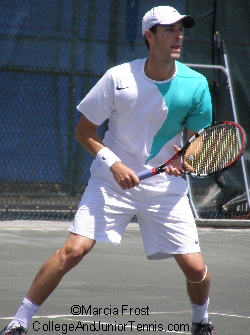 Though I missed Stanford grads Paul Goldstein, Scott Lipskey & David Martin, I did catch a bit of former Cardinal Sam Warburg tough three-setter loss to Michael Lammer. Brendan Evans teamed up in doubles with junior champion Ryan Sweeting, who did a short stint at the University of Florida last year and, though they lost in doubles, the two are still alive in singles. Kentucky graduate Jesse Witten partnered with Kalamazoo/Australian Open winner Phillip Simmonds, dropping a tough one to Illinois NCAA winner Rajeev Ram and former Vanderbilt player Bobby Reynolds. Benedickt Dorsch, who picked up team and individual NCAA trophies while at Baylor, and one-time Washington Huskie Robert Kendrick are also in the draws. And, as if there isn't enough talent, there are former national junior titlests Alex Bogomolov, Nikita Kryvonos, Alex Kuznestsov & Denis Zivkovic.
The 2007 Forest Hills Clay Court Classic will continue at the historic West Side Tennis Club through May 19th. I urge anyone who possibly can to get out to see this incredible event. NCAA Champions and Junior Grand Slam winners don't come together often.
Marcia Frost


P.S. Unfortunately, I won't get back there because I'm heading to the NCAAs, but I may get to see a lot of these players afterall. I heard word in the locker room is that -- if they don't make it through the draw -- many will be making the trip to Athens, Georgia to check out their former teams play for the national championship!


Monthly Guides to
College Tennis Planning
Available in Kindle, Print & EBook
for H.S. Seniors
and H.S. Juniors

Return to:
College And Junior Tennis