Sunday, May 2nd-Day Two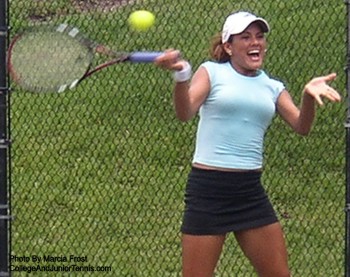 The rain stayed away long enough to complete today's schedule as the seeds dropped throughout the sites at the Gator Bowl. I managed to make it to three of the sites and saw some great matches.
Among the youngest set, red and black is the new white and the power game starts as soon as you pick up a racquet. Matthew Salzgaver pulled a second upset of the Boys 12s (he had eliminated No. 3 Michael Elortegui previously) when he downed the eighth-seeded David Kelleher, 6-1,6-0. The other seeds left in that draw, Denis Kudla, Andrew Butz and Ridley Seguso all had an easy time into the quarters.
Everything was fairly quiet at Queens Harbor where only the Girls 12s were being played. Though there were some close matches (I witnessed close tie-breaker set between Caitlin McGraw and Kavya Menon), the only surprise was Chichi Scholl's win over the number one seeded CC Sardinha in a 7-6,6-4 decision.
The Girls' 16s has come down to an unusual group of four. After some easy wins, top-seeded Ragini Acharya had the tables reversed when No. 6 Priscilla Castillo (above) took her down, 6-2,6-4. Unseeded Natalia Gervara, who had beat the seventh Christina Liles, advanced past Christie Gattelaro. Another upset occured when Chelsey Gullickson overpowered Alexis Dorr in the second set tiebreaker for her place in the semis. The No. 2 seed, Nina Pantic, moved up with a 6-1,6-0 win over Jamie Mera.
Over at the University of Florida, Jeff Dadamo was the winner of the day after he took out his second seed of the tournament, No. 7 Joshua Scholl. Seeds in the Boys 18s moved along, while the Girls 18s featured two upsets -- Kimberly Couts over Monica Arguello (6) and Magdalena Bresson over Courtney Ullery (4). At the final site, Deerwood, the 14s proceeded without any upsets today. Though the finals are scheduled for tomorrow, there is doubt that the weather will cooperate.
Until Tomorrow,
Marcia Frost
Click on a photo to enlarge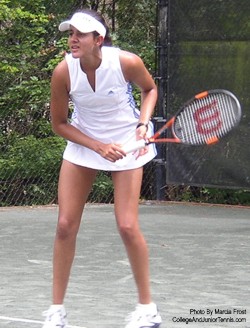 Ragini Achharya
Alex Peckhman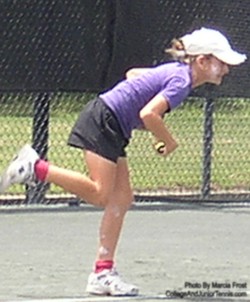 Chichi Scholl
Eric Kazmierczak
CC Sardinha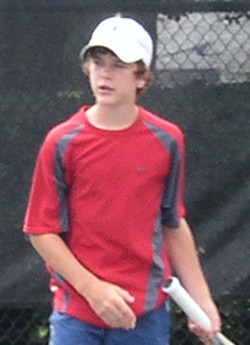 Matthew Salzgaver
Monthly Guides to
College Tennis Planning
Available in Kindle & Print
Park Sleep Fly
Return to:
College And Junior
Tennis Homepage