Saturday, May 1st-First Day

Deja vu -- a feeling that you have been here before. That was just the feeling I had when I heard names like Seguso, Wilkinson, Riggs, Gottfried and Bassett. This time around, however, the faces I knew were the ones watching not the ones playing. A new generation has come to the world of junior tennis and they have come out swinging.

The biggest upset of the day was created by a player who has not one, but two parents who are former junior stars. With father Robert Seguso on hand, Holden Seguso took out top-seeded Carsten Ball, 3-6,6-3,6-2 to start off the day in the Boys 18s. (Mom Carling Bassett Seguso was at another location while son Ridley played in the draw with Bobby Rigg's grandson Danny.) Brian Gottfried, a former top player in junior, college and professional tennis, remarked that it was amazing to watch Holden, Carsten and Maclane Wilkinson, all sons of his former opponents, now play each other.

Another major star of the day was the rain which wrecked havoc on the scheduling as it came down in bucketfuls with thunder and lightening. Between the downpours the players were all cooperative as everyone tried to get as many matches as possible in.

As usual, I spent this first day of the tournament trying to get in as many pictures as possible. I hope to (weather permitting) catch some of the matches tomorrow.

Until Tomorrow,
Marcia Frost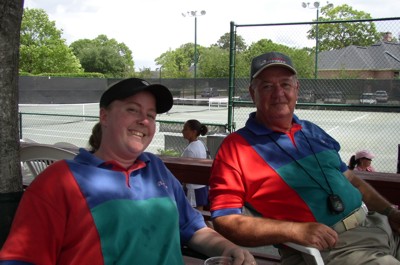 Referees Laurel Valley & Quince Brown were two of many who helped out at five different sites.
Click on a photo to enlarge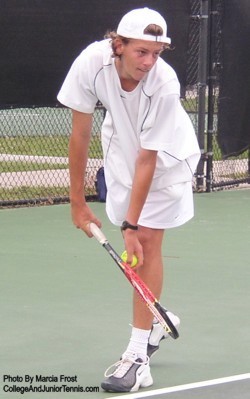 Holden Seguso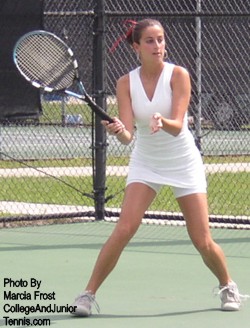 Julie Blackmore
Doug Mayeda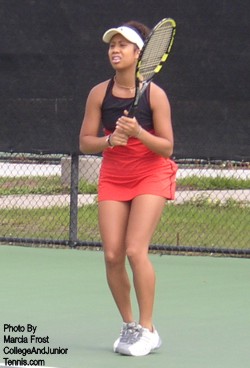 Lin Waterford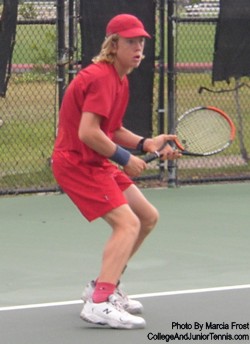 Joshua Scholl
Connor Vogel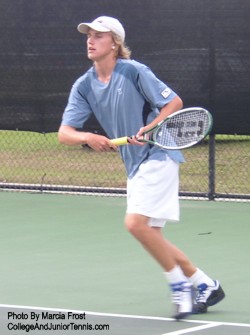 Kenneth McGovern
Heel That Pain
---
---
Return to:
College And Junior
Tennis Homepage