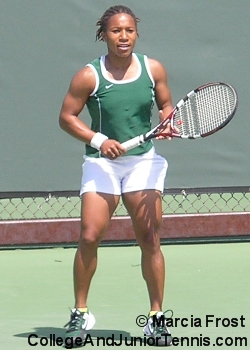 Thursday, November 1st, 2007-Day One
The seeds fell in all draws as play moved to the Indoors. For most who had been enjoying the warm fall throughout the country it was their first experience playing inside in awhile and it cost them.
I started the day in front of three top doubles teams that had surprising results. Defending champions -- and top seeds -- Megan Moulton-Levy & Katarina Zoricic couldn't get it together against the hometown team of Christina Keesey & Angela Depastina, falling 9-7. On adjacent courts, the second seeds, Caitlin Whoriskey & Zsofia Zubor also fell, but the No. 1 men's team pulled it out (after they were down a break the previous games), 9-8.
The seeded men had as much trouble as the women keeping their place in the doubles draw, with the exception of top-seeded Somdev Devvarman & Treat Huey. It was a lot easier in singles for Virginia's Somdev in singles as he quickly dismissed Andrei Daescu of Oklahoma, 6-3,6-1. That match, and the win by No. 4 Greg Ouellette of Florida over Ivan Puchkarov (Oklahoma State), 6-4,6-2, were the only men's matches went as expected.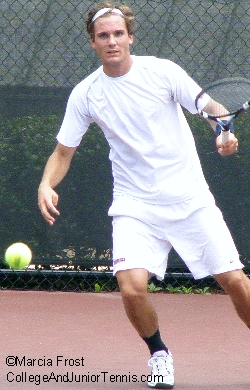 There were great matches everywhere (and I hadn't seen live tennis in three months!) so I tried to pick up spot where I could catch a few matches at at time. One of those times I got to see four because there was that one that just went on forever. The sixth-seeded Erling Tveit of Mississippi -- pictured left -- and Pepperdine's freshman Bassam Beidas definitely get the honors of match of the day. Through the powerful serves, great points (and a bit of controversy), Bassam pushed it to a 4-6,7-6,7-6(11). While this was going on, two other matches did finish with Miami's Daniel Vallerdu defeating alternate Kellen Damico of Texas and Alex Clayton taking out Dominic Inglot of Virginia, 6-1,7-6(5). It was the first time I got to see Stanford freshman Alex in awhile and I still enjoy his game.
Another seed I watched drop I have difficulty calling an upset. Southern California's Robert Farah was seeded three after a good showing at the All Americans, but Ryan Rowe has been a top player the last two years and the Illinois senior is certainly more experienced indoors. That's not to say that it wasn't a good match and Robert certainly kept it close -- 6-4,7-6(6) to be exact -- before losing. Other seeds on the men's side who didn't make it through the first day were Ohio State's Bryan Koniecko (5), Pepperdine's Andre Begemann (8), All-American champion Travis Helegeson of Georgia (2) and Luke Shields (7). I saw some of the latter and it was a tough three-setter. All was not lost for Boise State, though, as Luke's brother and teammate Clancy pulled the upset over Andre Begemann.
In contrast to the men, there was only one seed that didn't make it through in the women's -- Aurelija Miseviciute of Arkansas defeated Northwestern's Georgia Rose (8), 6-2,2-6,6-1. I only saw a bit of that one, but I did see quite a few other interesting matches. Duke freshman Reka Zsilinszka, who has been suffering from a foot problem this season, lost a long match to Miami's Laura Vallverdu that seemed to be filled with disagreements over linecalls before the 2-6,6-2,7-6(2) end. Sanaz Marand of North Carolina was right on in her win over Tatsiana Uvarova of Virginia Commonwealth. I was lucky enough to see a great three in a row with Georia Tech, who have an amazing five players in the singles draw, winning two out of three when Christy Striplin couldn't get it back in the third and was shut out by Baylor's Zuzanna Zemenova. That was not the case for Maya Johnson, who squeaked past Notre Dame's Cosmina Ciobanu, 7-5,4-6,7-5, and in a match that I would never have put in the first round. Kristi Miller took a breaker and a 6-4 set over Megan Moulton Levy -- pictured above right.
Friday should be another interesting day Indoors at the Racquet Club of Columbus as Ohio State University hosts another day of the top players in college tennis.
Until Tomorrow,
Marcia Frost
P.S. Live scoring is available on ITATennis.com
Men
SINGLES
First Round
Somdev Devvarman/Virginia (1) defeated Andrei Daescu/Oklahoma, 6-3,6-1
Michael James/Penn State defeated Denes Lukacs/Baylor, 3-6,6-4,6-4
Dalibor Pavic/Drake defeated Luke Shields/Boise State (7), 4-6,6-3,6-3
Conor Pollack/Texas A&M defeated Steven Moneke/Ohio State, 6-3,6-3
Greg Ouellette/Florida (4) defeated Ivan Puchkarov/Oklahoma State, 6-4,6-2
Justin Kronauge/Ohio State defeated Mislav Hizak/Embry-Riddle, 7-6(5),7-5
Alex Clayton/Stanford defeated Dominic Inglot/Virginia, 6-1,7-6(5)
Daniel Valverdu/Miami defeated Kellen Damico/Texas, 6-4,6-3
Bassam Beidas, Pepperdine defeated Erling Tveit/Mississippi (6), 4-6,7-6,7-6(11)
Clancy Shields/Boise State defeated Andre Begemann/Pepperdine (8), 6-2,6-4
Albert Larregola/Virginia Tech defeated Drew Eberly/Ohio State, 6-7(5),6-3,6-4
Ryan Rowe/Illinois defeated Robert Farah/Southern California (3), 6-4,7-6(6)
Oleksandr Nedovyesov/Oklahoma State defeated Dan Nguyen/Harvard, 6-2,6-3
Matthias Wellerman/Mississippi defeated Bryan Koniecko/Ohio State (5), 6-3,3-6,6-3
Richard Wire/Stanford defeated Jack Baker/South Alabama, 6-3,6-3
Adam Holmstrom/Denver defeated Travis Helegeson/Georgia (2), 6-3,7-5
DOUBLES
First Round
Somdev Devvarman/Treat Huey-Virginia (1) defeated Daniel Vallverdu/Carl Sundberg-Miami, 9-8(3)
Andy Connelly/Ross Cunningham-Tulsa defeated Ted Kelly/Blake Muller-Stanford, 9-7
Taylor Fogelman/Chris Kearny-North Carolina defeated Justin Kronauge/Drew Eberly-Ohio State (4), 8-6
Fedrico Chavaria/Andrei Daescu-Oklahoma defeated Bogden Borta/Justin Chow-Columbia, 8-3
Adam Holmstrom/Nik Persson-Denver defeated Eric Rubens/Blake Meister-UC-San Diego, 8-4
Robert Farah/Kaes Van't Hof-Southern California defeated Christian Rojmar/Bojan Szumanski-Texas Tech (3), 8-6
Matt Allare/Mike O'Connell-Ohio defeated Dan Buikema/Mat Thibaudeau-Alabama, 9-7
Kellen Damico/Luis Diaz Barriga-Texas defeated Jonas Berg/Erling Tveit-Mississippi (2), 8-4
Women
SINGLES
First Round
Megan Falcon/LSU (1) defeated Cristina Visico/California, 6-3,6-0
Anna Maria Constantinescu/Oklahoma defeated Kirsten Flower/Georgia Tech, 7-5,5-7,6-3
Aurelija Miseviciute/Arkansas defeated Georgia Rose/Northwestern (8), 6-2,2-6,6-1
Sanaz Marand/North Carolina defeated Tatsiana Uvarova/Virginia Commonwealth, 6-1,6-3
Melanie Gloria/Fresno State (3) defeated Maria Mosolova/Northwestern, 6-1,7-6
Taylor Ormond/Baylor defeated Riza Zalameda/UCLA, 2-6,6-4,6-4
Amanda McDowell/Georgia Tech (7) defeated Angela Dipastina/Ohio State, 6-1,7-5
Laura Vallverdu/Miami defeated Reka Zsilinszka/Duke, 2-6,6-2,7-6(2)
Samantha Murray/Northwestern defeated Nadia Abdala/Arizona State, 6-4,7-5
Kristi Miller/Georgia Tech (6) defeated Megan Moulton-Levy/William & Mary, 7-6(3),6-4
Maya Johansson/Georgia Tech defeated Cosmina Ciobanu/Notre Dame, 7-5,4-6,7-5
Ani Mijacika/Clemson (4) defeated Lenka Broosova/Baylor, 7-5,6-4
Ellah Nze/Duke defeated Pavla Mesterova/Loyola Marymount, 6-3,6-1
Zuzana Zemenova/Baylor (5) defeated Christy Striplin/Georgia Tech, 1-6,6-2,6-0
Jessica Nguyen/Stanford defeated Katarina Zoricic/William & Mary, 6-3,6-3
Susie Babos/California (2) defeated Elena Gantcheva/UNLV, 6-2,4-6,6-4
DOUBLES
First Round
Christina Keesey/Angela Dipastina-Ohio State defeated Megan Moulton-Levy/Katarina Zoricic-William & Mary, 9-7
Romy Farah/Caren Seenuth-Miami defeated Sophie Grabinski/Sanaz Marand-North Carolina, 9-7
Melanie Gloria/Tinesta Rowe-Fresno State defeated Megan Falcon/Hannah Robinson-LSU, 8-0
Lenka Broosova/Zuzana Zemenova-Baylor defeated Amanda Fink/Gabriela Niculescu-Southern California, 8-6
Macall Harkins/Anna Sydorska-TCU defeated Anna Karavayeva/Maria Kolkotsky-Fresno Pacific, 8-0
Kristi Miller/Whitney McCray-Georgia Tech (3) defeated Polina Kokoulina/Pichittra Thongdach-Boise State, 8-2
Brook Buck/Kelcy Tefft-Notre Dame defeated Melissa Mang/Amanda Granson-Duke, 8-1
Kellie Schmitt/Karolina Soor-Marshall defeated Caitlin Whoriskey/Zsofia Zubor-Tennessee (2), 8-5
For more stories from the ITA National Indoors, check out Colette Lewis' Zoo Tennis
See the Latest
at NIKE
---
Monthly Guides to
College Tennis Planning
Available in Kindle & Print
---
---
See the Latest
at NIKE
---
---
---
---
---
---
Return to:
College And Junior
Tennis Homepage