Thursday, November 2nd, 2006-Day One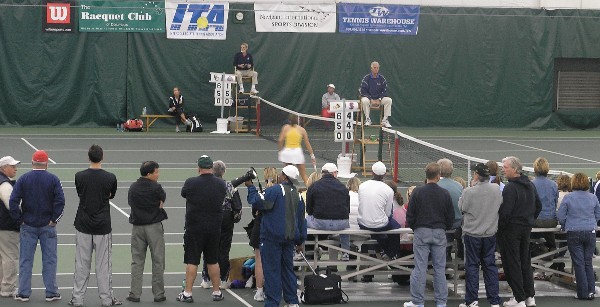 More than a third of the seeds disappeared today as the best in college tennis headed "indoors" -- to the ITA National Indoors in Columbus, Ohio.
It was a day full of so many surprises that happened before play even began when a cornucopia of men's teams replaced the standard top ranked group. In fact, there were more than two dozen different teams represented on the men's side while the women were dominated by Notre Dame, California and Stanford -- with a large sprinkling of Georgia Tech.
The upsets began immediately as the top two women's doubles teams fell first thing in the morning. It was the team of Ana Cetnik & Anna Sydorska of TCU who took out Notre Dame's Catrina & Christian Thompson (8-3), while Lauren Macfarlane & Nicola Slater of Florida State eliminated second-seeded Suzi Babos & Zsuzsanna Fodor. It was a bad day for Suzi all-around as the top-seed also lost her first singles match of the season later in the day to North Carolina's Jenna Long, 6-4,3-6,7-5. Zsuzsanna also lost her match to Tennessee's Blakeley Griffith.
After I got over the initial shock of trying to follow all the first morning shockers I got to actually sit down and pay attention to some matches. There were a lot of players having trouble adjusting to the fast, indoor courts, but no one expected one of those to be last year's women's singles finalist Theresa Logar. Stanford's No. 5 seed had problems from the start from Georgia Tech freshman Kirsten Flower and she just couldn't get it back before she was eliminated 6-4,6-4. Third-seeded Kristi Miller helped to continue to make it a good day for Georgia Tech with her defeat of Notre Dame's Cosmina Ciobanu. Though the two played an incredibly long game at 2-2 and it took Kristi six break points before she got it right, it was smooth sailing after that for a 6-3,6-3 victory.
I've been watching Shadisha Robinson play since her age was barely double-digits and she didn't miss a beat in her transfer from Georgia to Southern Florida as she easily dismissed UCLA's Yasmin Schnack, 6-1,6-2. Two other matches that seemed to flash before my eyes were Jelena Pandzic of Fresno Pacific over Anastasia Zhukova of Tennessee-Chattanooga (6-0,6-3) and LSU's Megan Falcon defeating UCLA's Riza Zalameda, 6-3,6-1, but Celia Durkin of Stanford vs. Megan Moulton-Levy of William & Mary was certainly worth watching. The latter, the eighth seed, won the first set 6-3, but the Cardinal kept it coming in the second until she won it 7-5. Megan did better in the third and took it 6-3. At the same time a few courts over I was also able to keep an eye on an incredible first set with Celia's teammate Jessica Nguyen and Southern California's Sarah Fansler. It was anyone's first set, with Jessica up 5-4 and then pulled into a tiebreaker where Sarah led 4-1. She fought it back, though, and won it 7-6(8) in the first and 6-2 in the second.
The afternoon belonged to the men and they put on quite a show. The Shields brothers split a pair of matches for Boise State with Clancy falling to top-seeded Ben Kohlloeffel, 6-2,6-3 and Luke pulling it out over LSU's Ken Skupski, 7-6(6),6-3,6-4. I enjoyed watching the ever-powerful serve of NCAA doubles champion Ryan Rowe as he beat Clemson's Clement Reix. Despite struggling through to a breaker in the second, he earned his place against Wake Forest's Todd Paul, whose upset over third-seeded Arnau Brugues of Tulsa I missed.
John Isner, seeded first in doubles (with Luis Flores) and second in singles was victorious all around today, but it was hard-fought in singles as SMU's Alex Skrypko pushed him to 2-6,6-4,7-6(5). Another really good match was Notre Dame's Stephen Bass squeezing by Greg Ouelette of Florida, 7-6(1),3-6,7-5. Perhaps one of the biggest surprises of the day was the defeat of the No. 5 seed (and last year's NCAA finalist) Somdev Devvarman of Virginia by Texas Tech's Bojan Zsumanski, 6-3,7-5.
After today, I'm not sure that anything that could happen on Friday would be out of the ordinary, but this is the game of tennis, so don't forget to check back and see what the day has to bring at the Racquet Club of Columbus.
Until Tomorrow,
Marcia Frost
For more insight into the ITA National Indoors, check out Colette Lewis' Zoo Tennis
Monthly Guides to
College Tennis Planning
Available in Kindle & Print
Create an Amazon Wedding Registry
Return to:
College And Junior
Tennis Homepage