Friday, November 3rd, 2006-Day Two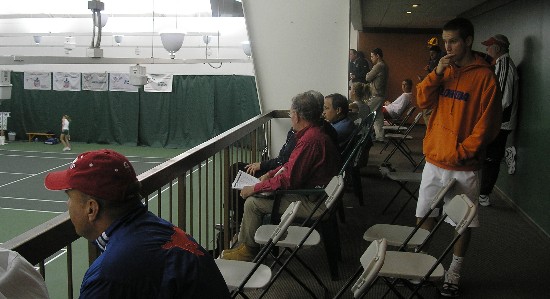 It was a wild ride on Friday at the ITA National Indoors, and Notre Dame's Stephen Bass was in the driver's seat.
Stephen Bass started his day by taking out second-seeded John Isner, 6-4,7-6(6), surviving six set points against him in the second. The senior was back on the court just a short time later eliminating Boise State's Luke Shields in a marathon match in which Luke had two match points at 6-5 in the third. It was the last match on and it went the distance -- 1-6,7-6(3),7-6(5). The unseeded New Yorker will now face hometown hero Steven Moneke. The Buckeye shocked No. 8 Erling Tveit of Mississippi, 6-4,6-2.
The other semifinal on Saturday will be between Ben Kohlloeffel of UCLA, who has not lost a set (or broken a sweat) in route to his spot, against Ivan Puchkarov of Oklahoma State. The latter had to earn his place with a hard fought 2-6,7-5,6-3 over Wake Forest's Todd Paul.
Unlike the men, the women's draw presented no real surprises. Second-seeded Audra Cohen of Miami has had about as tough a time as the men's top-seed. I was surprised that defending champion Diana Srebrovic did not push her further than 6-4,6-2. I can't say that it was the best tennis I've seen from either of these players. All-American champion Melanie Gloria of Fresno State, however, is showing some incredible tennis. First it was a three-setter past Baylor's Zuzana Cerna and then it was a real tough one over Georgia Tech freshman phenom Kirsten Flower. Though the score over Kirsten was 6-4,6-3, that doesn't even begin to tell the story of this match full of long points and games.
Another player who has made a run for it is Fresno Pacific's Jelena Pandzic. Jelena, who won the ITA Small College Championships after transferring from Fresno State, has not lost a set and not many games on her way through the draw. Kristi Miller of Georgia Tech was not the only one who was shocked when Jelena shut her out of the first set and only allowed her three games in the second. Her opponent in the semis, Megan Moulton-Levy of William & Mary will have her work cut out for her. Megan deserves a rest after dismissing Elze Potgieter of Texas A&M (6-3,6-1) and then struggling through North Carolina's Jenna Long (6-2,1-6,6-4).
Landing a place in the semifinals wasn't even the whole story of the day for Megan Moulton-Levy as she also earned a semifinal berth in the doubles with partner Katarina Zorcic. They will face Notre Dame's Brook Buck & Kelcy Tefft while Ana Cetnik & Anna Sydorska (TCU) will play Kim Coventry & Joelle Schwenk (Kentucky). The men's doubles still has its top-seeded John Isner & Luis Flores of Georgia who will play LSU's James Cluskey & Ken Skupsi. The bottom semi will be a really good one between No. 3 Marco Born & Andreas Siljestrom and Brian Hung & Matko Maravic of Michigan.
The fast courts and incredible players are certainly keeping the ITA National Indoors moving. As we wind down to the final four it's going to continue to be an interesting ride.
Until Tomorrow,
Marcia Frost
For more insight into the ITA National Indoors, check out Colette Lewis' Zoo Tennis