Friday, November 4th, 2005-Day Two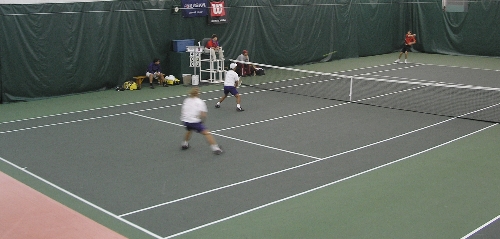 It was a day full of surprises at the ITA National Indoors and in the end many top players were gone and three Cardinals remained -- one of whom will play for both singles and doubles.
Alice Barnes did not have any remarkable results today. Seeded fourth, it was not unexpected when she dismissed Caitlin Burke of Wisconsin, 7-5,6-3, in the second round. It was not even amazing when she took out No. 5 Robin Stephenson of Alabama in the quarterfinals and no one was shocked when Alice teamed with Anne Yelsey to take out the Thompson Twins in the doubles (as she had done at the NCAAs). What was remarkable about the Stanford senior today is that she is the only player remaining in the semifinals of both events and she did it all while everyone -- myself included -- was busy watching and talking about all the day's upsets.
I couldn't help stopping by the men's doubles matches today as I entered the Racquet Club of Columbus. There just doesn't seem to be anything that matches the energy level that those guys have out there. Unlike the other draws in the tournament, this one progressed as seeded with the top four moving right into the semis. Tomorrow the tough play will really be seen as top-seeded Marco Born & Andreas Siljestrom of Middle Tennessee face No. 4 Luke Shields & Thomas Schoeck of Boise State, while the bottom of the draw features second-seeded hometown favorites Scott Green & Ross Wilson against North Carolina's Raian Luchici & Brad Pomeroy.
The women's doubles matches were not quite as predictable today. I was anxious to see the Thompsons (Christian & Catrina pictured right) play. Though I had seen them quite a bit in the juniors, I missed their freshmen year at Notre Dame. They were the top seeds here, having recently won the All-American Championships, but they were pitted against NCAA winner Alice Barnes and NCAA finalist Anne Yelsey, who, for a reason I can't fathom, were not seeded. It was a tough match and Christian & Catrina were not at the top of their game. The Stanford duo had a well-earned 8-3 win to put them into the next round against New Mexico's Maja Kovacek/Iva Gersic. The second semi will be between the fourth-seeded Georgia duo of Carolina Basu & Shadisha Robinson against unseeded Jenna Long & Sara Anundsen.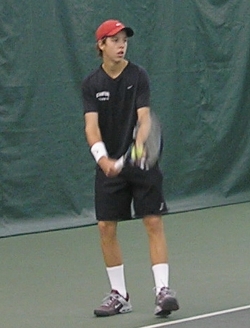 Main draw singles went through two rounds today of tiebreakers and upsets. I concentrated on two of those men's matches, the first of which was between Ole Miss standout Erling Tveit and Stanford freshman Matt Bruch (pictured left). Matt had caused quite a stir at the Junior Open, making his way through the draw of much higher ranked players and I was anxious to see what he was doing now that he was with the college set. It was an interesting match up with the two power servers that turned into quite the servers duel. Though there were a few long points, most were decided on serve, causing both sets to stretch to breakers. Matt had the edge in the first for a 7-5 win and the second he commanded quite easily at 7/2. His second match, however, was not so easy as he fell to UCLA's Ben Kohlloefel, 6-1,7-5.
All-American champion and No. 2 seed John Isner made it through his first match of the day against North Carolina's Raian Luchici, 6-4,7-6. He was not as confident going into his second with Notre Dame's Stephen Bass. The unseeded junior had eliminated No. 6 Luke Shields of Boise State earlier in the day (6-3,4-6,6-2). He seemed to go into the match with confidence while John was on edge, losing an early break. It was awhile before he got himself together and got it back at 5-4, but when he did he held it for a 7-5 set. In the second it was John who took the eartly lead, however, he lost it and ended up in a tiebreaker. The breaker went back and forth before he earned Georgia's place in the semifinal against UCLA's Ben Kohlloeffel. Another Stanford player, KC Corkery, will play in tomorrow's semis. KC ended the terrific run of Embry-Riddle wildcard Mislav Hizak to get his spot against Duke's Ludovic Walter.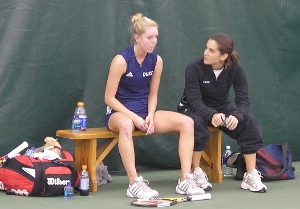 Yesterday the top men's seed fell and today the women's No. 1 joined him. Nicole Leimbach will not repeat her All-American victory. The TCU sophomore fell to Baylor's Zuzanna Cerna, 6-3,6-3. The match was not as quick as the score might reflect as it was a struggle for both players through long points and errors. There was no struggle for yet another Cardinal, No 8 Theresa Logar, as she put her all into removing Zuzanna, 6-1,6-2, to set up tomorrow's semi with No. 3 Kristi Miller of Georgia Tech. Kristi pulled out a long one earlier in the day against Duke's Jackie Carleton (pictured above with Assistant Coach Stephanie Nikitas). BYU'S Olga Boulytcheva upset No. 2 Amanda Fink, 6-2,7-6(3), before losing to Florida's Diana Srebovic, Alice Barnes' opponent for the next match.
If all this seems to confusing to read, just imagine how it was to watch! It was a day like no other in the world of college tennis. I'm not sure exactly what tomorrow's semifinals will bring, but I know I'll be paying a lot more attention to Alice Barnes and will be a lot more relieved that the number of players out there is winding down.
Until tomorrow,
Marcia Frost
P.S. There's not a lot of media coverage of this great event, but Colette Lewis is there by my side doing some great stories for Zoo Tennis.
Monthly Guides to
College Tennis Planning
Available in Kindle & Print
---
---
See the Latest
at NIKE
---
---
---
---
---
---
---
Return to:
College And Junior
Tennis Homepage