Saturday, November 5th, 2005-Day Three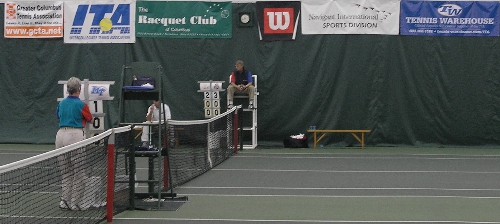 The Cardinals -- at least most of them -- were flying high today at the ITA Indoor Championships. The place was filled with Stanford red as trophies were won and finals were decided. Though Stanford players may have dominated in numbers, they weren't even the biggest stories of the day.
There was plenty of excitement on the courts from the beginning when I sat down to watch the doubles semifinals. I had not seen Shadisha Robinson, a fellow New Yorker who I have watched play since her early days in the juniors, play this tournament so I headed straight for her match with fellow Georgia Bulldog Carolin Basu. They were facing the North Carolina team of Jenna Long & Sara Anundsen. On the next court were fellow Tar Heels Raian Luchici & Brad Pomeroy against defending champions Scott Green & Ross Wilson. I had thought it would be a two-for-one showing of great men's and women's doubles, but it was far from it. A large Ohio State crowd got a bit rowdy, arguments erupted and the official reprimanded more than once. The Georgia women couldn't get past it all -- not that the unseeded Jenna & Sara didn't also present an incredible challenge. By the time it was over, it was one for two as the unseeded North Carolina women walked away victorious, while the men left with a controversial loss.
The day certainly improved as I saw more talent and plenty of sportsmanship. There were some hard fought consolation matches going on. The most impressive was certainly that between William & Mary's Megan Moulton-Levy and San Diego's Emma Murphy. I left that match many times, catching a few games and then checking out other players, but everytime I was there the points were long and incredible. There is no doubt that Megan earned her 7-5,7-5 victory, and no surprise that she didn't have enough left to do it again a few hours later when she succombed to Suzi Fodor. In tomorrow's backdraw final Suzi will face Stanford's Anne Yelsey.
While Anne Yelsey was securing her place in that final, her teammates were trying to make it to theirs. For KC Corkery, it would not be as the senior fell to unseeded Ludovic Walter of Duke, 7-6(3),6-4 in the main draw semi. (KC & James Pade did win the consolation doubles.) Theresa Logar, looking as hungry for a championship as I have seen her since the 2003 Girls 18 Nationals final (she won that), will be in tomorrow's trophy match after fighting off Georgia Tech's Kristi Miller, 6-7(5),6-2,6-1. She will be playing against Florida's Diana Srebovic, the winner over Stanford's Alice Barnes, 7-5,6-1. The unseeded Diana, a recent transfer from Virginia, had to play hard through long games in both sets despite the 7-5,6-1 score. Alice will not go home empty-handed, as she is in the doubles final with Anne Yelsey.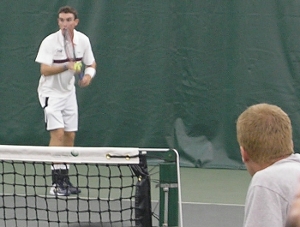 He may not have had it all together in that first match of the main draw, but Ryler DeHeart of Illinois (pictured left) today showed what made him last year's winner. First it was a spectacular 6-7(1),6-1,7-6(8) win over the dangerous serve of Born Siljestrom and then it was a dominating performance over Virginia's Treat Huey, 6-3,6-4, to put him in tomorrow's consolation final with Duke's Jonathan Stokke. Jonathan worked hard for his place too, stretching to 3-6,7-6(9),7-6(4) over Daniel Byrnes.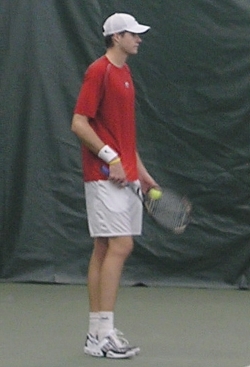 The road to two national titles in a row ended today for Georgia's John Isner (pictured right). Despite having thrown out a dozen aces and having three match points, John lost his bid to UCLA's Ben Klhlloeffel, 7-6(5),4-6,7-6(6).
I expect it to be an exciting final day at the Racquet Club of Columbus as the second national intercollegiate championship of the year comes to a close.
Until tomorrow,
Marcia Frost
More ITA Indoors stories are available at Colette Lewis' Zoo Tennis.
Consolation Finals
Women's Doubles-Cristelle Grier/Alexis Prousis-Northwestern -- pictured above right -- defeated Bianca Dulgheru/Eva Dickes-Pepperdine, 9-8(5)
Men's Doubles-KC Corkery/James Pade-Stanford defeated Jon Reckeway/Matija Zgaga-Baylor, 9-8(5)
See the Latest
at NIKE
---
Monthly Guides to
College Tennis Planning
Available in Kindle & Print
---
---
See the Latest
at NIKE
---
---
---
---
---
Return to:
College And Junior
Tennis Homepage