Wednesday, December 16th-Day Two Qualifying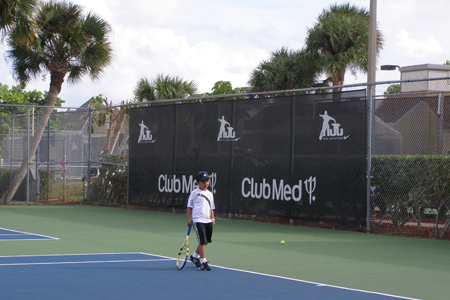 The rain held off long enough on Wednesday for the play -- both on and off the court.
The round robin continued in the Little Mo Internationals qualifying for the 8,9,10 and 11 age groups for the four spots in each main draw. Players are enjoying competing against all in their division in a format that is based on time rather than a score finish, with no ad scoring. The percentage of games won will determine who will advance to Friday's main draw.
One aspect of watching "Little Mo" is checking out the next generation. Wednesday, it was Austin DiGiulio whom I saw on the court following in the footsteps of brother Joseph, currently playing at the Junior Orange Bowl a few hours from here, a player I got to know through the junior tennis movie 50,000 Balls. On the other hand, I've also enjoyed speaking to many junior tennis "first timers," who are just getting into the game.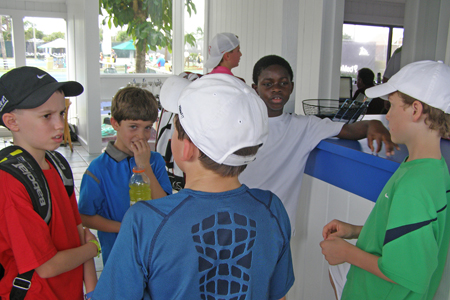 The uniquenes of the Little Mo Internationals has been enhanced by this year's Club Med location. Between matches players can be found at the pool, by the ping pong, on the beach, or even hanging from the trapeze (which I am planning on trying myself Thursday)! There's also usually a few at the ice cream machine and the pizza table at all times. Wednesday night players got to slide and bounce off any energy they had left at the players party before a game of "Remember the Year" (won by the team of yours truly) and a bit of dancing in the Sandbar before hitting the sack.
Thursday's weather forecast is looking a bit rainy, but there will definitely be (inside or out) a opening ceremony for the main draw players at 5:00 pm, led by the daughter of "Little Mo," Cindy Brinker Simmons.

-Marcia Frost
(not played in 2008)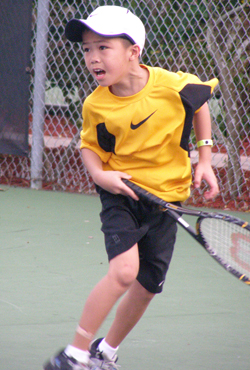 Vincent Chen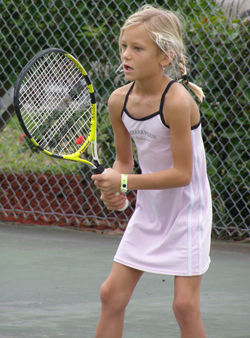 Jeanne Geardy
Austin DiGiulio
Anjelika Nella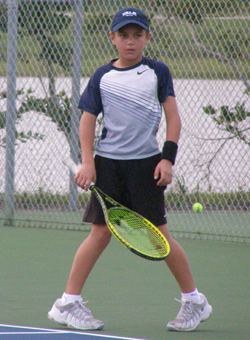 Patrick Malony