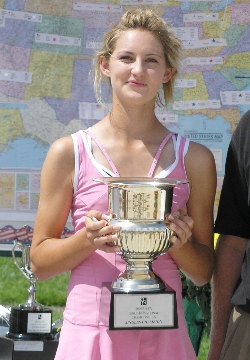 It's been a road full of quarterfinal and semifinal finishes for Lyndsay Kinstler with a just a few National titles along the way (2005 Roxy Singles, 2003 Easter Bowl Doubles, 2002 Sportwall Doubles), but the sixteen year old has captured "the big one" -- the Girls' 16 National Hardcourt Championships.
After a difficult tournament that included four three set matches, Lyndsay Kinstler arrived in the winners circle to claim her gold ball and the wildcard into the U.S. Open Junior Championships. Two of those three-setters were the elimination of top-seeded Reka Zsilnszka (3-6,7-6,6-3) in the semis and the defeat of Maria Sanchez in the finals (7-6(2),4-6,7-5), making the victory even more hard-earned.
I don't remember the last time I spoke to a National junior champion who came from a family of non-tennis players, but Lyndsay is that rare breed. She was a frequent trophy winner in Southern Californian, often partnering with now professional Alexa Glatch. By 2001, just after turning 13, it was National tournaments where Lyndsay was making her mark. The first of these was the Franklin Winter Championships where she earned a place in the finals. That same year Lyndsay made the quarterfinal doubles at a National Open as well as singles at the Gator Bowl and Spring Super Nationals. Then she took third place at the Claycourts in singles and doubles. Lyndsay finished the year with doubles semis and singles quarters at another National Open.
Lyndsay Kinstler continued to be a fixture in the final rounds of USTA National Tournaments throughout 2002, 2003 and 2004. She finished last year ranked No. 8 in the Girls 16 singles. This year, after placing in the top eight at half a dozen major tournaments and winning a National Open before the Hardcourts, she is currently ranked No. 1 in that age division.
I spoke with Lyndsay just minutes after she won the Girls' 16s USTA National Hardcourt Championships and she was enjoying her proudest moment.
* * *
by Marcia Frost
Q: Congratulations. You certainly worked hard for that.
A: "Yes, it was amazing."
Q: Do you consider this your best win?
A: "This is up there. This is my best tournament by far."
Q: What tournament did you have the most fun at?
A: "I'm going with this one since I won it! And it's in San Diego. I only live about an hour away."