Sunday, August 14, 2005-Final Day
It was a tournament full of surprises and three-setters and today was no exception as day turned into night and the winners still had not all been crowned.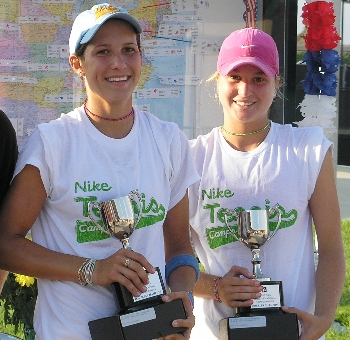 Doubles Winners Maria Sanchez & Stephanie Davidson. Maria was also the singles finalist



The first matches of the day all got off at 9:00 am without a hitch, but two out of three were not to finish as easily. The most exciting of these was the Consolation Final between Shinann Featherston and Melanie Oudin. The unseeded Melanie, who is only thirteen, had shocked a number of players in this championship and today was no different. Though Shinann (No. 12) commanded the first set 6-3, Melanie fought back in the second and third to win them. The final score was 3-6,6-2,6-3, but that doesn't even begin to explain the depth of the points and games.
Over on Court 1 another three-setter started the day as the unseeded team of Mallory Cecil & Lauren Meier earned their third place trophies by defeating the only seeds left in the doubles draw, No. 8 Cameron Hubbs & Natasha Makarova. It was a tough win as a great display of doubles ended 6-4,1-6,6-3.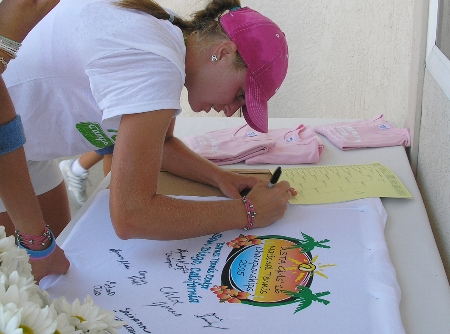 All of the players on the final day signed the champions t-shirt
She may have had some problems yesterday, but top-seeded Reka Zsilinszka had her game together today as she beat Chloe Jones, 6-3,6-2, for the third place win. The final, however, was a much different show on stadium court. Two Californians -- Lyndsay Kinstler and Maria Sanchez -- went at it for nearly three hours in a score that ended 7-6(2),4-6,7-5 in Lyndsay's favor. Though I would not take anything away from either player for earning their way to this tournament final (especially Lyndsay, she had a draw full of tough wins) the final was marked by two nervous players making a lot of errors.
When everyone was ready to pack it in and call it a tournament, came a three and a half hour doubles final. Just when all of us (myself included) thought we had seen more than enough tennis, Courtney Clayton, Logan Hanson, Stephanie Davidson and Maria Sanchez put on a great display of doubles talent that kept the crowd interested. At no time was I able to predict a winner in this one, but there was some extra cheer for Maria (and her partner Stephanie) to make up for her single loss. The final score was 3-6,7-5,6-3.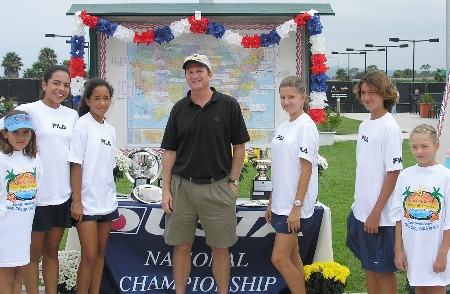 Tournament Director Steve Bickham & the Ball Kids
It's hard to find another place in the world with better weather than San Diego and the Barnes Tennis Center has the best viewing of any outdoor tournament I have seen with the exception of the National Tennis Center. There was a lot of young talent out there this year fighting for a chance to play at the NTC for the US Open Junior Championships. I look forward to seeing Lyndsay Kinstler there and returning to the Girls 16 USTA National Hardcourts next year to see who the next stadium star will be.
Until Next Year,
Marcia Frost
Click Here For The Full Draws