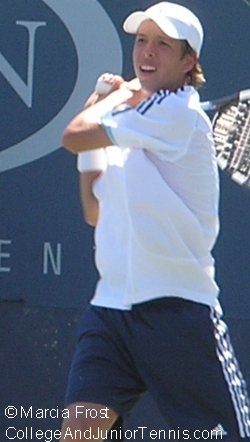 At the 2005 US Open no one in the junior boys singles draw deserved more attention than Matt Bruch. It was his junior tennis swan song before he was to head off to Stanford and he was determined to go off in style. And he sure made everyone stand up and take notice.
Eighteen year old Chicago native Matt Bruch entered the 2005 US Open as a Qualifier. When he made it to the main draw no one was surprised, even though it had not been a great junior tennis year for him. His best singles finish was as a quarterfinalist at the International Spring Championships and that had been months before. Something happened on those courts in Flushing. Matt was not yet ready to pack his bags and head to California.
Once in the Junior Open main draw Matt impressed the crowd with a win over fifteen-seeded Andre Miele. He then took out Rupesh Roy to advance to the round of 16 where he garnered praise, though he did not win, for an incredible match against Donald Young, the number one player in the world. The match went to three sets -- two of them tiebreakers -- and it was easy to remember the boy who had been ranked nationally as high as No. 1 in the 12s and 14s, as well as No. 2 in the 16s, and forget the one who wasn't having a great year.
In 1999, barely 12 year old Matt Bruch won his first gold ball. It was at the USTA National Hardcourts in the 12 and under division. He would continue on that year winning two more National titles (the Peach State Classic & the Franklin Winter) and he would end the year as the top player in that age division.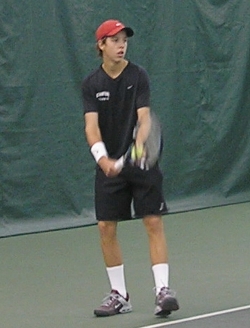 The 14 and 16 age groups saw Matt place in many nationals. In the summer of 2003 Matt won the Claycourts. He also placed second in singles and third in doubles at the Hardcourts in Kalamazoo. The following year his concentration began in the 18s, with ITFs between the Nationals and finishes in the quarters or better in almost everything he played.
Matt was determined to show his improvement and dismiss anyone who thought that his US Open run was a fluke for a player who hadn't done much this year. He started his college tennis career right at the top. As an unseeded freshman Matt had a run through the first national college event of the year -- the Polo Ralph Lauren All-American Championships -- that took him through to the semifinals, where he lost to champion John Isner. (The tournament began with him upseting No. 2 seed Ludovic Walter in the first round). Just one month later Matt was at it again at the next national event. In the ITA Indoors he became the first freshman to reach the quarters since 2001 before falling -- again -- to the tournament champion.
by Marcia Frost