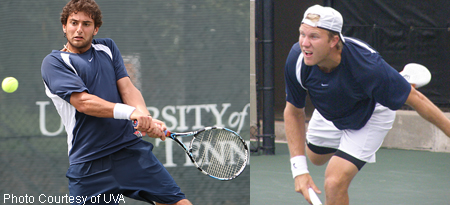 It was a first for the Cavaliers and yet another for the Bears at the NCAA Doubles Championship as unseeded Michael Shabaz & Dominic Inglot (above) took the title along with Mari Andersson-Jana Juricova (5-8).
Doubles got underway a day after singles with a number of top teams taking immediately leave. North Carolina's Sophie Grabinski & Sanaz Marand (4), Clemson's Ani Mijacika & Keri Wong (5-8), UCLA's Andrea Remynse & Yasmin Schnack (3), Pepperdine's Omar Altmann & Bassam Beidas (5-8), and LSU's Neal Skupski & Michael Venus (3) were all casualties of day one. Not coincidentally, they also all had members who were playing singles out in the extreme heat earlier in the day.
The surprises continued as two seeded teams who are familiar with prestigious finals did not make it through the quarters. Georgia's Nate Schnugg & Jamie Hunt won the doubles at the U.S. Open Junior Championships in 2006, over Texas A&M's Austin Krajicek (who played with Jarmere Jenkins then and plays with Conor Pollack now). Heading into the semis both the Aggie and Bulldog teams were eliminated.
The men's semis were left with two unseeded teams on one side -- Dominic Inglot & Michael Shabaz of Virginia vs. Clay Donato & Taylor Fogleman of North Carolina -- and No. 2 seeded Davey Sandgren & John-Patrick Smith of Tennessee to play against yet another unseeded duo, Tim Puetz & Alexey Tsyrenov of Auburn. It was Dominic & Michael winning along with the seeds, though they had a three-setter to finish before reaching the finals. For the women all top four seeds had fallen, leaving 5-8 seeds Mari Andersson & Jana Juricova of California and Stanford's Lindsay Burdette & Hilary Barte as the top teams, both of which prevailed in their semifinal match.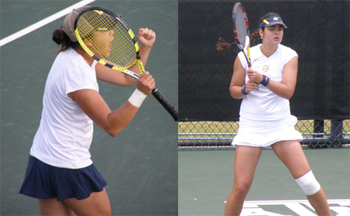 Among the unexpected was the familiar as Stanford and California had produced quite a few doubles champions In fact, two of those were Lindsay's sister Erin for Stanford (2005) and current Coach Amanda Augustus for Cal (1998, 1999).
The men's doubles championship was a long close one with Virginia's Dominic Inglot & Michael Shabaz taking it and the Cavaliers first individual championships other than Somdev Devvarman's singles wins (2008,2007). On the women's side the Pac-10 battle went to Mari Andersson & Jana Juricova (above), also in a close one that went down to a third set tiebreaker.
Men
Finals
Dominic Inglot/Michael Shabaz defeated Davey Sandgren/John-Patrick Smith (2), 3-6,7-6(4),6-4
Semifinals
Dominic Inglot/Michael Shabaz defeated Clay Donato/Taylor Fogleman, 4-6,6-4,6-4
Davey Sandgren/JP Smith (2) defeated Tim Puetz/Alexey Tsyrenov, 6-4,6-2
Quarterfinals
Dominic Inglot/Michael Shabaz defeated Omar Altmann/Bassam Beidas (5-8), 6-4,6-2 Clay Donato/Taylor Fogleman defeated Austin Krajicek/Conor Pollock (5-8) , 6-4,6-2 Tim Puetz/Alexey Tsyrenov defeated Jamie Hunt/Nate Schnugg (4), 3-6,6-2,6-3 Davey Sandgren/JP Smith (2) defeated Steve Forman/Cory Parr, 6-3,6-7(4),6-3 Round of 16
Dominic Inglot/Michael Shabaz-Virginia defeated Raony Carvalho/Christian Rojmar-Texas Tech, 6-3,6-4
Omar Altmann/Bassam Beidas-Pepperdine (5-8) defeated Justin Kronauge/Steven Moneke-Ohio State, 6-1,6-2
Clay Donato/Taylor Fogleman-North Carolina defeated Kiryl Harbatsiuk/Anton Stryhas-Sacramento State, 6-3,7-6 (3)
Austin Krajicek/Conor Pollock-Texas A&M (5-8) defeated Robert McKenzie/John Peers-Middle Tennesse State, 6-3,6-4
Tim Puetz/Alexey Tsyrenov-Auburn defeated Robert Farah/Steve Johnson-Southern California (5-8), 6-3,6-4
Jamie Hunt/Nate Schnugg-Georgia (4) defeated Geoff Chizever/Pedro Zerbini-California, 7-6,4-6,6-4
Steve Forman/Cory Parr-Wake Forest defeated Nathan Byrnes/Oleksandr Nedovyesov-Oklahoma State, 7-5,6-3
Davey Sandgren/JP Smith-Tennessee (2) defeated Kean Feeder/James Meredith-Boise State, 6-3,7-5
Women
Finals
Mari Andersson/Jana Juricova defeated Hilary Barte/Lindsay Burdette (5-8), 6-3,6-4
Semifinals
Mari Andersson/Jana Juricova (5-8) defeated Csilla Borsanyi/Lenka Broosova, 6-4,6-3
Hilary Barte/Lindsay Burdette (5-8) defeated Natalie Pluskota/Caitlin Whoriskey-Tennessee, 6-4,3-6,7-6(4) Quarterfinals
Mari Andersson/Jana Juricova (5-8) defeated Renata Kucerkova/Anastasia Petukhova, 7-6(1),6-3 Csilla Borsanyi/Lenka Broosova defeated Micaela Hein/Kelcy McKenna, 6-3,6-0 Hilary Barte/Lindsay Burdette (5-8) defeated Lauren Lui/Georgia Rose, 6-2,3-6,6-4 Natalie Pluskota/Caitlin Whoriskey defeated Josipa Bek/Ina Hadziselimovic, 6-4,3-6,6-4 Round of 16
Renata Kucerkova/Anastasia Petukhova-Fresno State defeated Nadine Fahoum/Charleen Haarhoff-Old Dominion, 6-3,3-6,6-2
Mari Andersson/Jana Juricova-California (5-8) defeated Michaela Kissell/Laura Vallverdu-Miami, 7-5,6-4
Micaela Hein/Kelcy McKenna-Arizona State defeated Marritt Boonstra/Joana Mather-Florida, 6-4,1-6,6-3
Csilla Borsanyi/Lenka Broosova-Baylor defeated Kristi Boxx/Karen Nijssen-Mississippi, 7-6,6-2
Hilary Barte/Lindsay Burdette-Stanford(5-8) defeated Marta Lesniak/Aleksandra Malyarschikova-SMU, 6-2,6-0
Lauren Lui/Georgia Rose-Northwestern defeated Carolina Escamilla/Caroline Lilley-Kentucky, 6-3,6-1
Josipa Bek/Ina Hadziselimovic-Clemson defeated Macall Harkins/Anna Sydorska-TCU, 7-6,6-4
Natalie Pluskota/Caitlin Whoriskey-Tennessee defeated Kristy Frilling/Kelcy Tefft-Notre Dame (2), 7-6,6-3
---

<
---
Monthly Guides to
College Tennis Planning
Available in Kindle & Print
---
---
---
---
---
---
---
---
Return to:
College And Junior
Tennis Homepage