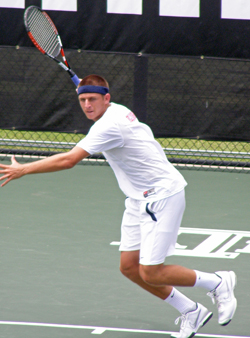 History was made at the NCAA Singles Championship as Americans ruled the court for the first time in nine years. Devin Britton (right), who had made waves as an unseeded finalist at the 2008 U.S. Open Junior Championships, did it once again and ended up in the winners' circle with freshman -- and fellow American -- Mallory Cecil.
Upsets began from day one and it became clear that there would be no triple crown winner this year. It had actually been 2003 the last time that happened (the University of Illinois won the team, Amer Delic singles and Rajeev Ram & Brian Wilson doubles). The possibility of one school a three-time winner dwindled as the men's singles' eighth seeded Robert Farah of Southern California fell early to Rice's Bruno Rosa. Robert's doubles partner, USC freshman Steve Johnson, remained a bit longer, but he too would leave the draw.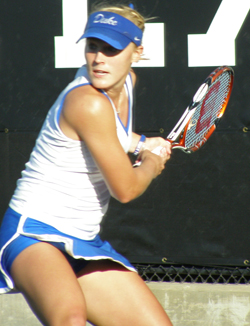 The first round produced other upsets of Wake Forest's Cory Parr (9-16), Jonas Berg (9-16) of Mississippi, Baylor's Denes Lukacs (4), Irina Falconi (9-16) of Georgia Tech, TCU's Nina Munch-Soegaard (9-16) and Arizona State's Kelcy McKenna (9-16). By day two the temperatures were climbing into the 90s and the heat was felt on the court. Top-seeded Arnau Brugues of Tulsa was pushed by Illini Roy Kalmanovich, but did survive in a third, but others bowed in the second -- Georgia Tech's Guillermo Gomez (9-16), Bryan Koniecko of Ohio State (3), Michael Venus of LSU (7), UCLA's Yasmin Schnack (9-16), and Ani Mijacika of Arkansas (4). The second round also saw the first upset by Ole Miss' Devin Briton, over Virginia's Dominic Inglot (9-16).
In the meantime, Duke's Mallory Cecil (above) was keeping the hope alive that there may be a winner from the team and singles (she wasn't in doubles). The fifth-seeded freshman was having an easy time of straight set matches. Her teammate, tournament MVP Reka Zsilinszka, challenged top-seeded Maria Mosolova of Northwestern, but not enough to advance. North Carolina's Sanaz Marand was also putting on a great show as she made her way to the quarterfinals without losing a set. The round of 16 continued without much fanfare in either draw.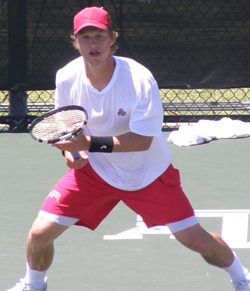 The quarters produced raindrops and upsets. There was also an interesting look at a team repeating. The last two NCAA Men Singles Championships had been won by Virginia's Somdev Devvarman, a native of India.. Into the quarterfinals the Cavaliers presented an interesting entry. Sanam Singh, who was also from India, had a great event, but he shocked all when the unseeded sophomore had a 6-2,6-4 win of the previously solid No. 1 seed Arnau Brugues. Alpha-seeded Steven Moneke (right), from the finalist Ohio State team also surprised by taking out No. 5 Bruno Agostinelli in three sets. And Devin Britton continued his spectacular run, this time squeaking by Stanford's Alex Clayton. And yet another surprise was in the men's singles. Blake Strode of Arkansas would take out Texas A&M's Conor Pollock (9-16) on his homecourt after previously eliminating No. 2 Oleksandr Nevedeskov.
The women's draw had a little less excitement in the quarterfinals with three out of the four semifinalists top ten seeds. And two of those remaining were from the University of Miami. The Hurricanes had unseeded Laura Vallverdu, who pulled her third upset in three days by getting past alpha-seed Marritt Boonstra of Florida, and second-seeded Julia Cohen. Julia was to face Duke's Mallory Cecil. And on the top was No. 8 Chelsey Gullickson, the winner over top-seeded Maria Mosolova of Northwestern ready to play Laura Vallverdu.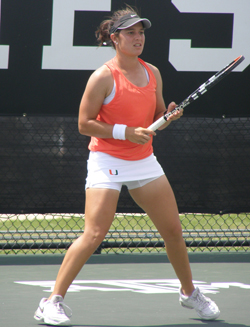 After the semis, the finals were left with an unseeded freshman in the men's and a freshman and an unseeded player in the women's after Laura Vallverdu eliminated the Lady Dawg Chelsey. It would be the 18 year olds who would prevail in their first ever NCAA Championship.
Mallory Cecil has been living a fairy tale, first taking No. 1 position to lead Duke to the NCAA Women's Team Championship and then taking the single trophy. In the final it was a straight set victory over Laura Vallverdu (right) that gave her the honor of being the first player since Amber Liu of Stanford (2004) to win both the team and the singles. She is also the only Blue Devil to ever take the title other than Vanessa Webb in 1998.
Devin Britton earned his trophy by taking out senior Steve Moneke in three. He is only the third freshman since the NCAA introduced this championship format in 1977. He is also the youngest on record, having just entered the University of Mississippi in January of 2009. Devin is also the first player from Ole Miss to win the crown. And the last unseeded player to do so since 1997 (Luke Smith).
Men
Finals
Devin Britton defeated Steven Moneke (9-16), 3-6,6-2,6-3
Semifinals
Steven Moneke (9-16) defeated Sanam Singh, 6-1,4-6,6-3
Devin Britton defeated Blake Strode (9-16), 7-6(9),6-4
Quarterfinals
Sanam Singh defeated Arnau Brugues (1), 6-2,6-4
Steven Moneke (9-16) defeated Bruno Agostinelli (5), 6-3,2-6,6-2
Devin Britton defeated Alex Clayton, 4-6,7-6(3),6-4
Blake Strode (9-16) defeated Conor Pollock (9-16), 6-3,4-6,6-4
Round of 16
Arnau Brugues/Tulsa (1) defeated Omar Altmann/Pepperdine, 7-6,6-3
Sanam Singh/Virginia defeated John-Patrick Smith/Tennessee, 6-4,7-5
Steven Moneke/Ohio State (9-16) defeated Jay Weinacker/North Carolina State, 4-6,6-1,6-4
Bruno Agostinelli/Kentucky (5) defeated Steve Johnson/Southern California, 6-4,6-1
Devin Britton/Mississippi defeated Bruno Rose/Rice, 6-3,6-4
Alex Clayton/Stanford defeated Nate Schnugg/Georgia (9-16), 6-4,7-6
Conor Pollock/Texas A&M (9-16) defeated Dean Jackson/San Diego, 4-6,6-3,6-4
Blake Strode/Arkansas (9-16) defeated Oleksandr Nedovyesov/Oklahoma State (2), 6-7,6-4,6-2
Women
Finals
Mallory Cecil (5) defeated Laura Vallverdu, 7-5,6-4
Semifinals
Laura Vallverdu defeated Chelsey Gullickson (8), 6-4,5-7,6-4
Mallory Cecil (5) defeated Julia Cohen (2), 6-1,6-0
Quarterfinals
Chelsey Gullickson/Georgia (8) defeated Maria Mosolova/Northwestern (1),6-4,6-4 Laura Vallverdu/Miami defeated Marrit Boonstra/Florida (9-16), 6-1,6-7(9),6-3 Mallory Cecil/Duke (5) defeated Aurelija Miseviciute/Arkansas (3), 6-3,6-3 Julia Cohen/Miami (2) defeated Sanaz Marand/North Carolina, 7-5,5-7,6-1 Round of 16
Maria Mosolova/Northwestern (1) defeated Reka Zsilinszka/Duke, 4-6,6-2,6-4
Chelsey Gullickson/Georgia (8) defeated Jana Juricova/California, 6-3,7-6
Laura Vallverdu/Miami defeated Megan Falcon/LSU (9-16), 3-6,7-5,6-0
Marrit Boonstra/Florida (9-16) defeated Hilary Barte/Stanford (7), 7-5,6-1
Mallory Cecil/Duke (5) defeated Bianca Eichkorn/Miami, 6-2,7-5
Aurelija Miseviciute/Arkansas (3) defeated Josipa Bek/Clemson (9-16), 6-3,6-4
Sanaz Marand/North Carolina defeated Laura Gioia/Furman, 6-1,6-1
Julia Cohen/Miami (2) defeated Ellah Nze/Duke, 6-4,6-4
---

<
---
Monthly Guides to
College Tennis Planning
Available in Kindle & Print
---
---
---
---
---
---
---
---
Return to:
College And Junior
Tennis Homepage