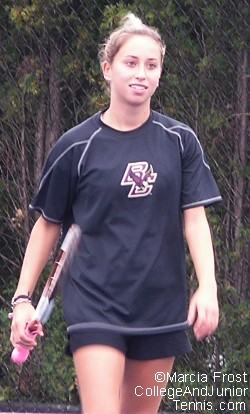 Eighteen of the top women's college teams in the country spent Columbus Day weekend at the USTA Billie Jean King National Tennis Center for the 4th Annual NTC Women's College Tennis Invitational.
Despite what rain that welcomed this tournament for the second year in a row, play wasn't stopped for long on the first day. Some of the matches were brought inside while others were just about an hour off as the outside courts were dried. The one thing that didn't improve until Day Two was the temperatures. Parents. coaches -- and even players who were between matches -- huddled under blankets.
It was a bit of a homecoming for me as well as the players from the East. Lauren Cash (Boston College) (above, right), Kathrin Sorokko (Brown), Alison Adamski (St. John's), Lauren Sadaka & Julia Koulbitskaya (UPenn) were just a few who stopped for a hello before going out to their constant matches.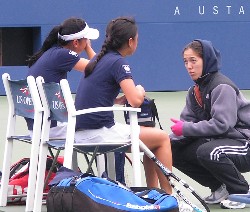 I also spoke for awhile to Rutger's Polina Zaretser, who is recovering from an injury, and Harvard's Lena Litvak (below, right), who a few short weeks ago was playing on these courts in the quarterfinals of the U.S. Open Junior Doubles Championship. I also got to see Yale's Janet Kim (and partner Jessie Rhee) play on Arthur Ashe Stadium against the Arkansas duo of Nana Airpetian & Mayori Franco. Even thought the Razorbacks won (8-4), Yale new Assistant Coach Cristelle Grier (above) will be offering some good doubles advice -- just a few months ago she picked up the NCAA title in that event.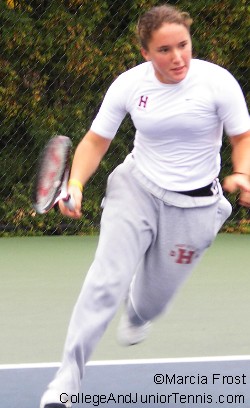 Unfortunately, I didn't get to stay at the NTC Invitational as much as I would have liked because I had tournament duty at the Port Washington Tennis Academy, but I saw enough to know that this is still one of the premier women's college tennis events in the nation and a good glimpse into the 2006-07 season. One team to certainly keep an eye on will be North Carolina State. The Wolfpacks took home three of the six titles.
Until Next Year,
Marcia Frost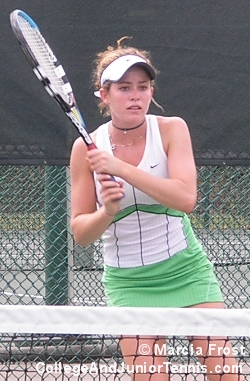 FLIGHT "A" SINGLES
Finals
Melissa Saiontz (8) -- pictured right -- defeated Ana Zubori, 6-4,6-3
Semifinals
Anna Zubori defeated Julia Koulbitskaya (5), 6-1,6-2
Melissa Saiontz (8) defeated Elze Potgoeter, 6-3,6-1
Quarterfinals
Julia Koulbitskaya/UPenn (5) defeated Lena Litvak/Harvard (1), 6-3,4-6,10-4
Ana Zubori/South Carolina defeated Janet Kim/Yale (4), 6-2,6-0
Melissa Saiontz/Princeton (8) defeated Yulia Rivelis/UPenn (3), 6-4,7-5
Elze Potgoeter/Texas A&MK defeated Dara Petrovic/North Carolina State (6), 6-1,6-3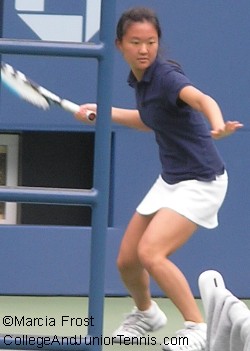 FLIGHT "B" SINGLES
Finals
Berkeley Brock defeated Kristen Cargill (3), 7-6(3),6-4
Semifinals
Kristen Cargill (3) defeated Charlie Tansill, 7-5,6-2
Berkeley Brock defeated Jessica Rhee, 6-3,6-2
Quarterfinals
Charlie Tansill/UPenn defeated Alina Sullivan/Boston College, 2-6,6-3,10-8
Kristen Cargill/Duke (3) defeated Alejandra Guerra/North Carolina State (5), 6-1,6-1
Jessie Rhee/Yale -- pictured right -- defeated Marisa Druss/Texas A&M, 6-1,6-3
Berkeley Brock/North Carolina State defeated Laura Peterzan/Harvard (2), 7-5,6-1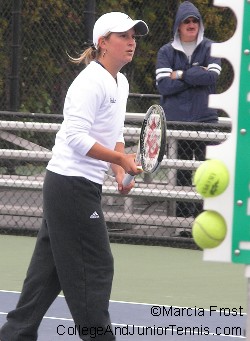 FLIGHT "C" SINGLES
Finals
Maria Anisimova defeated Neils Barringer, 6-4,6-3
Semifinals
Maria Anisimova defeated Julia Roach (4), 6-2,6-0
Neils Barringer defeated Parker Goyer (5) -- pictured right -- 6-7(3),6-4,10-4
Quarterfinals
Maria Anisimova/UPenn defeated Clelia Deltour/Duke (1), 7-5,6-0
Julia Roach/North Carolina State (4) defeated Lindsay Nash/Boston College, 6-2,4-6,10-6
Parker Goyer/Duke (5) defeated Caroline Hammond/Virginia (3), 7-5,6-3
Neils Barringer/North Carolina State over Lauren Sadaka/UPenn by default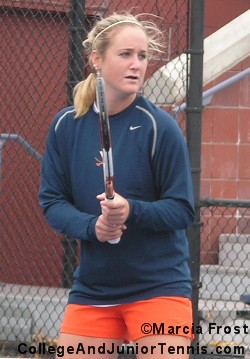 FLIGHT "D" SINGLES
Finals
Kristen Bleakley (1) defeated Austin Hansen -- pictured right -- 6-2,6-3
Semifinals
Kristen Bleakley (1) defeated Lara Alexander (3), 4-6,7-6(6),10-8
Austin Hansen defeated Carolina Huighnard, 6-4,6-4
Quarterfinals
Kristen Bleakley/North Carolina State (1) defeated Anna Varnay/Columbia, 6-0,6-3
Lara Alexander/Virginia (3) defeated Kelley Kirkpatrick/Brown, 6-1,6-0
Carolina Huignard/Syracuse defeated Gia Nafarrette/Boston College (5), 6-3,6-3
Austin Hansen/Virginia defeated Kathrin Sorokko/Brown, 6-1,6-1

Arkansas Coach Michael Hegarty
FLIGHT "A" DOUBLES
Finals
Alejandra Guerra/Daria Petrovic (4) defeated Preethi Mukundan/Laura Peterzan, 9-8(1)
Semifinals
Preethi Mukundan/Laura Peterzan defeated CHristine Alford/Sarah Lederhandler, 8-2
Quarterfinals
Preethi Mukundan/Laura Peterzan-Harvard defeated Laura Ganzer/Megan McGavock-South Carolina, 8-6
Christine Alford/Sarah Lederhandler-Yale defeated Katie Bramante/Victoria Vaynberg-Syracuse, 9-8(5)
Alejandra Guerra/Daria Petrovic-North Carolina State defeated Nanar Airapetian/Mayori Franco-Arkansas (7), 9-7
Lauren Cash/Dasha Cherkasov-Boston College defeated Christyn Lucas/Ana Zubori-South Carolina, 8-5
FLIGHT B" DOUBLES
Finals
Clelia Deltour/Parker Goyer (1) -- pictured right -- defeated Maria Anisimova/Charlie Tansil (5), 8-1
Semifinals
Clelia Deltour/Parker Goyer (1) defeated Darcy Robertson/Joanna Roth, 8-6
Maria Anisimova/Charlie Tansil (5) defeated Kelly Stewart/Laura Trimble, 8-3
Quarterfinals
Clelia Deltour/Parker Goyer-Duke (1) defeated Austin Hansen/Jessica Preeg-Virginia, 8-1
Darcy Robertson/Joanna Roth-Princeton defeated Neils Barringer/Julia Roach-North Carolina State (3), 8-3
Kelly Stewart/Laura Trimble-Princeton defeated Jaimie Caplan/Carley Markovitz-Dartmouth, 8-2
Maria Anisimova/Charlene Tansil-UPenn (5) defeated Lauren Holzberg/Lauren McCarthy-Penn State, 8-3



Christine Tan
Rutgers


Michelle Paulter
Brown


Kathrin Sorokko
Brown