Monday, October 11, 2004
Final Day
After a day full of upsets yesterday, today followed with exciting matches that were too close to call until the end.
When the final trophies were given out today it was the University of North Carolina that garnered the most. The leader of that pack was Jenna Long who took Flight "C" singles and Flight "B" doubles with partner Sara Anundsen. In the singles match Jenna was as close as can be with Texas A&M's Nicki Mechem. In the finale it was just a few points that separated them as she took the 7-6,7-5 win. The doubles match against Princeton's Natalie Arcario and Christine Kansky was a little easier as the North Carolina duo took it 8-3. The team picked up their final win in Flight "A" doubles from Kendall Cline and Aniela Mojzis.
With all of the seeded players eliminated, Kim Coventry of Kentucky and Preethi Mukundan of Harvard fought for the "A" singles. The first set was a close 6-4, but Kim dominated the second, taking it and the match, 6-0. On the court next door two of Preethi's teammates fought for the "B" crown with Celia Durkin coming out ahead of Melissa Anderson, 6-4,6-2
The last two singles matches of the day were pushed to ten point tie-breakers (in lieu of a third set). Michelle Pautler of Brown edged by Caroline Winebrenner of Kentucky in a match that was even closer than the 2-6,6-4,1-0(8) score showed. Another two teammates battled each other for the "E" flight with Christine Kansky just 5-7,6-4,1-0(6) better than fellow Princeton Tiger Laura Trimble.
Though fall decided to come a little early with cool temperatures and lots of wind, the 2nd Annual National Tennis Center Women's Invitational was a successful showcase for Women's College Tennis. I'm sure we can all look forward to next year's event.
Flight A Singles Draw Flight E Singles Draw
Flight B Singles Draw Flight A Doubles Draw
Flight C Singles Draw Flight B Doubles Draw
Flight D Singles Draw Flight C Doubles Draw
Click Here For Story & Photos From October 9 & 10
Marcia Frost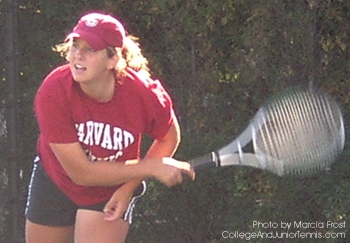 Celia Durkin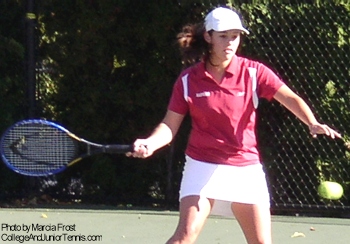 Melissa Anderson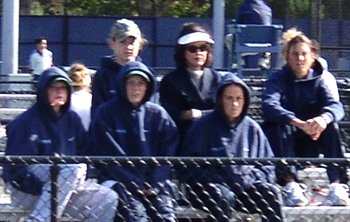 North Carolina Women Support Jenna Long
Click on a photo to enlarge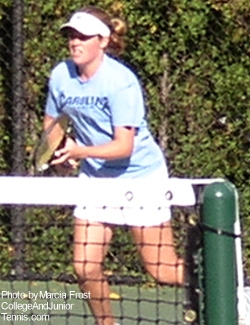 Jenna Long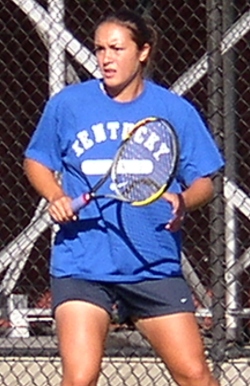 Kim Coventry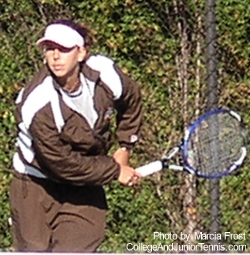 Michelle Pautler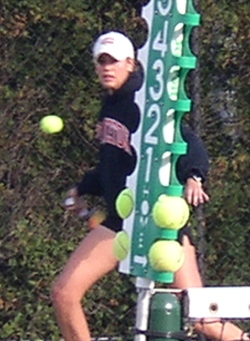 Laura Trimble
Christine Kansky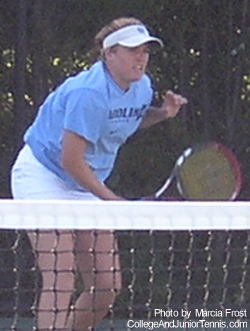 Nicki Mecham
Carolina Winebrenner
---
SportMinder-a journal to log lessons, clinics, match play, tournaments & fitness training
---
The Mental Athlete
See A Review
---
CampusDirt.com: College Life Uncensored
---
---
TENNIS HUT
---
---
---
---
---
---
Return to:
College And Junior
Tennis Homepage