Friday, July 23, 2010-Day Six-Boys' 14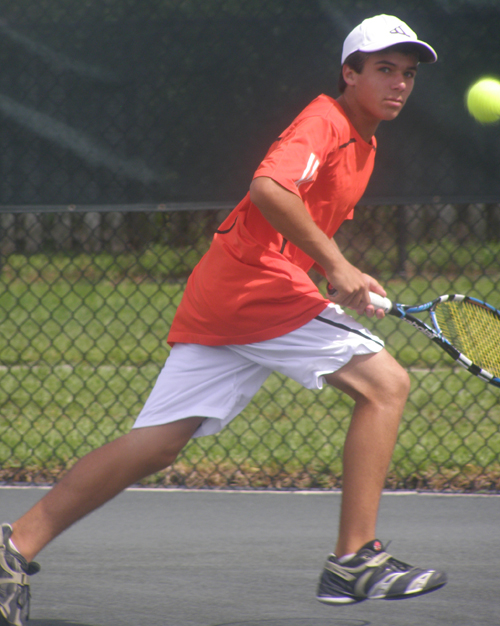 It was the first day I have seen in over a week where the sun was not shining (though the humidity never left). Tropical Storm Bonnie caused delays and pushedback some consolation matches, but the four Claycourts I've been watching all week in Florida managed to stay on track in the main draw.
I had some time to catch up with co-Tournament Director Susan Krowitz, Referee Karol Wise and USTA National Coach Mike Sell while waiting for the courts to dry at the Jimmy Evert Tennis Center in Fort Lauderdale. There are 18 claycourts here and all we needed were four to get the singles quarterfinals done. Even though the forecast predicted an afternoon of rain after the morning of rain, it managed to stay away and the matches were spread to the driest courts,
There's been some heavy competition in the Boys' 14s with three of the top four seeds dropping in early rounds, but there were no surprises on Friday. Top-seeded Daniel Keznerman looked solid as he took a 6-2 set from Alexandru (Sasha) Gozun. He didn't have to go much further as Sasha retired with an injury at 2-0. Daniel will face No. 10 Javier Restrepo in the Saturday semi. Javier had an early break and a quick 6-3 first set, but faced a mostly baseline battle with Aron Hiltzik (12) before taking the second, 7-5. No. 9 Benjamin Tso was in charge of Chase Perez-Blanco from the beginning to end with a 6-3,6-0 finish. It was a little different for David Wilczynski (3) and Jared Woodson (23), who both had difficulty holding at the beginning games, but once David had a 4-2 lead, he ran away with the match, losing only two more games.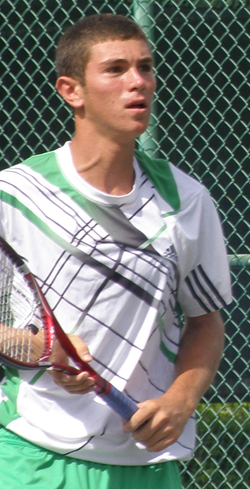 At the Delray Beach Tennis Center, it was a long day of rain and three-setters, but they did finally finish up with Bjorn Fratangelo (1) left to face unseeded Ross Guignon and Shane Vinsant (7) to take on Alexios Halebian (right) in the semis. The 16s, which are also now at the Delray Beach Tennis Center for the rest of the tournament, also finished the quarters with some long matches that included the loss of two top seeds. M. Mackenzie McDonald (2) fell to Gordon Watson (5) and Maxx Lipman (3) lost to Michael Redlicki (8). Both mathes went three sets. Michael will now play Anthony Delcore (6), while Gordon is up against Richard Del Nunzio (4) in the finals.

The Girls' 12s had an early start and finished up the semis before the rain hit The Polo Club at Boca Raton. Top-seeded Sofia Kenin had her toughest challenge of the tournament, but survived Emma Higuchi, 7-5,1-6,6-4. She will play Cristina Rovera (6) in the finals, a 6-,7-6 winner over Star Makarome. Kenya Jones & Kaitlyn McCarthy took the doubles trophy over Maddie Pothoff & Jada Hart, 0-6,6-3,6-3.

I have to head back home Saturday, but I'll be keeping an eye on the Florida USTA Claycourts and will wrap them up on Sunday.

Until tomorrow,
Marcia Frost


P.S. Check out Zoo Tennis for Colette Lewis's coverage of the Girls' 18s.

Boys 18s Full Draws
Boys 16s Full Draws
Girls 12s Full Draws
Boys 14s Full Draws

Stories, Photos & Results from other days

Contact Marcia Frost if you would like any photos from the Claycourts
click on a photo to enlarge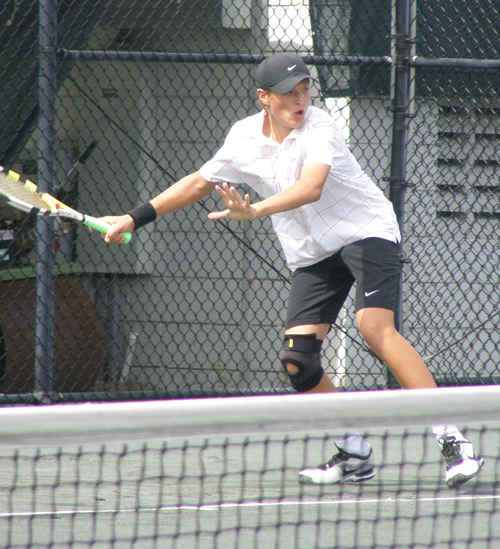 Alexandru Gozun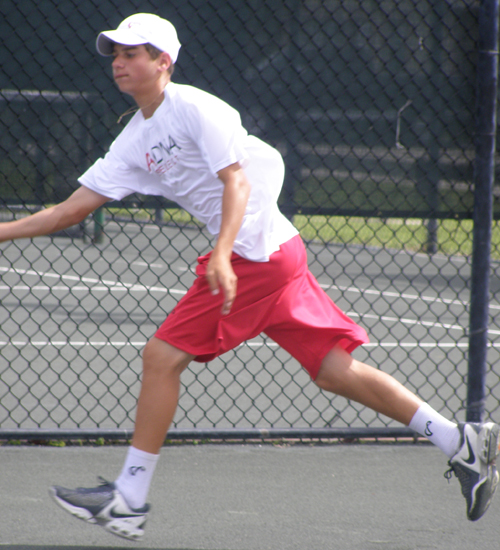 Aron Hiltzik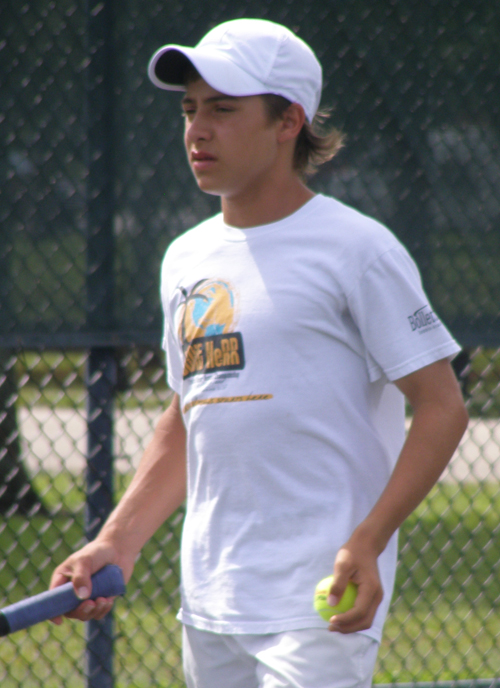 Javier Restrepo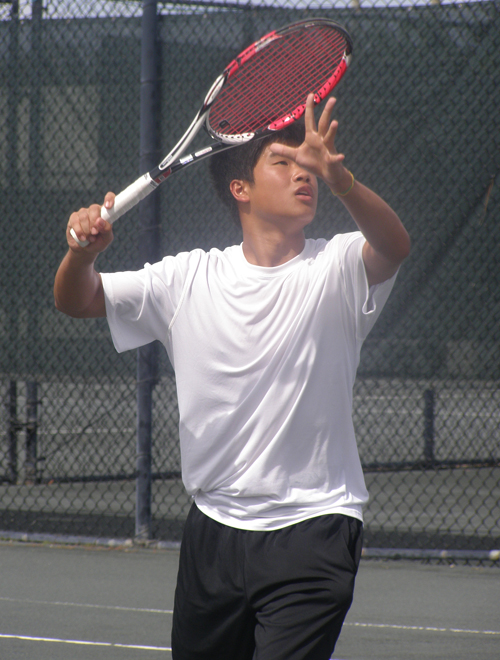 Benjamin Tso
David Wilczynski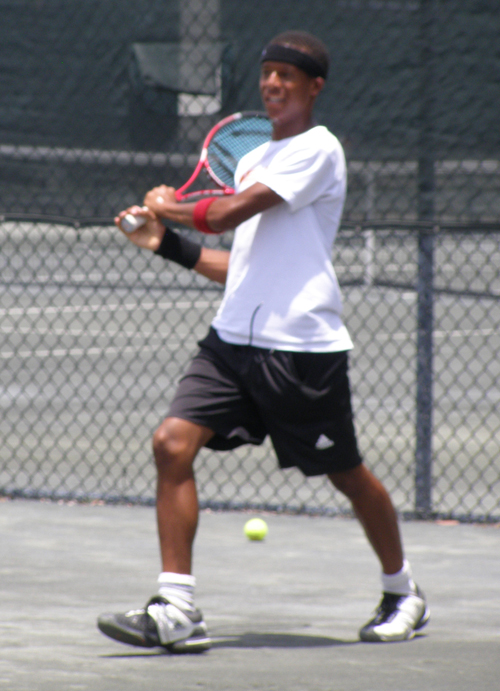 Jared Woodrow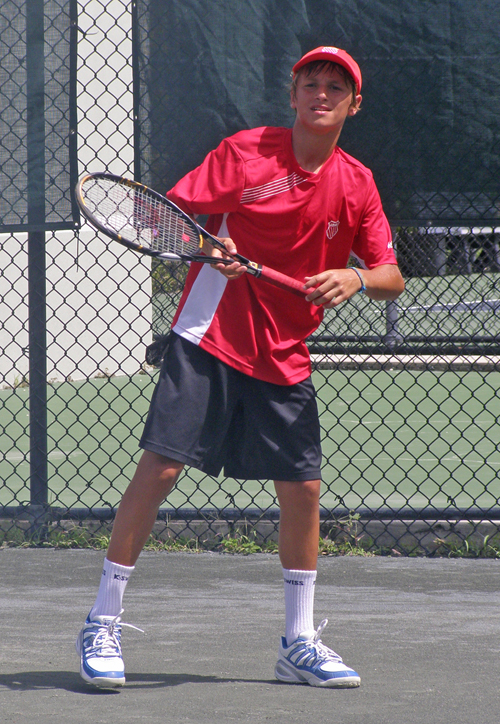 Daniel Kerznerman
Catch all the best tennis games on with great satellite tv service! Don't settle for fuzzy cable tv where you can barely see the ball! Get high def dish cable today!
The best at lower prices
Join SelectVIP today <

Monthly Guides to
College Tennis Planning
Available in Kindle, Print & EBook
for H.S. Seniors
and H.S. Juniors
Monthly Guides to
College Tennis Planning
Available in Kindle & Print
Return to:
College And Junior Tennis