Boys' 18 & 16 - Hosted by The City of Delray Beach, Florida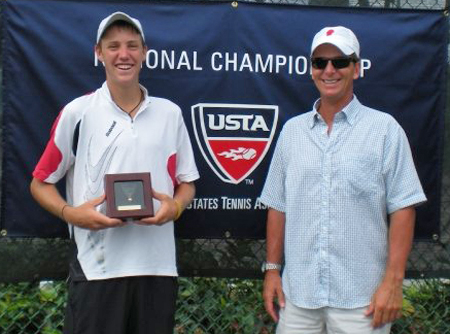 Jack Sock with Coach Mike Wolf (of the Mike Wolf Academy)

Story by Marlena Hall

Eight miraculous days consecrated our clay courts, and sanctified our tournament staff, players, parents and coaches with beautiful weather and brilliant tennis. In return, I report back to you with history made.
No. 2 seed Jack Sock (Lincoln, NE) struck Gold. Actually, he struck two Golds. In his entire junior career, Jack has managed to jack 21 "Balls," and after the '09 Clays, 17 of which are now "Gold Balls." Regardless, I'm in awe. Jack Sock has achieved so much before his 21st birthday. What does he have to look forward to now?
At 9:00am, the crowds rolled in to watch No. 4 seed Sekou Coker Bangoura (Bradenton, FL), who had uproot top-seed Frederick Saba (Ft. Lauderdale, FL) yesterday, to grind it out today against No. 2 seed Jack Sock. The match looked very familiar, somewhat like yesterday's Bangoura vs. Saba semifinal match. It appeared as if today Sock was sockin' it to Bangoura, much like Bangoura was bangin' it to Saba yesterday. For every great chip-and-charge, Sock would make an even greater passing shot. For every big serve, Sock would go 5-10 mph more. Bangoura's timing was just a hair off, and Sock was not going to let his opponent catch up. As the match completed, 6-3,6-2 in Sock's favor, both competitors graciously signed autographs for future national prospects and tended to the media's line-of-questioning.
Upon leaving the star-struck paparazzi, Sock had to re-focus for the doubles finals with his partner, Frederick Saba. Later, Leslie/Reed challenged Sock/Saba but the Fates seemed to predetermine two Balls (Gold & Gold) for Sock, and two (Bronze & Gold) Balls for Saba. You boys are both going home with some solid hardware. Well deserved. Therefore, by unanimous vote, Jack Sock is our Day 8 Boys' 18 Player of the Day & Player of the Tournament.
Following the Boys' 18 singles final, center court was groomed and ready to be dug up again by the Boys' 16 singles final with the No. 1 seed Bjorn Fratangelo (Pittsburgh, PA) and No. 2 seed Jack Withrow (Omaha, NE). But this Nebraskan was not as fortunate as was Boys' 18s Sock. First set was tight and could have gone either way, but finished in 'Frat's favor, 7-6.
Perhaps these eight long, brutally competitive and athletically tolling days just got to be too much for Withrow. On the other hand, perhaps Fratangelo was not going "to suffer the slings and arrows" without taking home the "outrageous fortune" - the Gold Ball. Even in the final game, Fratangelo looked unshakeable-entirely resolved upon being crowned the '09 Boys' 16 "King of Clays." He did his home state of Pennsylvania proud by bringing home a victory, 7-6,6-2. For "taking arms against the opposing sea of 191 troubles, and opposing to end them," we undoubtedly decree Bjorn "Ice Man" Fratangelo as the Boys' 16 Day 8 Player of the Day & Player of the Tournament.
"Nats' at The Beach" moves next to "Nats' at The Zoo." To all clay court competitors, we wish you luck at the hard courts and anticipate we'll hear great things from all of your athletic, academic and extracurricular endeavors. To the Boys' 18 singles champion, Jack Sock, we'll see you next in Delray Beach for the Delray Beach International Tennis Championships (ITC), a $500,000 ATP World Tour Event, February 20-28, 2010.
BOYS' 18 SINGLES
Finals
Jack Sock/Lincoln, Nebraska (2) defeated Sekou Coker Bangoura/Bradenton, FL (4), 6-3,6-2
Third Place Playoff
Frederick Saba/Ft. Lauderdale, FL (1) defeated Christopher Mengel/Pittsburgh, PA (8), 6-3,1-6,6-2
Consolation Finals
Nathan Pasha/Atlanta, GA defeated Blake Davis/Austin, TX, 6-4,6-3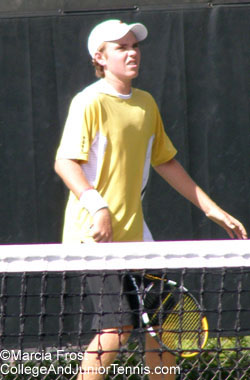 DOUBLES
Finals
Frederick Saba/Jack Sock (1) defeated Zachary Leslie/Anderson Reed, 6-2,7-6
BOYS' 16 SINGLES
Finals
Bjorn Fratangelo/Pittsburgh, PA (1) -- pictured right -- defeated Jackson Withrow/Omaha, NE (2), 7-6,6-2
Third Place Playoff
Alexios Halebian/Glendale, CA (17-32) defeated Morgan Mays/Longboat Key, FL (17-32), 6-2,7-5
Consolation Finals
Hunter Callahan/Lower Gwynedd, PA defeated Hunter Harrington/Spartanburg, SC, 7-6,5-7,6-1
DOUBLES
Finals
Anton Kovrigin/Jason Luu (9) defeated Quoc-Daniel Nguyen (9), 6-3,6-1
Click here for full draws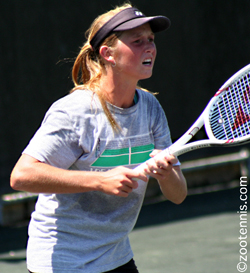 Girls' 18 - Racquet Club of Memphis - Memphis Tennessee
Click here for stories from Zoo Tennis
Finals
Krista Hardebeck/Santa Ana, CA -- pictured right -- defeated Gabriella De Simone/Rancho Santa Fe, CA (17-32), 6-2,6-3
Third Place Playoff
Ellen Tsay/Pleasanton, CA (2) defeated Nida Hamilton/Oak Brook, IL (17-32), 3-6,6-3,6-1
Consolation Finals
Emina Bektas/Indianapolis, IN defeated Danielle Collins/St Petersburg, FL, 6-4,2-6,6-4
DOUBLES
Finals
Kayla Duncan/Allison Falkin defeated Whitney Kay/Ellen Tsay (2), 4-6,6-4,6-3
Click here for full draws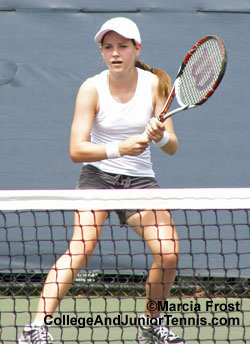 Girls' 16 - Virginia Beach Tennis & Country Club - Virginia Beach, Virginia
Finals
Kyle McPhillips/Willoughby, OH (2) -- pictured right defeated Ashley Dai/Temple City, CA (3), 6-2,6-2
Third Place Playoff
Skylar Morton/Bethesda, MD (10) defeated Amanda Lin/West Chester, OH (17), 6-7(3),7-5,7-6(4)
Consolation Finals
Brooke Austin/Indianapolis, IN defeated Breaunna Addison/Boca Raton, FL, 4-6,6-3,6-3
DOUBLES
Finals
Lindsay Graff/Nicole Robinson defeated Fabiola Chaillo/Spencer Liang 6-3,6-2
Click here for full draws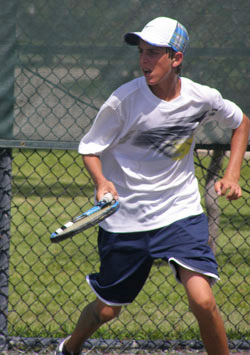 Boys' 14 - Jimmy Evert Tennis Center - Fort Lauderdale, Florida
Finals
Roy Lederman/Golden Beach, FL (19) -- pictured right -- defeated Drew Dawson/Irvine, CA (4), 7-6(3),6-1
Third Place Playoff
Joseph Di Giulio/Newport Beach, CA (2) defeated Jake Albo/Plantation,FL (13), 2-6,7-6(7),6-1
Consolation Finals
Stephen Watson/Orlando, FL defeated Konrad Zieba/Glenview, IL, 2-6,2-1 retired
DOUBLES
Finals
Roy Lederman/Ryan Smith (9-16) defeated Gregory Garcia/Edward Kim (9-16), 6-1,7-6(1)
Click here for full draws
Girls' 14 - Frank Veltri Tennis Center - Plantation, Florida
Finals
Kelsey Laurente/Miramar, FL (3) defeated Gabrielle Andrews/Pomona, CA (7), 3-6,6-3,6-4
Third Place Playoff
Liz Jeukeng/Kansas City, MO defeated Tina Jiang/Somerset, NJ (14), 6-3,6-4
Consolation Finals
Hayley Carter/Hilton Head, SC defeated Samantha Crawford/Tamarac, FL, 7-5,5-7,6-1
DOUBLES
Finals
Kelsey Laurente/Alexandra Morozova (4) defeated Gabrielle Andrews/Christina Makarova (6), 5-7,6-4,6-4
Click here for full draws
Boys' 12 - Spencer Love Tennis Center - Greensboro, North Carolina
Finals
Tommy Paul/Greenville, NC (1) defeated Eduardo Nava/Woodland Hills, CA, 6-3,6-4
Third Place Playoff
Francis Tiafoe/College Park, MD defeated Henrik Wiersholm/Kirkland, WA, 6-4,6-1
Consolation Finals
David Liu/Omaha, NE defeated Yancy Dennis/Reisterstown, MD, 6-4,6-4
DOUBLES
Finals
Tommy Paul/Henrik Wiersholm (1) defeated Ryan Dickerson/Kevin Lam (6), 6-4,6-1
Click here for full draws
Photos courtesy of
Girls' 12 - Polo Club of Boca Raton - Boca Raton, Florida
Finals
Anastasia Nefedova/Palm Harbor, FL (2) defeated Maria Shishkina/Bradenton, FL, 7-6(2),2-6,6-4
Third Place Playoff
Kenadi Hance/Torrance, CA defeated Nicole Frenkel/Winchester, MA, 6-3,6-4
Consolation Finals
Elysse Graci/Ocean Ridge, FL defeated Minami Lam/Whittier, CA, 7-5,6-1
DOUBLES
Finals
Andie Daniell/Kenadi Hance (1) defeated Kellyn Abbanat/Ashley Bongart (16), 6-2,6-1
Click here for full draws
Return to Nationals Index
---
We search millions of flight and hotel combinations, to get the best deals. Yes! Getaways makes booking your next vacation as easy as it can get - BOOK TODAY at Yesgetaways.com!
---

Monthly Guides to
College Tennis Planning
Available in Kindle, Print & EBook
for H.S. Seniors
and H.S. Juniors
---
---
---
---
Monthly Guides to
College Tennis Planning
Available in Kindle & Print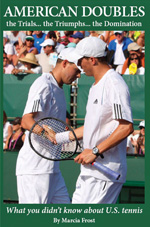 ---
Return to:
College And Junior Tennis