Friday, July 20th-Day Six
Story by Marlena Hall


July is the month of the year that is shaky ground for some tennis players or easy-breezy for others. It's the mesosphere of the earth, the sweetest-part of an Oreo, the hamburger patty betwixt the buns. For the USTA Boys' 18 Clay Court National players, it's the moment all the years of training and competition have led up to, where you can make certain college coaches become your personal reps and persistent paparazzi. Or, it's that month of training to prepare you for your committed collegiate endeavors, without the feelings of: "Who will take me? Does anyone want me? Please?"
For Bradley "Chaka" Klahn (6) (Poway, CA) – - pictured right -- Stanford's 2008 Fall 'Freshie'—this summer's USTA Boys' 18 & 16 Clay Court Nationals hosted by the City of Delray Beach, was not entirely all play and no work. Stanford expects to get what Stanford asks for—and they're asking for the tournament's #6 seed to come into their 2008-2009 team and carry on their tradition of excellence and high-achievement. And from his efforts and success thus far, Klahn isn't looking like he'll be spending too much time on Stanford's bench. On Day 7 of the tournament (July 20th) "Chaka" Klahn hit a high note on Wil Spencer (4) (Ponce de Leon, FL), 6-4,4-6,6-0. Klahn will take on Joey Burkhardt (17) (St. Augustine, FL) tomorrow, July 21st, at 11:45 AM at the Delray Beach Tennis Center on Atlantic Ave. But for Klahn, that First Class passenger taking the 'Cardinal' red-eye for Palo Alto, California, we'd like to award with the Day 7 Boys' 18 Player of the Day!
In tennis, we can break a singles player down single-handedly by his style of play. There are the aggressive baseliners like Sharapova and Agassi, the defensive baseliners like Michael Chang and Arantxa Sánchez Vicario, the serve-and-volleyers like Rafter and Navratilova, and all-court-players like Henin and Federer. In doubles, however, it's more or less straight forward. There are two players on the same side of the court who look to compliment each other—the big server like a Miss Serena Williams to nail a 120 mph first serve, while a net player like Miss Venus will take that next volley and unintentionally tap their opponent in the abdomen.
But more than just synergistic doubles play, there have to be one-quarter "butterflies," one-half "spark," and the other half "va-va-vooom." Much like relationships outside of the tennis court, verbal communication, mental connection, and emotional commendation are the secrets to making a beloved set. However, this article is anything but a Danielle Steel novel and my intentions for these tennis aficionados are purely "noble." In the USTA Boys' 16 Doubles, #2 seeds Ryan Noble (Fayetteville, NC) and James Seal (Chattanooga, TN) (2) put on a show that could only be described as mind-blowing, hair-raising, brain numbing, and visually spectacular, played on court 9, Friday night—July 20th.
From the first point, the high first serve percentages, fluid returns, ungodly eye-to-hand coordination, and ATP-like tactics were a sight to be seen. Many points during the anthological night-match, the tournament director and staff looked at this match and thought: "This is the 16s?!?!" Additionally, memories of nostalgia entered each of their brain waves with thoughts of Knowles and Nestor, Woodbridge and Woodford, and the animated and dynamic Jensen Brothers, back when they played here at the ATP Stadium Courts during Delray Beach's International Tennis Championships. But on Day 7 of the USTA Boys' 18 & 16 Clay Court Nationals, looking down into the lights glowing over Court 9, was similar to peering into a crystal ball, trajecting the panorama for what's to come when the world's #1 Bryan Brothers tear it up on Delray's hallowed courts during the ITC in February (9-17, 2008). And even though Ryan Noble and James Seal kept many of us here passed our bedtimes, their outstanding play and ferocious determination is deserving of Day 7 Boys' 16 Players of the Day!
Matches continue through this weekend, culminating with the semifinals and finals of both the 18's and 16's played at Delray Beach Stadium and Tennis Center to a national television audience. Saturday's matches begin at 8:15AM
Also look for stories & photos on Zoo Tennis.
Monthly Guides to
College Tennis Planning
Available in Kindle & Print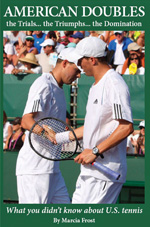 ---
---
Return to:
College And Junior
Tennis Homepage