Monday, August 9, 2004-Day Two
Where there are seeds, there are upsets and there were plenty of upsets today at the Barnes Tennis Center. On the second day of the USTA Girls 16 National Hardcourts the clouds were not just in the sky, but hanging over the top players as they tried to make their way to the third round.
The first top seed to fall today was Cristala Andrews, who was outplayed by Kendra Ivey, a player who has seen the winners circle herself a number of times. The 1-6,6-4,6-1 decision was not a surprise to many. Colleen Rielley, the No. 12 seed, was on a back and forth course through her 6-3,2-6,6-2 loss to Kristen Rafael. The third top 16 player to be eliminated today was Amanda Craddock. The seventh seed was taken in straight sets by Marianna Khachatryan, 6-4,6-4. Amanda Granson (No. 21), Julie Chao (No. 23) and Katarina Reveche (No. 28) also lost today.
Second-seeded Brintney Larson survived a scare today as Virginia Berry pushed her through three sets. The crowd-pleasing stadium match went on for two and a half hours before Brintney pulled it together for a 4-6,6-2,6-1 win. The top-seeded Catherine Newman had a quick entrance to the next round past Lynsey Bochenek, 6-0,6-1.
As the draw progresses the tension is also building. Players, anxious for those important points in this top-level tournament are doing everything possible to keep themselves fit mentally and physically. My favorite of the day was the "I Love Kendra" shirt worn by its namesake. Given the fact that Kendra Ivey defeated the No. 8 seed today, she just may have found the right inspiration!
Until Tomorrow,
Marcia Frost
Click on a photo to enlarge
Cristala Andrews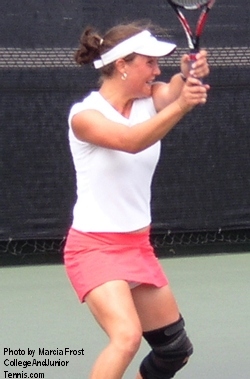 Virginia Berry
Brintney Larson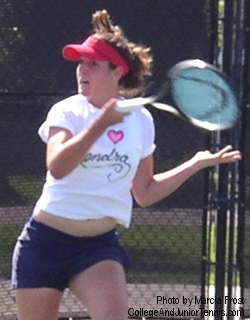 Kendra Ivey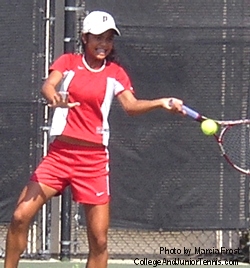 Hilary Barte
Click For More Photos From 8/9
---
---
---
---
---
The Mental Athlete
See A Review
---
Return to:
College And Junior
Tennis Homepage