Tuesday, August 10, 2004-Day Three
The pressure was on today as the third day of the USTA Girls 16 National Hardcourts finished and the top players lived up to their seeding.
Top-seeded Catherine Newman once again had no problems as she took Samantha Galainena, 6-1,6-0. Brintney Larson had another tough day. This time it was Jessica Carter who took the second seed to three sets, but could not hold before dropping, 5-7,7-5,6-3. The same held true for No. 4 Kristen McVitty, who edged by Anna Edelman, 3-6,6-4,6-2. The other tops seeds had no problem, while No. 17 Carolyn McVeigh and No. 31 Cara Gonzales lost their bid for the fourth round.
There were some exciting matches in the back draw today. Cameron Hubbs, the No. 24 seed, sweated through a 7-6(8),5-7,6-4 win over Simone Templeton before losing a tough one to Rebecca Parks, 1-6,6-2,6-4. It took Brooke Bartlett two three-setters to advance. First she had a long one against Lauren Gutterman and then survived a 6-1,6-7(2),6-2 win over Juliana Naso. Seeded players Amanda Craddock, Julie Chao, Colleen Rielley, and Amanda Granson all had an easier time in the Feed-in as they won double matches in straight sets.
Tomorrow we begin the round of 16 as the main draw winds down. The back draw players will once again face two matches -- their last chance of the summer national championships.
Until Tomorrow,
Marcia Frost
Click on a photo to enlarge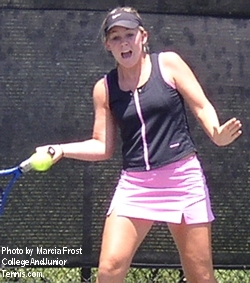 Kristen McVitty
Anna Edelman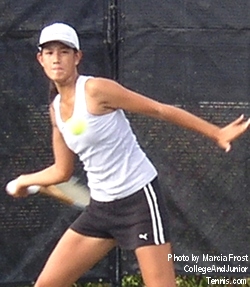 Katarina Reveche
Emily Aston
Click For More Photos From 8/10
---
---
---
---
---
The Mental Athlete
See A Review
---
Return to:
College And Junior
Tennis Homepage