August 12, 2011
Day Seven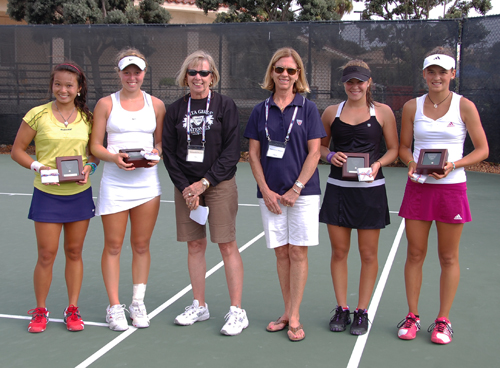 Friday at the Barnes Tennis Center was the beginning of the most exciting time of all as the final rounds of singles began and the doubles trophies came out, at least for the youngest age group of the USTA Girls' 16 & 18 Nationals.
It was a day of unusual matches, starting with the first semifinal in the Girls' 16s. After a close first set between No. 15 Alyssa Smith and No. 14 Dasha Ivanova that went to Alyssa, Dasha switched things up a bit an took the Southern California, native off guard, shutting her out of the second set. It didn't take long for Alyssa to get it back together, though, and she took the third set at 6-1 and earned a place in the finals. That match on Saturday will be played against Peggy Porter. The third seed got by second-seeded Katrine Steffensen (below) in a 7-5,6-3 decision that went on for nearly three hours of long points and games.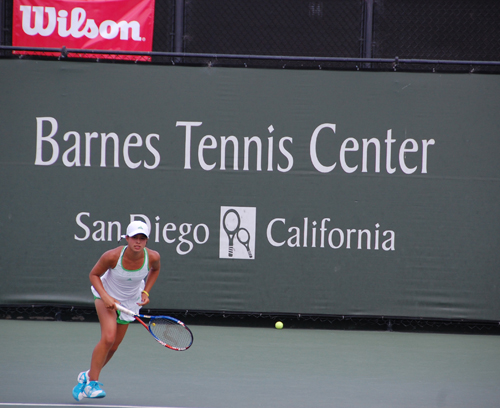 The Girls' 16s doubles finished on Friday with the title and Gold Ball going to second-seeded Mariana Gould and Spencer Liang, who beat No. 3 Dasha Ivanova and Mia King (photo on top of page), 4-6,6-0,6-4, in a great display of doubles. Lauren Marker and Alyssa Smith, the fourth seeds, were the winners of the third place playoff over Yuki Chiang and Alexis Pereira (9-16) (below), 7-5,6-3.
There weren't any real surprises in the results of the Girls' 18 quarterfinals with all of the higher seeds prevailing in straight sets: Lauren Davis (1) defeated Victoria Duval (16), 6-4,6-1; Taylor Townsend (9), beat unseeded Hayley Carter, 6-3,6-3; Nicole Gibbs (4) won over Sachia Vickery (5), 6-3,6-0; and Krista Hardebeck (2) overpowered Robin Anderson (12), 6-1,6-1.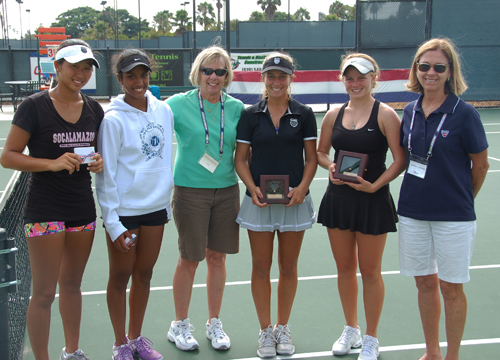 The Girls' 18s doubles final has been settled. After a grueling 5-7,6-4,6-4 battle, unseeded Jennifer Brady and Kendal Woodard, who knocked out the No. 1 seeded Gabrielle Andrews and Taylor Townsend in the third round, advanced to the finals. Their opponents will be the event's second seeds, Samantha Crawford and Madison Keys. The semis were a little easier on Crawford and Keys, who beat Kyle McPhillips and Chanelle Van Nguyen (8), 6-2,6-1.
Kimberly Yee was chosen as the Babalot Player of the Day for Friday. Kimberly was the top seed in the Girls' 16s. After she was upset by Alyssa Smith in the round of 16 in the main draw, she fought her way through the consolation rounds and will now be playing for fifth place. The Molden Family Award for Sportsmanship was also given out on Friday. Recipient Jessica Ho received a Tiffany's bracelet in recognition of her sportsmanship on and off court.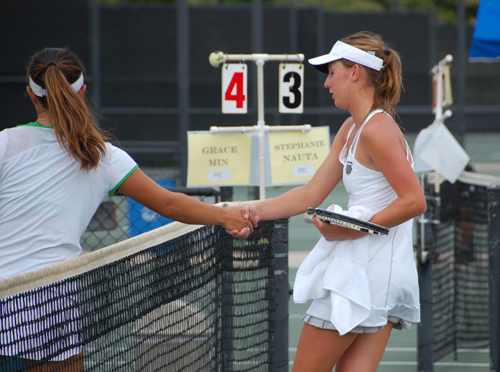 Day seven at the USTA Girls' 16 & 18 Nationals ended with as much excitement as it began as all the girls who made the final eight treated to a spectacular barbecue on the beach at the La Jolla Beach and Tennis Center. It was a chance for the girls to put down their racquets and have some fun, while enjoying a delicious buffet and a stunning sunset. Former touring professional and current USTA National Coach Lori McNeil spoke to the girls about her experiences in junior, college and professional tennis before everyone headed back to the Hilton San Diego Mission Bay , the tournament's host hotel, to get a good night sleep for Super Saturday: Girls' 16s singles final, consolation final and third place playoff; Girls' 18s singles semifinals; and the Girls' 18s doubles final and third place playoff. All matches will be held at the Barnes Tennis Center in San Diego and admission is free.
Until Tomorrow,
Marcia Frost

P.S. I'm putting up photos of players everyday on our Facebook page. Be sure to check out the album labeled Players and tag yourself!
If you are interested in purchasing photographs for personal use from the USTA Girls' 16 & 18 Nationals, contact Marcia@MarciaFrost.com.

click on photo to enlarge
Create an Amazon Wedding Registry

Monthly Guides to
College Tennis Planning
Available in Kindle, Print & EBook
for H.S. Seniors
and H.S. Juniors
Create an Amazon Wedding Registry
Return to:
College And Junior
Tennis Homepage