Monday, July 4, 2005-Day Three
Happy Birthday,
America and
Happy Birthday,
Ester Goldfeld.
Though the now 12 year old (yes, 12 is correct) lost today, she left the draw with as much excitement as she came in with.

Eleven year old Ester had caused quite a stir in the draw at this 16s National Open. After an easy second round win, she eliminated the fourth-seeded Paola Andrea Calderon Omana, 7-5,6-3. Then she dismissed No. 12 Courtney Fenimore, 6-0,7-5.

Today her opponent was Jacqueline Wu -- the No. 1 seed. Jackie, who is only 14 herself, was on her home New Jersey turf and she wasn't going to go down easy. Ester came out with the power and grace she had exhibited throughout this event and easily took the first set, but Jackie recovered and fought back to take the next two sets.

In other quarterfinal action, Shoko Okuda outplayed the thirteenth-seeded Jocelyn FFriend, 6-2,6-3, while Camille Jania easily eliminated No. 3 Marisa Schonfeld, 6-2,6-1. The second seed, Stacey Lee, had no problem against Lauren McHale, 6-2,6-2. The two top-seeds will now face unseeded players for the semis tomorrow.

The boys singles draw was even more unpredictable than the girls. Top-seeded Ryan Lissner had few problems advancing past No. 13 Andrew Culver, but the other quarterfinalists were not so lucky. Eliot Potvin (15) and Sho Matsumoto (11) battled it out to a 4-6,6-3,7-5 decision for Eliot. The sixth-seeded Sean Doerfler couldn't get his game together and Joshua Graves moved on to the semis.

Second-seeded Adam Mihdawy, who until today had only lost ten games, struggled to win a first set (6-4) against Benji Kendall and then succumbed in the second (3-6). He managed to squeak by in the third (6-4), but will need to get it together if he wants a place in the finals.

The one thing that held to perfect form today was the weather -- warm and sunny with low humidity. Though rain is predicted for late Tuesday, players are ready to move on to the final rounds for the National Open at the Atlantic Club in Manasquan, New Jersey and I'll be there to watch.
Until tomorrow,
Marcia Frost

Ryann Cutillo

Courtney Casey

Tyler Anderson

 


Stephanie Zilberman

David Fink

Courtney Fenimore
Click On A Photo To Enlarge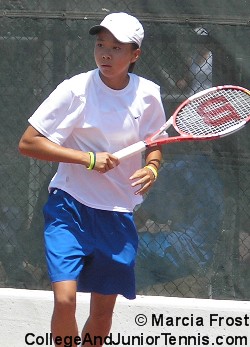 Jacqueline Wu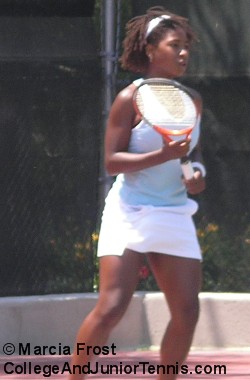 Jocelyn Ffriend
Benji Kendall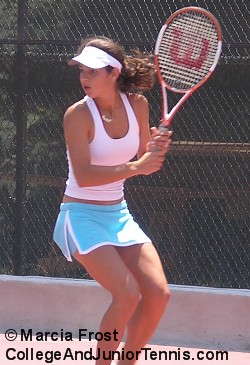 Lauren McHale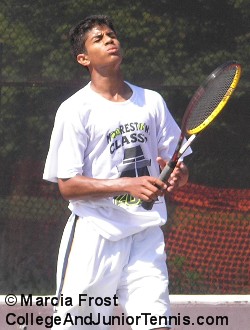 Ravi Yegya Raman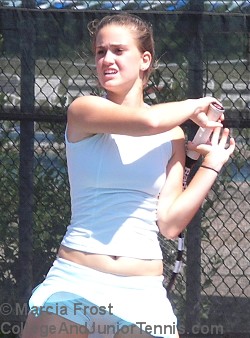 Lauren Greco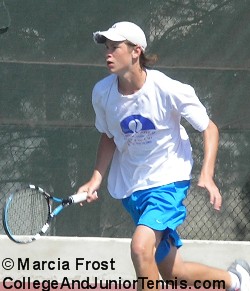 Mieskzo Tomczyk
Elizabeth Adams
Eliot Potvin
Catherine Kellner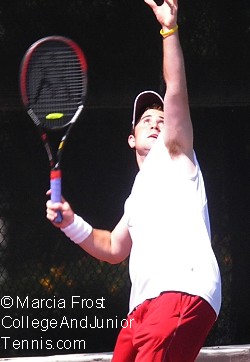 Robert Ferrante
Eunice Lee