2003 USTA NATIONAL OPEN CHAMPIONSHIPS
Roosevelt Island Racquet Club - New York, New York - November 27-December 1, 2003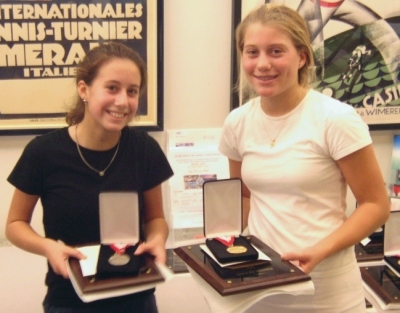 Finalist Jordana Kono & Winner Maria Fuccillo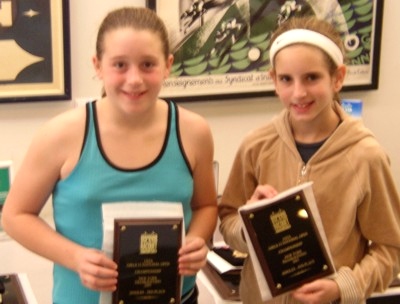 3rd Place Winner Brooke Bolender & 4th Place Finisher Jennifer Kellner
This year Roosevelt Island Racquet Club held the Girls 12 and under division of the National Open Championships. The pressure throughout the tournament was turned up a notch today as the top four finishers were decided.
In the finals, Maria Fuccillo edged out Jordana Kono, 6-3,7-6(4). Third-seeded Jordana, who had survived a tough split-set decision against Brooke Bolender earlier in the day, fought back the No. 1 seed with amazing groundstrokes, but could not get past Maria's fast and accurate serve. The third place playoff was also another exciting match with Brooke squeezing by Jennifer Kellner, 7-5,2-6,10-5 in a crowd-pleasing display of talent.
The change from the 14 and under last year to the 12s this year did not eliminate spectators or players. The event is still a draw to locals looking to check out the future of tennis. I am sure we will be seeing a lot more of these talented teens in the months and years to come.
Marcia Frost
Return To 2003 National Open Index
TENNIS CELEBS
Click For Free Trial
---
---
---
---
Return to:
College And Junior
Tennis Homepage