Tuesday, December 27th-Day One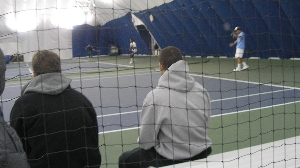 The Men's and Women's National Open Championships at the USTA National Tennis Center is one of my favorite tournaments. With over 200 players from age 14 to 40 there is a unique mixture of juniors, college players and professionals adding up to a lot of excitement.
Despite the temporary "bubbled" courts due to construction, there was great seating for spectators to view the matches. I've got a long two weeks of tournament coverage ahead of me so I know I have to pace myself -- just a few matches a day complete coverage of the finals before I pack for Tucson. Today I decided to check out the men's draw for some college and junior players.
Juniors Brian Wee and Alex Aksanov kept up the long ralleys through three and a half hours. I caught the last hour as the points, the games and the sets were all too close to call. Just when it appeared that Brian had the edge in a third set tiebreaker, Alex came back to take the match, 6-7(4),7-5,7-6(8).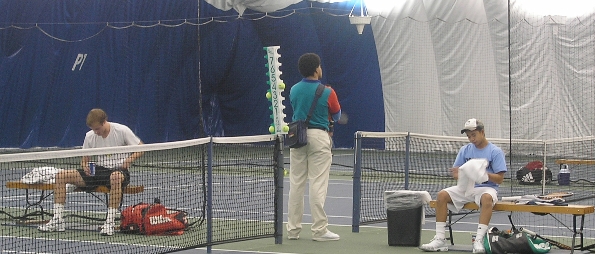 Williams Burns and Columbia University's Mark Clemente (above) put on a great match for the crowd. Though William garned quite a few points on his powerful serve, Mark had more control of the rest of the points and took the first set 6-3. In the second it was not quite the same as Mark made some errors and William took advantage for a 6-3 win, but he got it back together in the third to take the match 6-3.

While the Burns-Clemente match was a good showing of sportsmanship, the next one I saw was not. Local juniors Andre Vorobyov and Alexander Markovich (above) put on the kind of match that I don't enjoy watching. From the first point there were arguments over linecalls, serves and even whether or not someone had called either of those out. A line judge stepped in, but the referee still had to called when the situation became volatile. I have watched and witnessed a lot of matches, but when two very talented players are spending their time and the court arguing, screaming and throwing racquets, it was time for me to leave also.
Seeding in a tournament like this is very difficult when you have players from all different divisions, but tournament directors Bill Mountford and Greg Bolintsky did a pretty accurate job. In the men's singles draw there were no real upsets, with only two top 16 players not advancing in a 256 draw. The second-seeded Eric Scharf, a two-time finalist at this event, withdrew.
The women's singles got a late evening start and I plan to check out the college and junior players in that draw tomorrow. Stacia Fonseca, who has picked up three titles at this tournament in the last two years, withdrew, leaving the draw open for the No. 2 seed -- Orange Bowl finalist Gail Brodsky. The women's draw is much smaller so many didn't have to play today.
Until Tomorrow,
Marcia Frost
---
Return To 2005 National Open Index