Thursday, December 31st-Final Day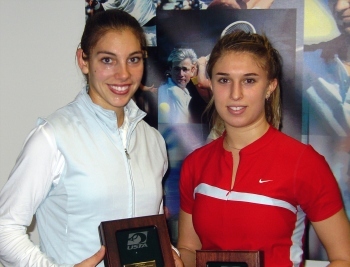 Stacia Fonseca was the star of the day as she added a pair of gold balls to the one she earned here in 2002 for the women's singles title.
After an exhausting day of four matches that included a tough three-setter, Dominique Ligouri could not get her energy back. Stacia Fonseca was all there today as she took control of the women's singles final in much the way she had in 2002. This time the score was 6-0,6-3 and the teen couldn't have been happier. She only relished in the excitement for a brief moment, though, because she still had to go out and earn her second gold ball of the day. This time it was in women's doubles as she teamed with Dartmouth's Megan Zebroski for a 6-2,6-3 defeat of St. John's Allison Adamski and Lauren Leo. Megan was also pulling double duty today as she was in the mixed doubles final with fellow Dartmouth player Logan West. Megan went home with a silver and gold as they lost to Tarrin Dougery and Shibu Lai.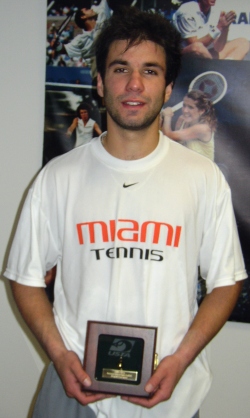 Josh Cohen and Erik Scharf repeated last year's men's final with the same results, but this time it was very hard to believe the 6-2,6-3 score the University of Miami player won with. The two played some of the most incredible points I have ever seen, reaching the unreachable balls and hitting the most amazing shots. The points were long, the games were long and it was just with a little more finesse that Josh pulled out the win.
Harvard's Jonathan Chu and Mark Riddell took the men's doubles championship with a 6-2,6-3 win over Tejeshwara Chigateri and Abhaya Prakash. Third place in the men's doubles went to Keith Kessler of Florida Tech and Michael Racioppo of Quinnipac, last year's finalists, over former junior tennis standouts David Fischbach and Keith Kamborian.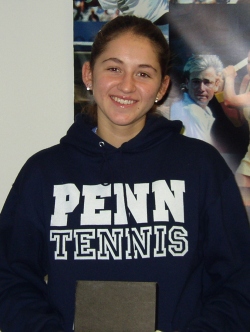 In the singles, both third place playoffs were settled by defaults, leaving Stanford's James Wan and the University of Pennsylvania's Julia Koulbitskaya as the winners.
Each year the Men's and Women's National Open Championships receives more and more entrants of a higher caliber. It is a great showcase for college and junior talent.
Pictured clockwise from above right: Women's Singles Winner Stacia Fonseca & Finalist Dominique Ligouri; Women's Singles 3rd Place Winner Julia Koulbitskaya; Men's Singles Winner Josh Cohen
Until Next Year,
Marcia Frost
---

Men's 3rd Place Singles Winner James Wan

Women's 3rd Place Doubles Winner Lucia Hoffman

Men's Doubles Winners Jonathan Chu & Mark Riddell

Mixed Doubles Winners Tarrin Dougery & Shibu Lai

Men's 3rd Place Doubles Winners Keith Kesller & Michael Racioppo

Men's 4th Place Doubles Winners Keith Kamborian & David Fischbach
Return To 2004 National Open Index