Saturday, March 21, 2009-Final Day
I missed the beginning of the tournament (and all the rain that went with it), but I was at the Copeland-Cox Tennis Center in Mobile, Alabama for the fifth straight year to catch the end of the National Spring Championships.



It doesn't get any better than 60 courts and sunshine in the 70s and that's just what I had for two days of some of the top juniors in the 18s. I arrived on Friday to catch the semifinals in singles and doubles. Though top seeded Ian Chadwell had fallen early in the event, No. 4 Jack Sock (above, right)was in fine form over thirteenth-seeded Sekou Coker-Bangoura as he took out the Floridian, 6-4,6-2. The other semi was a tight contest for Frederick Saba (11) (above, left) and Connor Smith (2) through the first 7-5 set, with very long games, however, Connor couldn't get past a foot injury and retired at 2-1 in the second. And a Frederick Saba-Jack Sock final was set.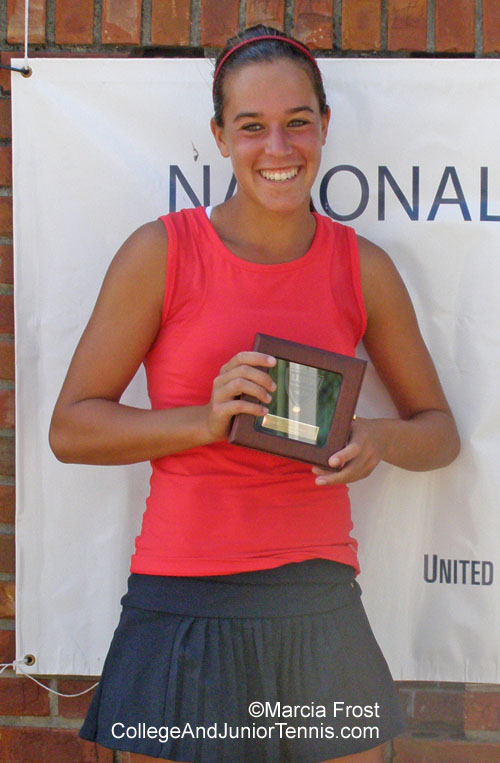 The remaining girls were a quite different group than the boys. The No. 1 seed, Beatrice Capra (right), was not only still in, she had only lost one set the entire tournament (to Lauren Davis in the third round). Joining Beatrice in the semis was three unseeded players who had fought for their places. In the semifinal, Beatrice eliminated one, Mary Clayton, 6-1,6-1. The other girls' semifinal had some good points and close games before Chichi Scholl (below, left) took it 6-3,6-2 over Monica Turewicz.
Maryland native Beatrice Capra proved her top seeding as she defeated her doubles partner in straight sets. There were some long ralleys (and a few moments where an aggressive Chici charged the net and looked like she was ready to take over the match), but Beatrice was in charge until the 6-2,6-2 finish.

There's always a lot of pressure when playing a higher seed. Now multiply that pressure by 14. Fourteen was the number of Gold Balls Jack Sock had before playing at the National Spring Championships. There wasn't going to be another one today (at least not in singles) as Frederick Sabo was just a bit better for his inaugural first place in a national and the second one of the day for Coach Nick Saviano (Beatrice also trains with him. Jack did add to the count when he teamed with Ian Chadwell for the doubles championships over Chris Cha & Lawrence Formentera , 6-3,6-4, sending him home with Gold No. 15 and Silver No. 1, to go with the three Bronzes. It was a great display of doubles by all that the spectators really enjoyoed.
Emina Bektas & Lilly Kimbell (below, right) were the girls doubles winners with a 6-3,6-1 victory over Julie Sabacinski & Britney Sanders. Ester Goldfeld & Ellen Tsay took third place doubles after Beatrice Capra & Chichi Scholl retired with (Ester & Ellen had won the first set 6-2). The boys doubles playoff was an exciting match with the Bronze going to Connor Smith & Spencer Wolf over Christian Schultz & Joshua Tchan.

Monica Turewicz defeated Mary Clayton (below, left), 6-2,6-4, in a match that was a bit closer than that score indicates to take home third place in the girls singles. Mary did go home with plenty, though, as she took the tournament's Sportsmanship Award. The consolation winner in the boys was Christopher Mengel after Spencer Wolf -- the boys' Sportsmanship winner -- was unable to play. There was also no match in the boys third place playoff as Sekou Coker Bangoura went home with a Bronze Ball after Connor Smith's injury.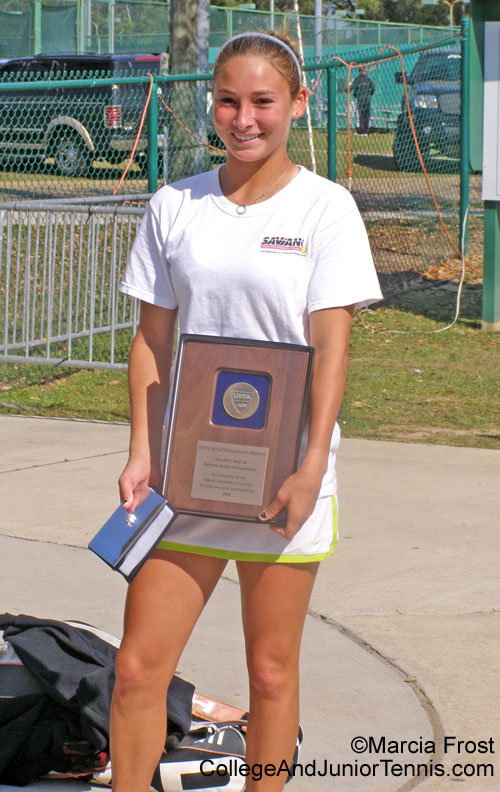 There was a nice crowd (and lots of money raised for a good cause) thanks to the simultanous running of a St. Jude's fundraiser with the Spring Nationals finals. It made for a bit of extra work for tournamnt director and referee Lorraine and Scott Novak, but it was appreciated by all. Add in some perfect weather and Southern Hospitality, and the Spring Nationals in Mobile is still one of my favorites.
Until Next Year,

Marcia Frost
Click Here For Full Draws
Boys' 18
SINGLES
Finals
Frederick Saba (11) defeated Jack Sock (4), 7-5,6-2
Third Place Playoff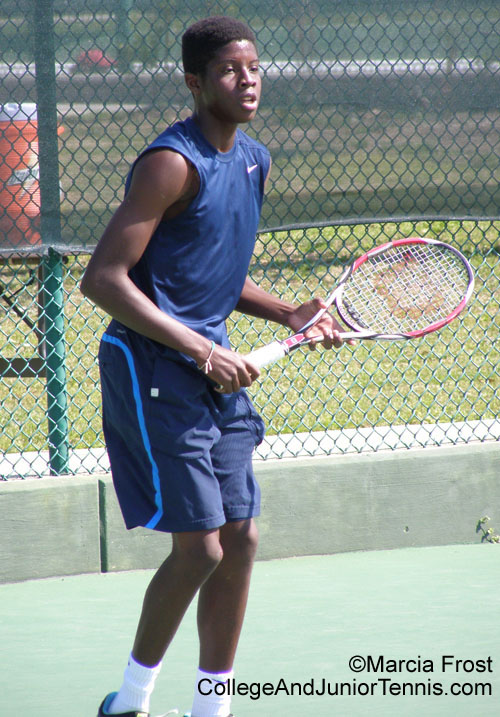 Sekou Coker Bangoura (13) -- pictured above -- over Connor Smith (2), walkover/injured
Semifinals
Jack Sock (4) defeated Sekou Coker Bangoura (13), 6-4,6-2
Frederick Saba (11) defeated Connor Smith (2), 7-5,2-1 retired/injured
Consolation Finals


Christopher Mengel -- pictured above -- over Spenger Wolf, walkover/injured
DOUBLES
Finals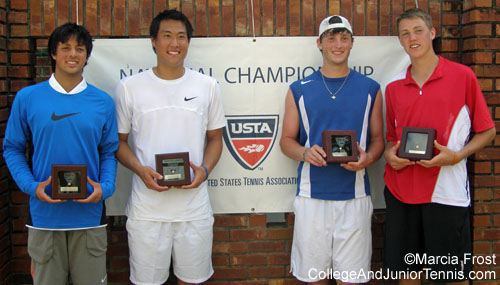 Ian Chadwell/Jack Sock (1) -- pictured above, right -- defeated Lawrence Formentera/Chris Cha -- pictured above, left -- 6-3,6-4
Third Place Playoff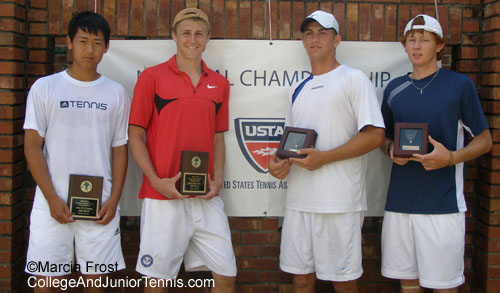 Spencer Wolf/Connor Smith (4) -- pictured above, right -- defeated Joshua Tchan/Christian Schultz (3) -- pictured above, left -- 6-4,6-3
Semifinals
Ian Chadwell/Jack Sock (1) defeated Joshua Tchan/Christian Schultz (3), 6-3,4-6,6-4
Lawrence Formentera/Chris Cha (2) defeated Spencer Wolf/Connor Smith (4), 6-7(2),6-4,6-4
Girls' 18
SINGLES
Finals
Beatrice Capra (1) defeated Chichi Scholl, 6-2,6-2
Third Place Playoff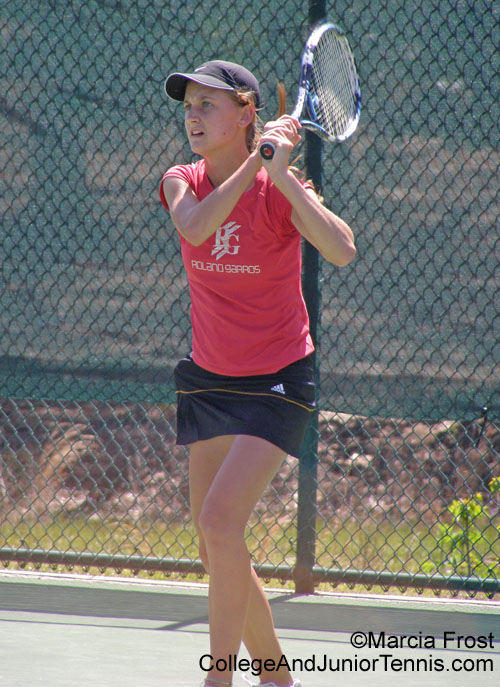 Monica Turewicz -- pictured above -- defeated Mary Clayton, 6-2,6-4
Semifinals
Beatrice Capra (1) defeated Mary Clayton, 6-1,6-1
Chichi Scholl defeated Monica Turewicz, 6-3,6-2
Consolation Finals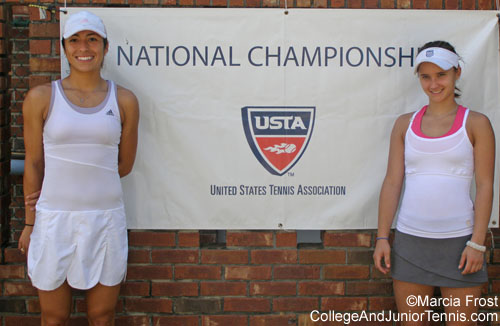 Lauren Davis defeated Stephanie Hoffpauir, 6-1,6-1 -- pictured above, left to right
DOUBLES
Finals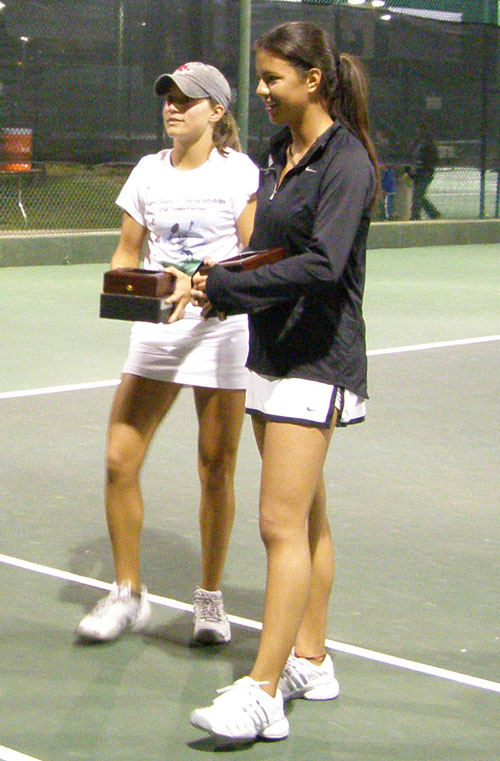 Emina Bektas/Lilly Kimbell (4) defeated Julie Sabacinski/Britney Sanders (9) -- pictured above -- 6-3,6-1
Third Place Playoff


Ester Goldfeld/Ellen Tsay (2) -- pictured above -- defeated Beatrice Capra/Chichi Scholl (5), 6-2, retired/injured
Semifinals
Emina Bektas/Lilly Kimbell (4) defeated Beatrice Capra/Chichi Scholl (5), 4-6,6-1,6-2
Julie Sabacinski/Britney Sanders (9) defeated Ester Goldfeld/Ellen Tsay (2), 6-2,6-1
More Stories & Photos from Zoo Tennis
Return to 2009 Nationals Index