Saturday, March 17, 2007-Final Day



The day was cooler than many liked, but the competition was hot on the final day of the USTA National Spring Championships at the Mobile Tennis Center.
Brennan Boyajian & Dennis Nevolo kept their competition alive throughout the day. In the singles final, it was Brennan's gold ball as the sixth seed proved that he could make the transition into the 18s without a problem and start trying to match the five national titles he picked up in the 16s last year. It was a tight first set with both players staying back and saving their volleying for doubles. There were two breaks, but then they came back on serve and went into a tiebreaker. Dennis pushed it all the way to 8/6 and Brennan took the set. The second set was a bit less eventful at 6-2 for Brennan.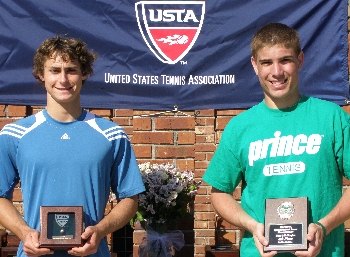 Dennis Nevolo had his revenge with partner Bradley Klahn (playing together for the first time) as they took the doubles first place over Brennan & Zach Hunter. There was some terrific play in the first set, but the second was anticlimatic for a 6-3,6-0 win for Dennis & Bradley.
The doubles third place playoff was actually more exciting than the finals with a 5-7,7-5,6-4 win to Zach Nichols & Jack Seider over Tyler Davis & Eric Quigley. Eric also came in fourth in singles afterWil Spencer (above, right to left) took it, 6-1,6-1. In the singles consolation final, Alex Domijian outplayed Wil Guzick, 6-3,6-0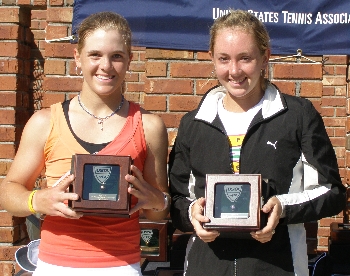 Interestingly, while the boys finalists were 17, the girls were both two years younger. Melanie Oudin (right) continued her domination of the girls singles right through the end. Despite a great effort from fourth-seeded Lauren Embree (far right), who was definitely in the match despite the score, Melanie did not give up a game on her way to the gold ball. Lauren picked up another silver when she teamed with partner Rachel Saiontz for the doubles final and fell to Stacey Lee & Christina McHale. The winning duo had not only never played before, but they weren't even supposed to play this event -- Christina was a last minute replacement when Jacqueline Wu, Stacey's regular partner, pulled out with an injury just after doubles began. The duo came back from a 3-6,1-3 deficet to take the second and third sets 6-4,6-4.
Asia Muhammed appeared to have recovered from Friday's stomach virus as she took third place singles over Alison Riske (left to right) and third place doubles with partner Carolyn McVeigh. The duo defeated Lindsay Clark & Shinann Featherston in a match full of exciting points and a 6-4,7-6 score. Shinann also finished sixth place in singles after she fell to Chelsea Preeg, 6-4,6-0. (A number of coaches also gave Shinann the unofficial award of most hours on the court after days of multiple three-set and three-hour matches.)
Once again, Lorraine & Scott Novak did a terrific job at the Mobile Tennis Center for the USTA National Spring Championships. The only thing I hope they can do better next year is increase the temperatures a bit!
And for some interesting tournament notes... Six players -- Brennan Boyajian, Dennis Nevolo, Eric Quigley, Lauren Embree, Asia Muhammed & Shinann Featherston -- placing in singles also placed in doubles. It seems the USTA's push to get top juniors to play more doubles is working... Alison Riske & Nicolas Meister were the USTA Sportsmanship Award Winners... Who says you can't master all elements? Half of the girls trophies given out on Saturday went to Eastern players (below) who haven't seen outdoor play in quite awhile... And, it took 17 hours from the time I left Mobile, but I did finally make it home to NY!
Until Next Year,
Marcia Frost
Pictured on top: Brennan Boyajian, Zach Hunter, Dennis Nevolo & Bradley Klahn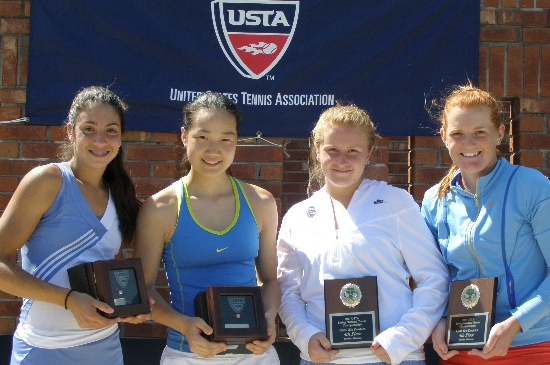 l to r:Christina McHale, Stacey Lee, Shinann Featherston & Lindsay Clark

P.S. For more reporting from the National Spring Championships, check out Colette Lewis' stories & photos at Zoo Tennis.
Boys' 18
SINGLES
Finals
Brennan Boyajian (6) defeated Dennis Nevolo (12), 7-6(6),6-2
Third Place Playoff
Wil Spencer (17-32) defeated Eric Quigley (17-32), 6-1,6-1
Semifinals
Brennan Boyajian (6) defeated Wil Spencer (17-32), 6-4,7-6(0)
Dennis Nevolo (12) defeated Eric Quigley (17-32), 6-2,1-6,6-2
Quarterfinals
Wil Spencer/Ponce De Leon, FL (17-32) defeated Will Guzick/Greer, SC (8), 6-4,6-1
Brennan Boyajian/Weston, FL (6) defeated Nicolas Meister/Trabuco Canyon, CA (4), 6-1,6-2
Eric Quigley/Pewee Valley, KY (17-32) defeated Steve Johnson/Orange, CA (9), 7-6(7),7-5
Dennis Nevolo/Gurnee, IL (12) defeated Alex Domijian/Wesley Chapel, FL (17-32), 6-1,6-4
Consolation Finals
Will Guzick defeated Alex Domijian, 6-3,6-0
DOUBLES
Finals
Bradley Klahn/Dennis Nevolo (2) defeated Brennan Boyajian/Zach Hunter (1), 6-3,6-0
Third Place Playoff
Zach Nichols/Jack Seider (4) defeated Tyler Davis/Eric Quigley (7), 5-7,7-5,6-4
Semifinals
Brennan Boyajian/Zach Hunter (1) defeated Tyler Davis/Eric Quigley (7), 6-3,6-3
Bradley Klahn/Dennis Nevolo (2) defeated Zach Nichols/Jack Seider (4), 7-5,4-6,6-1
Quarterfinals
Brennan Boyajian/Zach Hunter (1) defeated Drew Courtney/Daniel Stahl, 6-4,6-0
Tyler Davis/Eric Quigley (7) defeated Steve Johnson/Andrew Kells (3), 4-6,6-1,6-4
Zach Nichols/Jack Seider (4) defeated Ryan Lipman/Jared Pinsky, 3-6,6-3,7-6(2)
Bradley Klahn/Dennis Nevolo (2) defeated Kayvon Karimi/Jonathan Wolff (8), 6-3,6-2
Girls' 18
SINGLES
Finals
Melanie Oudin (1) defeated Lauren Embree (4), 6-0,6-0
Third Place Playoff
Asia Muhammed (3) defeated Alison Riske (9), 7-6(5),6-4
Semifinals
Melanie Oudin (1) defeated Asia Muhammed (3), 6-0,6-1
Lauren Embree (4) defeated Alison Riske (9), 6-3,6-2
Quarterfinals
Melanie Oudin/Marietta, GA (1) defeated Stacey Lee/Old Westbury, NY (15), 6-2,6-1
Asia Muhammed/Las Vegas, NV (3) defeated Keri Wong/Jackson, MS (7), 7-5,6-0
Lauren Embree/Marco Island, FL (4) defeated Carolyn McVeigh/New Canaan, CT (8), 6-2,6-1
Alison Riske/McMurray, PA (9) defeated Chelsea Preeg/Naples, FL (5), 6-3,6-2
Consolation Finals
Chelsea Preeg defeated Shinann Featherston, 6-4,6-0
DOUBLES
Finals
Stacey Lee/Christina McHale (3) defeated Lauren Embree/Rachel Saiontz (10), 3-6,6-4,6-4
Third Place Playoff
Carolyn McVeigh/Asia Muhammed (5) defeated Lindsay Clark/Shinann Featherston (2), 6-4,7-6(1)
Semifinals
Stacey Lee/Christina McHale (3) defeated Carolyn McVeigh/Asia Muhammed (5), 6-7(5),7-5,6-4
Lauren Embree/Rachel Saiontz (10) defeated Lindsay Clark/Shinann Featherston (2), 2-6,7-5,6-4
Quarterfinals
Carolyn McVeigh/Asia Muhammed (5) defeated Claire Bartlett/Cameron Hubbs (1), 6-1,6-1
Stacey Lee/Christina McHale (3) defeated Lindsay Dvorak/Morgan Frank, 6-4,6-2
Lauren Embree/Rachel Saiontz (10) defeated Anamika Bhargava/Christina Liles (13), 6-2,7-6(3)
Lindsay Clark/Shinann Featherston (2) defeated Leyla Entekhabi/Marisa Lambropoulos, 7-6(4),6-3