Monday, March 10, 2008-Day Two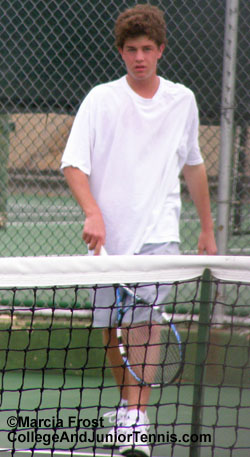 There was a bit of a chill in the air today, but the temperature was starting to heat up on the courts of the Mobile Tennis Center on Day Two of the National Spring Championships for the 18s.
The Mobile Tennis Center is a huge facility with 60 courts, allowing the unique ability to run a tournament of 384 players on time -- with practice courts to spare. It is apparent in the moods of the players and parents as it was the rare person who waited a short time for a court. This, in combination with the facility's no tolerance policy in regard to language on the court, seems to bring the entire mood down to the focus it should be -- junior tennis. And I enjoyed watching lots of tennis today.
The boys started off Monday and my first stop was at Christian Schultz vs. Luke Marchese. The sixteenth-seeded Luke pulled his usual hat-tricks (translation: pulled winners out of his hat) as he warded off a few challenges and took Christian, 6-1,6-3. It was not so clear who the winner would be between Ian Chadwell and Jeffrey Morris. There was ralley after ralley at the baseline as the two traded the first two sets. I missed most of the second and came back to see Jeffrey in control of the third to a 6-1 win for the alpha seed. The score may not have shown it, but Spencer Smith did not easily take out (17-32) Zachary Pine (pictured above). There were some exciting points as the two struggled to Spencer's 6-2,6-2 upset.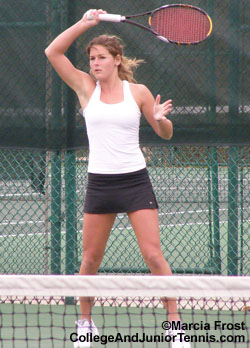 A number of people were talking about the match up between top-seeded Christina McHale and Joanna Mather (pictured left). It started out with some long points, but Joanna, who was not feeling well, fizzled out rather quickly and Christina was nearly flawless to her 6-2,6-2 win. It was a bit tighter between Hillary Davis (17-32) and Mollie Anderson. In fact, after Hillary took the first set 6-1, Mollie started the second with a great game before Hillary was just too good to get past. She couldn't hold it through and the seed took it 6-2.
Kristin Norton had a great win over alpha seed Zoe De Bruycker. There were some hard fought points and Zoe kept the pressure to the end, but Kristin always went one better for her 6-2,6-3.
There were eight 17-32 alphabetical seeds that fell today (three boys and five girls). Other than that, the only other seed to not make it to the third round of singles was No. 8 Elizabeth Epstein, who lost to Courtney Griffith, 7-6(4),6-3.
In boys doubles, seeding held as the only ones that didn't make it through were No. 3 Joey Burkhardt & Ismau Tachibana, losing to Ian Chadwell & Patrick Whiter, 7-6(1),6-4. The girls doubles did not hold to the draw as six unseeded teams are still left in the draw. We'll see what Tuesday brings.
Until Tomorrow,
Marcia Frost
click on a photo to enlarge
Christian Schultz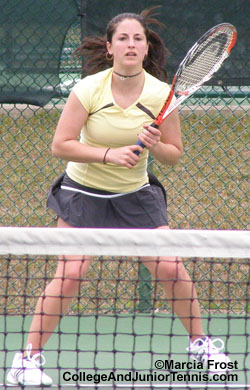 Mollie Anderson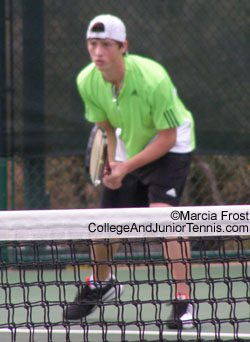 Ian Chadwell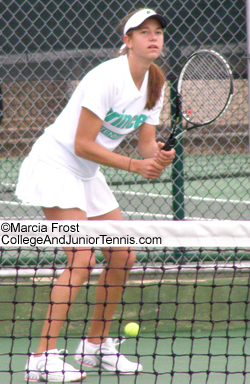 Zoe DeBruycker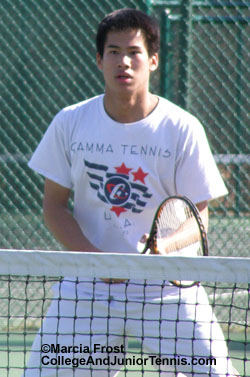 Robert Wong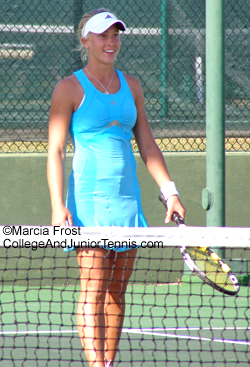 Lauren Herring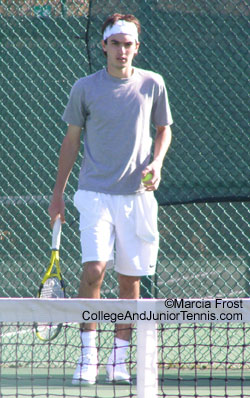 Haig Schneiderman
Caroline Davis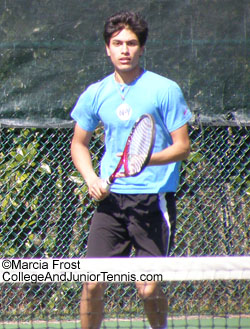 Rajeev Deb-Sen
Join Fabletics & Get
2 Pairs High Quality Leggings for $24







Monthly Guides to
College Tennis Planning
Available in Kindle, Print & EBook
for H.S. Seniors
and H.S. Juniors
>






Create an Amazon Wedding Registry
Return to:
College And Junior Tennis