ROLEX NATIONAL SMALL COLLEGE CHAMPIONSHIPS
Racquet Club of Memphis - Memphis, Tennessee - October 21-25, 1999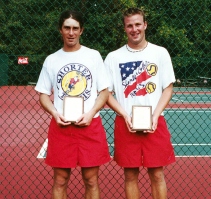 NAIA
MEN'S SINGLES
Finals-Alfonso Honrado (1) defeated Rodrigo Suarez, 6-4,3-6,6-2
Third Place Playoff-Mario Cobo defeated Saif Syed, 6-3,6-0
Fifth Place Playoff-Thiago Rodrigues defeated Dermot O'Grady, 6-2,2-6,6-2
Seventh Place Playoff-Ricky Heath defeated Raphael Maurer, 3-6,6-2,6-3
Semifinals-Alfonso Honrado (1) defeated Saif Syed, 6-2,6-2; Rodrigo Suarez defeated Mario Cobo, 7-6(1),6-4
First Round-Alfonso Honrado/Oklahoma City (1) defeated Dermot O'Grady/Lewis-Clark State, 6-1,6-3; Saif Syed/Graceland defeated Ricky Heath/Cumberland, 6-3,6-2; Mario Cobo/Union defeated Raphael Maurer/Flagler, 6-4,6-2; Rodrigo Suarez/Point Loma Nazarene defeated Thiago Rodrigues/Georgia Southwestern (2) , 6-4,6-1
MEN'S DOUBLES
Finals-Jonas Jarvholm/Juan Pablo Selle (right, Selle left, Jarvholm far right) defeated Ricky Heath/Yew Ming Si, 6-2,7-6(4)
Third Place Playoff-Mario Cobo/Jonathan Labella defeated Saif Syed/Anibal Yamin, 6-2,7-5
Fifth Place Playoff-Marcus Kastel/Dermot O'Grady defeated Patrick Copic/Pedro Custodio, 6-3,6-3
Seventh Place Playoff-Chad Abby/Rodrigo Suarez defeated Chris Snoap/Eric Turnquist, 6-3,4-6,6-4
Semifinals-Jonas Jarvholm/Juan Pablo Selle defeated Saif Syed/Anibal Yamin, 6-1,2-6,6-2; Ricky Heath/Yew Ming Si defeated Mario Cobo/Jonathan Labella (2), 7-5,6-4
First Round-Saif Syed/Anibal Yamin-Graceland defeated Chris Snoap/Eric Turnquist-Flagler (1), 6-3,6-4; Jonas Jarvholm/Juan Pablo Selle-Shorter defeated Marcus Kastel/Dermot O'Grady-Lewis-Clark State, 6-2,6-4; Ricky Heath/Yew Ming Si-Cumberland defeated Patrick Copic/Pedro Custodio-Oklahoma City, 6-2,7-5; Mario Cobo/Jonathan Labella-Union (2) defeated Chad Abby/Rodrigo Suarez-Point Loma Nazarene, 6-3,5-7,7-5; Martin Krebec/Jan Tailan-Ferris State defeated Paul Judd/Peter Lantz-Metro State, 6-3,6-3
WOMEN'S SINGLES
Finals-Li Chen (1) defeated Marjoria Ferrand (2), 6-4,6-1
Third Place Playoff-Kyoko Maebara over Clara Martinez by default (inj.)
Fifth Place Playoff-Delyse Pretorious defeated Yiam-Ling Si, 6-3,3-6,6-3
Seventh Place Playoff-Melissa Martin defeated Christine Dickson, 6-0,7-5
Semifinals-Li Chen (1) defeated Clara Martinez, 6-4,6-3; Marjoria Ferrand (2) defeated Kyoko Maebara, 6-3,6-1
First Round-Li Chen/Oklahoma City (2) defeated Christine Dickson/Lewis-Clark State, 6-0,6-0; Clara Martinez/Union defeated Delyse Pretorious/Flagler, 6-2,6-0; Kyoko Maebara/U.S. International defeated Yiam-Ling Si/Cumberland, 6-3,6-0; Marjoria Ferrand/Brenau (2) defeated Melissa Martin/William Jewell, 6-2,6-0
WOMEN'S DOUBLES
Finals-Li Chen/Marisue Jacutin (1) defeated Shan Liew/Leyla Ogan, 6-2,6-4
Third Place Playoff-Clara Martinez/Sian Olszewski defeated Kyoko Maebara/Rebecca Tornqvist, 6-1,6-2
Fifth Place Playoff-Amy Bogard/Barbel Schoenenberger defeated Stephanie Herbert/Delyse Pretorious, 4-6,7-5,6-3
Seventh Place Playoff-Melissa Martin/Ashley Roussel defeated Sanet Nel/Eleanor Specht, 1-6,6-4,6-4
Semifinals-Li Chen/Marisue Jacutin (1) defeated Clara Martinez/Sian Olszewski, 6-0,6-2; Shan Liew/Leyla Ogan defeated Kyoko Maebara/Rebecca Tornqvist, 6-1,6-1
First Round-Li Chen/Marisue Jacutin-Oklahoma City (1) defeated Melissa Martin/Ashley Roussel-William Jewell, 6-2,6-1; Clara Martinez/Sian Olszewski-Union defeated Amy Bogard/Barbel Schoenenberger-Indiana Southeast, 6-2,6-2; Kyoko Maebara/Rebecca Tornqvist-U.S. International defeated Stephanie Herbert/Delyse Pretorious-Flagler, 1-6,7-5,6-4; Shan Liew/Leyla Ogan-Brenau defeated Sanet Nel/Eleanor Specht (2), Lewis-Clark State, 6-3, 6-2
NJCAA
MEN'S SINGLES
Finals-Mario Toledo (1) -- pictured right -- defeated Jitte Singh (2), 7-5,6-4
Third Place Playoff-Juan Cerda defeated Jorge Gonzalez, 6-4,0-6,6-3
Fifth Place Playoff-Richard Crabtree defeated Victor Camargo, 6-4,1-6,6-2
Seventh Place Playoff-Zane Krog over Bartosz Koldej by default (inj)
Semifinals-Mario Toledo (1) defeated Jorge Gonzalez, 5-7,6-1,6-3; Jitte Singh (2) defeated Juan Cerda, 6-3,5-7,6-4
First Round-Mario Toledo/Georgia Perimeter (1) defeated Victor Camargo/Modesto, 6-2,6-2; Jorge Gonzalez/Jefferson defeated Zane Krog/Seminole State, 6-0,6-0; Juan Cerda/College of the Desert defeated Bartosz Koldej/Georgia Perimeter, 6-3,6-2; Jitte Singh/Tyler (2) defeated Richard Crabtree/Abraham Baldwin, 7-6(4),6-3

MEN'S DOUBLES
Finals-Bartosz Koldej -- pictured left -- /Mario Toledo (1) defeated Martin Johansson/Jesse Plote (2), 6-4,6-3
Third Place Playoff-Maxim Dounaeu/Jitte Singh defeated Richard Crabtree/Juan Spada, 7-5,6-4
Fifth Place Playoff-Juan Cerda/Jason Harman defeated David DeMartino/Arif Hasn, 6-2,6-2
Seventh Place Playoff-Rodrigo Godoy/Taiki Hori over Armando Barbera/Robert Weidl by default (inj)
Semifinals-Bartosz Koldej/Mario Toledo (1) defeated Richard Crabtree/Juan Spada, 6-4,6-2; Martin Johansson/Jesse Plote (2) defeated Maxim Dounaeu/Jitte Singh, 7-6(5),6-2
First Round-Bartosz Koldej/Mario Toledo-Georgia Perimeter (1) defeated Rodrigo Godoy/Taiki Hori-Foothill, 6-3,6-1; Richard Crabtree/Juan Spada-Abraham Baldwin defeated David DeMartino/Arif Hasn-Saddleback, 6-2,6-2; Maxim Dounaeu/Jitte Singh-Tyler defeated Juan Cerda/Jason Harman-College of the Desert, 7-6(3),6-3; Martin Johansson/Jesse Plote-Vincennes (2) defeated Armando Barbera/Robert Weidl-Georgia Perimeter, 6-7(2),6-4,7-6(5)
WOMEN'S SINGLES
Finals-Hanna Kazakevich defeated Milena Stanoytcheva (1), 6-2,6-2
Third Place Playoff-Ann Roslund defeated Suzi Riley, 6-2,6-3
Fifth Place Playoff-Marta Jedrzejak defeated Kathryn Janroe, 6-1,6-3
Seventh Place Playoff-Jennifer Nelson over Jaclynn Wooten by default (inj)
Semifinals-Milena Stanoytcheva (1) defeated Suzi Riley, 6-1,6-2; Hanna Kazakevich defeated Ann Roslund, 6-0,7-5
First Round-Milena Stanoytcheva/Abraham Baldwin (1) defeated Jennifer Nelson/Central Florida, 6-2,6-0; Suzi Riley/Fresno City defeated Kathryn Janroe/Collin County, 6-2,6-3; Ann Roslund/Tyler defeated Marta Jedrzejak/College of the Desert, 6-4,2-6,6-3; Hanna Kazakevich/College of Lake County defeated Jaclynn Wooten/Chatanooga State, 6-0,6-0
WOMEN'S DOUBLES
Finals-Ann Roslund/Marjorie Terburgh (1) defeated Julia Kandeatouskaya/Hanna Kazakevich, 6-3,3-6,7-6(5)
Third Place Playoff-Ani Hodi/Milena Stanoytcheva defeated Angela Melito/Jennifer Nelson, 6-2,6-2
Fifth Place Playoff-Marta Jedrzejak/Nicole Lundgren defeated Sarah Jana/Suzi Riley, 7-6(4),6-1
Seventh Place Playoff-Naila Malti/Isabelle Vannier defeated Shannon Johnson/Amanda Umphrey, 6-3,6-0
Semifinals-Ann Roslund/Marjorie Terburgh (1) defeated Angela Melito/Jennifer Nelson, 6-3,6-1; Julia Kandeatouskaya/Hanna Kazakevich defeated Ani Hodi/Milena Stanoytcheva, 6-2,6-1
First Round-Ann Roslund/Marjorie Terburgh-Tyler defeated Marta Jedrzejak/Nicole Lundgren, College of the Desert, 6-1,6-3; Angela Melito/Jennifer Nelson-Central Florida defeated Shannon Johnson/Amanda Umphrey-Central Alabama, 6-4,6-0; Julia Kandeatouskaya/Hanna Kazakevich-College of Lake County defeated Sarah Jana/Suzi Riley-Fresno City, 6-3,6-2; Ani Hodi/Milena Stanoytcheva-Abraham Baldwin (2) defeated Naila Malti/Isabelle Vannier-Kilgore, 6-0,6-4
SUPER BOWL
Division champions advance to the Super Bowl to determine the overall Rolex Small College champions. The Super Bowl winners earn spots at the 1999 Rolex National Intercollegiate Indoor Championships, to be held in February.

MEN'S SINGLES
Finals-Alfonso Honrado defeated Mario Toledo, 6-1,6-3
Semifinals-Alfonso Honrado/NAIA defeated Christian Witt/NCAA Div II, 6-0,6-2; Mario Toledo/NJCAA defeated Vellu Antilla/NCAA Div III, 6-3,6-1
MEN'S DOUBLES
Finals-Martin Krebec/Jan Talian (shown right with Coach Paul Marcum) defeated Bartosz Koldej/Mario Toledo, 6-2,2-1 ret.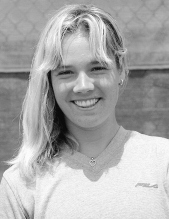 Semifinals-Martin Krebec/Jan Talian-NCAA Div II defeated Jonas Jarvholm/Juan Pablo Selle-NAIA, 6-0,7-6(5); Bartosz Koldej/Mario Toledo-NJCAA defeated Peter Gladkin/Thomas Oechel-NCAA Div III, 7-6(4),1-6,6-2
WOMEN'S SINGLES
Finals-Petra Gaspar (pictured left) defeated Hanna Kazakevich, 6-3,6-2
Semifinals-Petra Gaspar/NCAA Div II defeated Li Chen-NAIA, 6-4,4-6,6-0; Hanna Kazakevich/NJCAA over Lizzie Yasser/NCAA Div III by default
WOMEN'S DOUBLES
Finals-Petra Gaspar/Tagifano Soonalole over Ann Roslund/Marjorie Terburgh by default
Semifinals-Petra Gaspar/Tagifano Soonalole-NCAA Div II defeated Li Chen/Marisue Jacutin-NAIA, 6-0,3-6,6-4; Ann Roslund/Marjorie Terburgh-NJCAA over Amanda Browne/Lizzie Yasser-NCAA Div III by default

---