10th Annual
SMRIKVA BOWL
& 4th Annual Little Mo/Smrikva Bowl
Croatia - June 29-July 3, 2005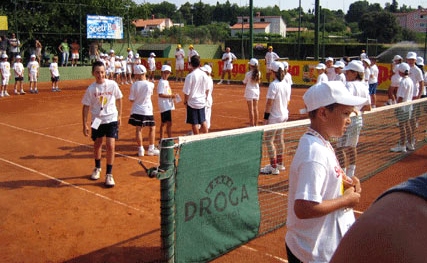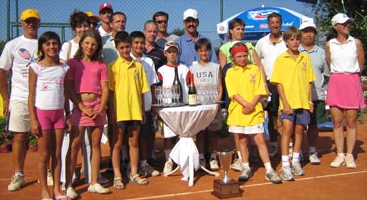 The 10th Annual Smrikva Bowl, held June 29th-July 3rd at the Smrikve Tennis Club in Pula, Croatia, was even larger than last year as 90 boys and girls from around Europe came to compete. The group of players age 10 and under played for the tournament's trademark mountain bike first prizes.
In addition to the Smrikva Bowl events, the tournament teamed with the Maureen Connolly Brinker Foundation of the United States for the fourth year and held the Little Mo/Smrikva Bowl. The participants (pictured right) competed in a team format event which the European Smrikva team won for the fourth consecutive year. This year's competition was a little closer at 5-3.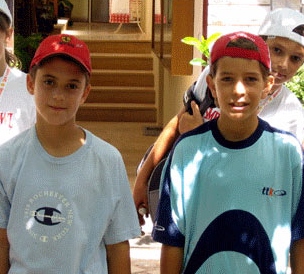 SMRIKVA BOWL
BOYS SINGLES
Finals
Matteo Donati defeated Laszlo Gyore, 6-1,6-1
Semifinals
Matteo Donati defeated Harry Busby, 9-0
Laszlo Gyore defeated Gianluigi Quinzi, 9-2
Quarterfinals
Matteo Donati/Italy defeated Carlos Hergueta/Spain, 9-3
Harry Busby/UK defeated Iustin Baciu/Romania, 9-4
Laszlo Gyore/SiCG defeated Andras Szekely/Romania, 9-2
Gianluigi Quinzi/Italy defeated Fernando Rivas Luque/Spain, 9-2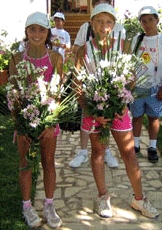 GIRLS SINGLES
Finals
Saska Gavrilovska defeated Olga Yanchuk, 6-0,6-4
Semifinals
Saska Gavrilovska defeated Jasmina Stor, 9-1
Olga Yanchuk defeated Kristina Ostojic, 9-4
Quarterfinals
Saska Gavrilovska/SiCG defeated Karin Kennel/Chile, 9-2
Olga Yanchuk/Ukraine defeated Vladica Babic/SiCG, 9-2
Jasmina Stor/Slovenia defeated Irina Maria Bara/Romania, 9-5
Kristina Ostojic/SiCG defeated Camilla Rosatello/Italy, 9-5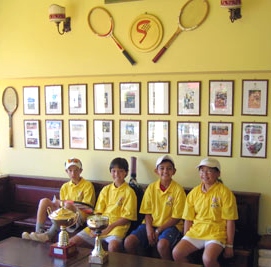 USA Team of Yale Goldberg, Jeffrey Schorsch, Jose Gracia and Dorothy Tang
LITTLE MO/SMRIKVA BOWL
BOYS SINGLES
Matteo Donato (Europe) defeated Jeffrey Schorsch (USA), 6-2,6-4
Jose Gracia (USA) defeated Laszlo Gyore (Europe) 0-6,7-6,10-7
Matteo Donati (Europe) defeated Jose Gracia (USA), 6-2,6-2
Laszlo Gyore (Europe) defeated Jeffrey Schorsch (USA), 6-2,6-3
Yale Goldberg (USA) defeated Gianluigi Quinzi (Europe), 4-6,3-6,10-8
Yale Goldberg (USA) defeated Harry Busby (Europe), 6-1,6-2
GIRLS SINGLES
Saska Gavrilovska (Europe) defeated Dorothy Tang (USA), 6-2,6-1
Olga Yanchuk (Europe) defeated Dorothy Tang (USA), 6-3,6-3
FINAL SCORE: 5, Little Mo 3
---