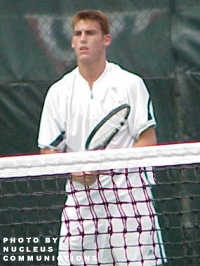 Robby Ginepri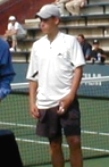 Tres Davis

Marissa Irvin
Andy Roddick
At The Open With Marcia Frost...
Wednesday, August 30th PM-Main Draw, Day Three
USTA Boys' 18 Super National winners Tres Davis & Robby Ginepri had their chance at Flushing Meadow last night and almost took advantage of the opportunity.
After a scoreboard snafu that caused opponents Pablo Albano & Lucas Arnold of Argentina to arrive at the match late, Davis/Ginepri took the court looking understandably nervous. Once they begin hitting winners, however, the nerves settled and the smiles came out.
There were service breaks early in the match -- first by the Argentines, then by the Americans. Every time Davis/Ginepri were up in a game, Albano/Arnold would hit a winner over their heads. Finally, after a tie-breaker that provided them with 5 set points, Davis/Ginepri broke through and won the set, 7-6(10/8)
Set number two was a marathon of deuces and break points. Neither team could finish it up at 3-3 as the game went on and on. After Albano/Arnold finally broke through on the sixth deuce, they dominated the rest of the set and took it 6-3. The third set was all Albano/Arnold, despite starting with a break in serve and 1-0 lead by the younger team. The pros won it, 6-1 and took the match.
After they play the U.S. Open Junior Championships next week, Tres Davis will begin his college tennis career at Texas A&M. Robby Ginepri still has another year of high school left.
Marissa Irvin, who recently decided to leave Stanford to pursue a career in professional tennis, was defeated today by Allison Bradshaw, 6-1,6-1. Bradshaw, who also turned pro this Summer, had often met Irvin on the college tennis circuit while she played for Arizona State. With the exception of today, Bradshaw had only won a one previous meeting.
Top-ranked ITF junior world player Andy Roddick lost his first round match to Alberta Costa of Spain, 6-3,6-7(5),6-1,6-4 last night. Roddick will play the junior tournament next week and says he will be "up to it when it comes around." (see How Can Roddick Play The Juniors?)