Wednesday, August 25th-
Men's & Women's Qualifying, Day Two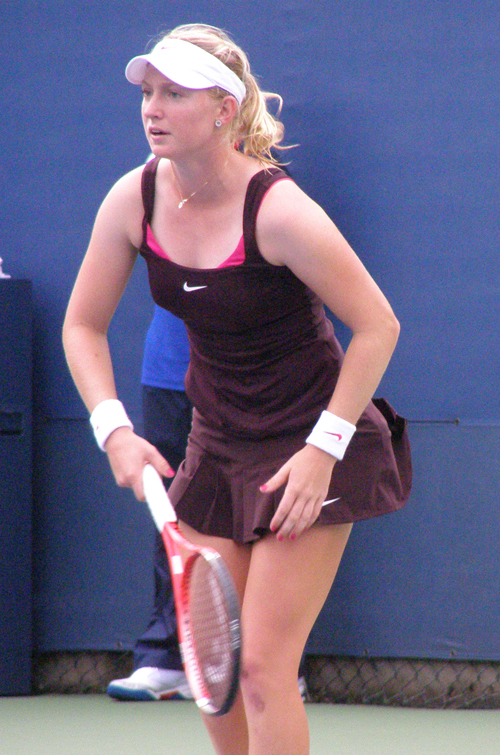 I'm not quite sure why we are all surprised every year when rain disrupts the US Open schedule. The fact is, it rarely doesn't. August and September are unpredictable months in New York. I will never understand why they don't just start the Qualifying event on Monday, or go back to continuing it on Saturday. It will put less pressure on everyone, but we are stuck in this new rut, which isn't as bad as being stuck in a match for three days.

Thursday will be day three for a number of players including Virginia Cavalier Jarere Jenkins, who played one game on Tuesday and two games on Wednesday, and Ohio State Buckeye Chase Buchanan, who was serving for it at 5-2 in the third when rain came Tuesday (he never made it back on court Wednesday). I'm happy to report, however, that the unfinished matches were scheduled for first up Thursday so they can finally get done.

There wasn't much that did finish on rainy Wednesday, with the matches first going on after 4:00 pm. Eighteen year old Julia Boserup (above) did make it on court and had no problem creating an upset in the process. The wildcard defeated No. 8 Andrea Hlavackova of the Czech Republic, 6-3,6-4. I didn't see much of the match, but what I did see showed a confident Julia taking care of business. Also finishing up was Kentucky grad Jesse Witten, who pulled out a 6-4,7-6 over Argentina's Facundo Bagnis. Jesse has had some good runs at the US Open, and this could possibly be another.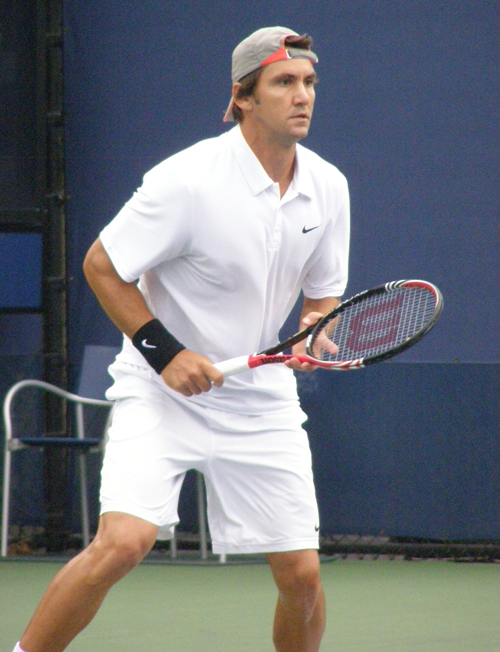 Illini graduate Amer Delic, the 2003 NCAA Champion, fell to another former college player, Michael Yani of Duke. (For more on this and other Big Ten player matches, check out Big Ten Tennis.)
I mentioned yesterday that I ran into some college and junior players I haven't seen in awhile. It was great to say a quick hello to a content Melanie Oudin, who, despite her major success in the last year, always stops to check out junior friends and never refuses to have her picture taken or give an autograph to a fan. I have been a fan of this young lady since I first met her as a 13 year old playing the 16s Nationals. Another player I go way back with was visiting the Open. Shinann Featherston actually played Melanie in the final consolation match of the aforementioned event. She took a different path and is now at the University of North Carolina. She stopped by with former teammate Sanaz Marand, with whom she's been playing some doubles with on the circuit this summer. It was also nice to see some Eastern friends as I don't get to see them much since moving to the Midwest.
As much as I enjoy reunions, I look forward to watching lots of tennis. Thursday's forecast is a dry and sunny one so it looks like I will get my wish.
Until tomorrow,
Marcia Frost


Monthly Guides to
College Tennis Planning
Available in Kindle, Print & EBook
for H.S. Seniors
and H.S. Juniors
---

Return to:
College And Junior Tennis