July 29, 2007-Day Two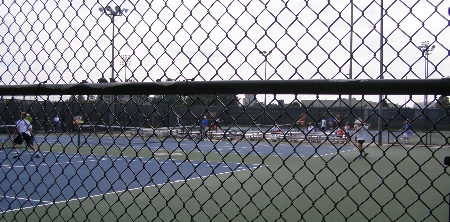 The spectators came -- as did a bit more heat and humidity -- for the second day of the USTA Boys 18 National Championships at the University of Illinois.
There are somedays were a match just stands so far above the rest that it's hard to remember anything else that was even played. Today was one of those days and the match was betwen Midwest's Evan King (below right) and Eastern's Matthew Kandath (below left).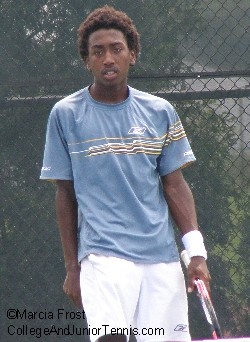 Both Evan King and Matthew Kandath are still playing in 16s, though the level of play certainly didn't show any lack of experience. The two had never played to my knowledge (definitely not this year) and Evan was certainly the front runner since he had already collected numerous National championships and was ranked higher. It seemed that the match would go that way when Evan took the first despite a challenge from Matthew. But that resistance grew stronger as the points got longer and more exciting. Matthew took the second set in a 7/4 tiebreaker and then things really got interesting...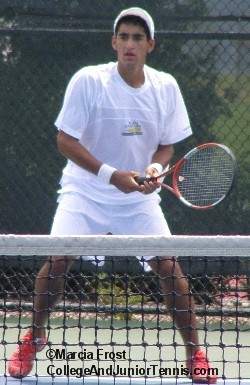 The rule adopted here is that a 10-point matchtiebreaker is played in lieu of a third set once the team has clinched the victory. Midwest had done that before Matthew & Evan's split so they went into the breaker. As the crowd grew, so did the momentum on the court. Matthew had a brief lead at the beginning (5-3), but lost it before it counted. Both players traded winners and match points endlessly as they managed to get to nearly every impossible ball. It continued until the match put Eastern on the scoreboard with Matthew Kandath's incredible hard-fought win, though I could not call Evan King a "loser" after watching.
In addition to Midwest's 6-1 win over Eastern, there were two other main draw matches I caught. (Texas-Florida was played at a different site, with Florida presiding 4-3.) Southern shut out Intermountain, but not without a fight. Jordan Bridge pushed Eric Quigley in one with great points before Eric took it 6-4,5-7,10-8. Also working for his win was Drake Bernstein over Fletcher Keyes, 3-6,6-1,10-2. The final match there was the best -- Bo Seal over Will Vasos in a real battle.
The last match of the day at the Atkins Tennis Center was Southern California vs. Middle States. Based on the split of first sets, I thought the top-seeds were going to have a tough time winning, but the reigning champions pulled through 6-1. The loss was a close one at No. 1 as Casey Watt squeaked by Ryan Thacher, 0-6,7-6(4),10-7.
I am going to do some traveling around on Monday to try to catch a few of the teams that I missed. Wherever I go, I'm sure there will be plenty of heat in Illinois.
Until tomorrow,
Marcia Frost
Stories & Photos from the 2006 Boys 18 National Championships