Thursday, August 1, 2007-Day Three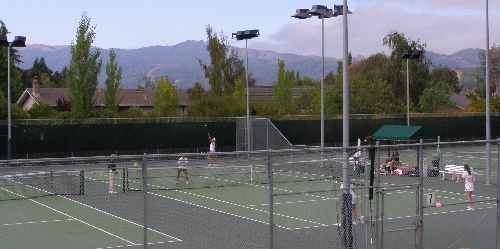 There are many things different at the USTA National Girls' 18 Team Championships from the Boys event -- full third sets instead of tiebreakers when the match is decided, substituting of players throughout the lineup, play of 1-3 and then 4-6 of four teams at the same time -- but one thing that is exactly the same is the tough competition.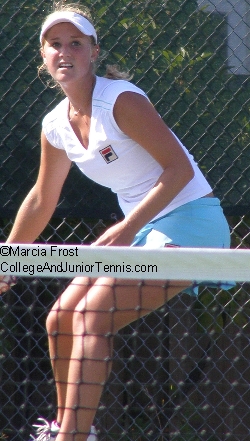 Thursday's semifinals were definitely different. The Southern team is led by Reka Zsilinszka, one of the top juniors in the world who is on her way to play for Duke. They breezed by Florida 6-1. The only tough win for Southern (which I saw a bit of and the score describes it) was Claire Bartlett's 6-2,6-7(4),6-4 over Alex Cercone. The other long match belonged to Florida's sole winner, Maria Belaya, who took out Kathryn Talbert at No. 4, 4-6,6-2,7-6(2).
It was not so easy today for the defending champion Eastern team despite shutting out the doubles point and an early continued lead when Kristie Ahn had a quick 6-2,6-2 victory over Logan Hansen (pictured right) The next point, Shinann Featherston 7-6(2),4-6,6-1 past Alison Ramos, wasn't quick or easy, but it gave Eastern the 3-0 edge. From there the long points, games and three-setters continued.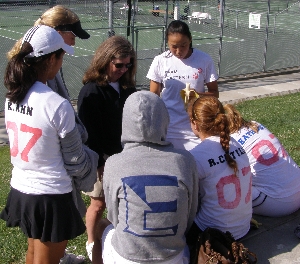 The large lead by Eastern (pictured left) began to disappear. First, Stacey Lee fell in three after dominating the beginning of the match and then Ryann Cutillo would go in a back and forth triple-setter to Thien Trang Nguyen, followed by Stevi Petrelli's fall to Alexandria Walters in straight sets. Suddenly the 3-0 lead was a 3-3 tie and it was all up to Eastern's Hilary Bartlett to get that place in the final over Leyla Entekhabi.
There was a crowd around Court 7 as Hilary & Leyla played out the points with the pressure that was upon them. The first set was Hilary's 6-4, but she couldn't hold in the second and lost it 6-1. The third found her with more control to keep the defending champions alive with her 6-3 set and their 4-3 team win.
I didn't get to see many more matches since the semis ran so long, but I did wander a bit and saw some great competition with the Northern, Southwest, Northeast and Pacific Northwest teams.
It had been a 63 year drought when Eastern won the Championship last year, but they are poised to possibly do it again this year -- if they can get past the talented Southern Six on Friday.
Until Tomorrow,
Marcia Frost
Wednesday, August 1, 2007-Traveling Day

I arrived in California a bit later than expected and made my way over to Meridian Sports Club in Novato. It's a breaktaking site with the courts down below and the mountains in the background. I got to explore and say hello a bit and I'm looking forward to watching lots of tennis on Thursday when the semifinals take place. First up will be Eastern vs. Southern California, followed by Southern vs. Florida. It's going to be an exciting day!
Until Tonorrow,
Marcia Frost