August 5, 2005-Final Day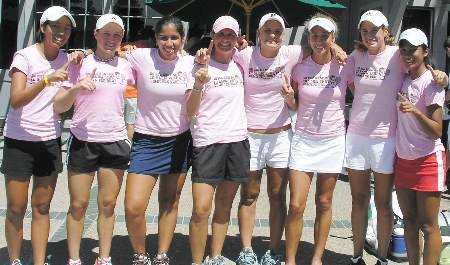 The Winning Texas Team
It may have been sunny and dry, but the temperature soared near triple digits today as the last day of the USTA Junior Fed Cup came to a close at the Blackhawk Country Club. As everyone did their best to find the tiny bits of shade and down countless gallons of water, there was still energy to keep that team spirit going.
Today's final showdown was between No. 3 Texas and No. 6 Midwest. Texas took an early lead by winning the doubles then Taylor Marable got past Sarah Lancaster, in a great match with some incredibly long points, 6-4,7-6, to put Midwest on the scoreboard. Over on the next court it was Kristen vs. Kristen -- Rafael vs. Flower, that is. It was a match that went on for hours and you couldn't even venture a guess who would win it as the points were that close. It was Texas' Kristen Rafael who edged it out, 7-6(4),5-7,6-3.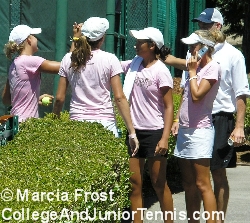 The second group of singles for the championship went out with Texas at a 3-1 lead -- enough to build confidence, but not enough that Midwest couldn't come back. It took Megan Alexander (left) to clinch it as she dominated the sun-drenched center court over Christian Tara, 6-4,6-1. Despite the fact that Texas had captured the title there were still two more matches to finish and two more points for the lone star state. Sanaz Marand quickly got past Katie Potts, however, it was not that simple for Ashley Weinhold. It took Ashley three hours of play to get past Kristy Frilling, 6-7,7-5,6-2.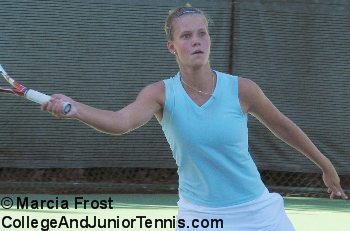 It was a photo finish for the South Draw between my hometown Eastern team and the Mid Atlantic team. After the teams were tied at 3-3, Lauren Cash and Maggie Maceever brought it down to a three-setter as all their teammates watched and cheered. In the end Maggie and the Mid-Atlantic team prevailed.
I have to agree with what many of the girls have told me -- the USTA Junior Fed Cup is certainly one of the best tournaments around. Tournament Director Laurent Lecellier and Referee Pua Johnson did an incredible job keeping everything running on time, while providing the players with drinks, food, snacks and an Awards Banquet to end the event. Most of all, the hospitality of the Blackhawk Country Club, which opened all of its facilities and parking to the players is something I haven't seen much of in recently. I look forward to attending this event again.
Until next year,
Marcia Frost
Story & Photos From August 2nd-Day One
Story & Photos From August 3rd-Day Two
Story & Photos From August 4th-Day Three
Click On A Photo To Enlarge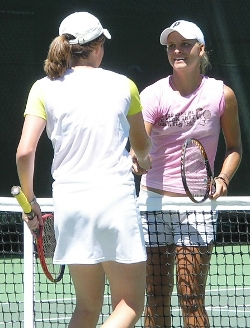 Britt Aspinal
Ashley Weinhold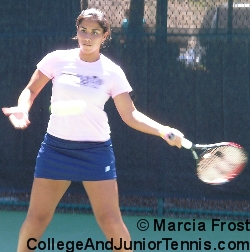 Sanaz Marand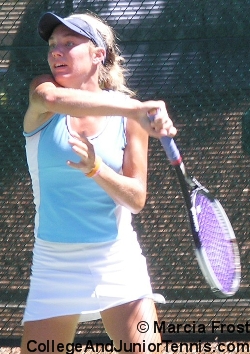 Natalie Kretzer
Monthly Guides to
College Tennis Planning
Available in Kindle & Print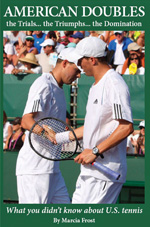 ---
---
---
---
---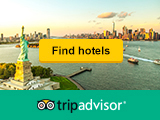 ---
---
Return to:
College And Junior
Tennis Homepage