At Wimbledon With Marcia Frost...
Saturday, June 30th
It was a rain-filled day at the All England Club and the only matches that were completed were those of Maria Sharapova and Amelie Mauresmo -- not exactly on my list of coverage.
For a brief hour, the rain stopped today and the matches resumed. I had a plan to watch the end of the fifth set of the Amer Delic/Bobby Reynolds doubles match, catch some of Rajeev Ram and doubles partner Harel Levy, sit through the end of Scott Lipsky & David Martin's match, and then spend the rest of the day with the juniors. Unfortunately, Mother Nature did not agree with my plan and, for that matter, neither did Amer & Bobby.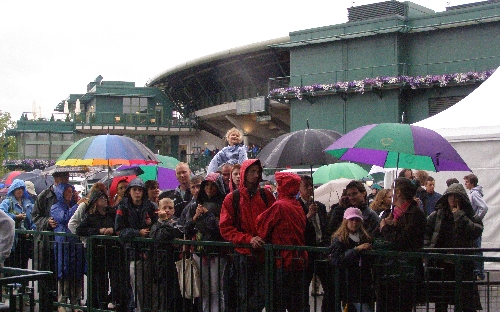 When it was suspended yesterday, Amer Delic & Bobby Reynolds were at 3-3 in the fifth set against Arnaud Clement & Michael Lodra. It was not about to finish any quicker today. There was one match point for the Americans, but it was basically a match that alternated between love service games and multiple deuce battles with no consistency as to what would happen when. Then the rain came. It was slow at first, but that didn't stop Arnaud Clement from asking that play be stopped numerous times. (I think the match could have easily been finished if it wasn't for all the interruption.) Finally the rain really did come down enough to suspend play and the match officially becomes a four-day affair -- beginning on Friday, going to 9-9 on Saturday and then (hopefully!!) finishing on Monday. In the other matches I was hoping to watch, Rajeev Ram & Harel Levy were up 7-6,3-3 against No. 15 Martin Garcia & Sebastian Prieto and Scott Lipsky & David Martin were down 6-7,0-1 to Michael Berrer & Michael Kohlmann.
None of the junior matches even made it to the court today. I went over to the junior lounge for a bit. It was rather crowded, but I did spend a couple minutes each with Melanie Oudin, Gail Brodsky and Donald Young. Though all were frustrated with the rain, they've been through this many times before and have learned to take it in stride. I was surprised how small the lounge was, but very impressed with the "Junior Championship Honor Roll" on the wall.
Tomorrow -- the middle Sunday -- is a day off from play. I'm not sure exactly what people do with "a day off" during a tournament, however, I have a number of people who have offered to show me so I think I'm going to give it a try and see a bit of London!
Until Monday,
Marcia Frost

Story & Photos from June 29th
Story from June 28th
The Official Wimbledon site is one of the best around and also has coverage of the junior events. Be sure to check it out at http://www.Wimbledon.org