Saturday, April 26, 2008-Day Three
It was a different story with the same ending as the Ohio State Buckeyes and the Fighting Illini will once again face each other for the Big Ten Championship title.
The rain was no where in sight Saturday, however, the wind was still howling and play was once again moved indoors. The first semifinal was between the top-seeded Buckeyes and the fourth-seeded Michigan Wolverines. The Buckeyes, whose only loss this season was to Virginia in the finals of the ITA National Team Indoors, took an early lead, winning the first two doubles and the point that came with it, but the singles matches were not quite so easy.
It was a back and forth battle as the first sets were split between the two teams. The first to finish was Buckeye Steven Moneke as he cruised past Andrew Mazlin for Ohio State's second point. It looked to be a shutout as Justin Kronauge did the same at No. 3 to give his team a 3-0 lead, but the sweep stopped there.
Michael Sroczynski and Shuhei Uzawa had played a tight first set that ended with a tiebreak win for the former. In the second, he was in complete control and up 5-0. A medical timeout for Shuhei delayed the end a bit before Michael claimed Michigan's first point. Next it was a race to see who would finish first. The Wolverines were up on two of the three remaining courts, but Ohio State just needed one more point and they got that from Balazs Novak at No. 5, with George Navas two games from a possible finish for Michigan.. And, in the No. 1 position, Matko Maravic of Michigan had cruised past Bryan Koniecko in the first set and was left undecided in the second as the two kept the match even to a tiebreaker.
The match between the Wisconsin Badgers and the Fighting Illini had a lot of similarities with one clear exception -- the Illini were looking for revenge. It was a 5-2 loss to the Badgers last month that had cost the Orange and Blue their second seeding. It was an exciting trio of doubles matches as the first position went to Wisconsin, followed quickly by an Illinois win at No. 2. All eyes focused on the third court as Brandon Davis & Waylon Chin took it in an 8-1 match that was closer than the score indicated.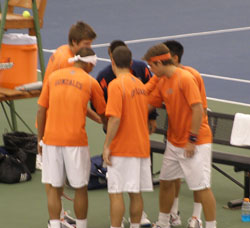 Senior Ryan Rowe was clearly the leader Saturday as he continually screamed "Go Illini" while dismissing Moritz Bauman. That was not the first singles point for Illinois, though, as Roy Kalmanovich had that honor in only his second college tennis match. As the third seeds led with a 3-0 score, the Badgers made it clear they weren't going down easy. In an incredible match, Marek Michalicka gave his team their first point after a first set full of long games and endless points and a second that nearly went the same direction before Marc Spicijaric went down. It was then a matter of No. 4, where Jeremy Sonkin was leading Billy Heiser by one set and one break in the second, Waylon Chin vs. Luke Rassow-Kantor, who had just split at No. 6, or Ruben Gonzales vs. Nolan Poley. It was the latter No. 2 match that garnered the attention as Illini Ruben had won a thrilling first set and was up a break in the second. It wasn't long before he gave his team their fifth straight final against Ohio State.
The history between Ohio State and Illinois runs deep, with the Buckeyes taking the last two Big Ten Championship trophies and the Illini owning the two previous. Sunday's final will no doubt be an exciting one as Brad Dancer looks to get the metal back and Big Ten Coach of the Year Ty Tucker hopes to even the score.
Until tomorrow,
Marcia Frost
Stories & Photos from Day Two
Men's and Women's Big Ten Final Results & Awards
SEMIFINALS

(1) Ohio State 4, (4) Michigan 1
Matko Maravic (M) vs. Bryan Koniecko (OS), 1-6,6-6 Did Not Finish
Justin Kronauge (OS) defeated Jason Jung (M), 6-3,6-0
Steven Moneke (OS) defeated Andrew Mazlin (M), 6-1,6-1
Mike Sroczynski (M) defeated Shuhei Uzawa (OS), 7-6,6-1
Balazs Novak (OS) defeated Chris Madden (M), 6-1,6-3
George Navas (M) vs. Drew Eberly (OS), 6-2,4-3 Did Not Finish
Steven Moneke/Bryan Koniecko (OS) vs. Matko Maravic/Andrew Mazlin (M), 5-5 Did Not Finish
Drew Eberly/Justin Kronauge (OS) defeated No. 30 Mike Sroczynski/Jason Jung (M), 8-4
Matt Allare/Mike O'Connell (OS) defeated George Navas/Chris Madden (M), 8-3

(3) Illinois 4, (2) Wisconsin 1 Ryan Rowe (I) defeated Moritz Baumann (W), 6-2,6-3
Ruben Gonzales (I) defeated Nolan Polley (W), 7-5,6-2
Marek Michalicka (W) defeated Marc Spicijaric (I), 7-5,6-1
Jeremy Sonkin (W) vs. Billy Heiser (I), 6-4,4-2 Did Not Finish
Roy Kalmanovich (I) defeated Felipe Bellido (W), 6-2,6-3
Waylon Chin (I) vs. Luke Rassow-Kantor (W), 5-7,6-2,1-0 Did Not Finish
Nolan Polley/Moritz Baumann (W) defeated Billy Heiser/Ryan Rowe (I), 8-3
Ruben Gonzales/Marc Spicijaric (I) defeated Michael Dierberger/Luke Rassow-Kantor (W), 8-3
Brandon Davis/Waylon Chin (I) defeated Jeremy Sonkin/Marek Michalicka (W), 8-1


We search millions of flight and hotel combinations, to get the best deals. Yes! Getaways makes booking your next vacation as easy as it can get - BOOK TODAY at Yesgetaways.com!
---

Monthly Guides to
College Tennis Planning
Available in Kindle, Print & EBook
for H.S. Seniors
and H.S. Juniors
---
---
---
CHECK OUT OUR
TENNIS BOOKSTORE
---
---
Return to:
College And Junior
Tennis Homepage