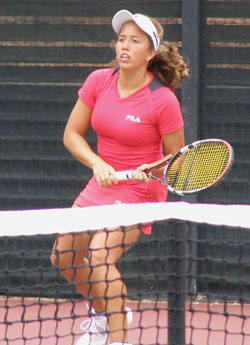 Irina Falconi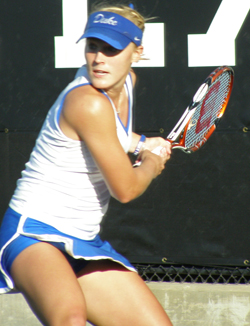 Mallory Cecil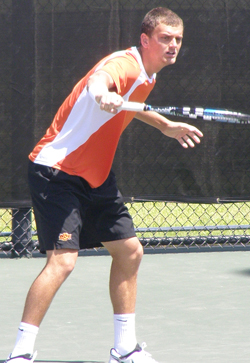 Oleksandr Nedovyesov
The USTA has named three programs in the Chicago area as its latest Regional Training Facilities. The Midtown Tennis Club, Score Fitness and Tennis Club and the CARE Academy, which offers programs at the Lincolnshire and Libertyville Tennis Clubs which are run by Mark Bey.

* * *
Hope College women's coach Karen Page, who had been battling cancer throughout the season, passed away in July.

* * *
Georgia Tech's Irina Falconi defeated Jennifer Elie, 6-0, 6-4, to capture her first professinal title at the 2009 Norman Wilkerson Tennis Experience 10K. Irina was competing as an amateur at the Atlanta event.

* * *
The Maureen Connolly Brinker Foundation announced that the 2009 Little Mo International Championships will be presented by TennisLMS at Club Med Sandpiper in Port Saint Lucie, Florida, December 15-19. The event is open to players from ages 8-11 from around the world. More information is available on the official website.

* * *
Duke's Mallory Cecil and Oklahoma State's Oleksandr Nedovyesov were honored 2009 Campbell/ITA National College Players of the Year by the Campbell Soup Company and the ITA during the Hall of Fame Enshrinement Luncheon of 2009 International Tennis Hall of Fame Induction Ceremony. 2008 Bill Talbert Junior Sportsmanship Awards winners Jeremy Efferding, Ryan Lipman, Ryan Thacher and Gary Wang were also recognized there.

* * *
Tennis greats Andre Agassi and Steffi Graf will headline the 2009 Esurance Tennis Classic, which features some of the world's top players on October 2-4, 2009. This annual fundraiser at the Harbor Point Tennis Club in Mill Valley, California, raises funds for To Celebrate Life Breast Cancer Foundation, Us Too, Prostrate Cancer Education & Support and the Youth Tennis Advantage. The event includes Celebrity pro-am doubles with the Legends and Hollywood stars; the WorldTeamTennis Shoot-Out; the Blue Shield Youth Tennis Advantage Junior Clinic and much more. Tickets are affordably priced at $25 per day for adults (18 yrs +), or a two-day adult pass for $40. Junior tickets are $10 (ages 6-18), kids under 6 are FREE. Discounted group tickets are available. All tickets may be ordered online at http://www.tennisclassic.org/buytickets.htm or through the ticket office at (415) 383-6114.

* * *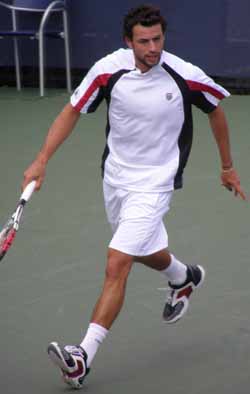 Lester Cook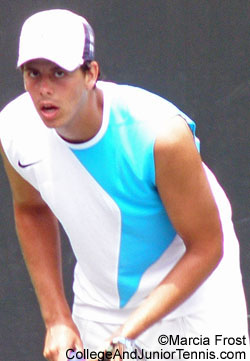 Drew Courtney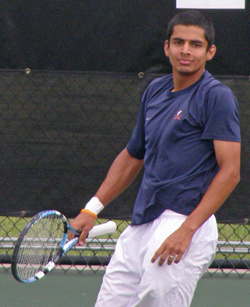 Sanam Singh
Beginning in the fall of 2009, the District of Columbia men's and women's tennis teams will join the East Coast Conference.

* * *
Former Texas A&M standout Lester Cook captured his 11th career USTA Pro Circuit title when he teamed with past Virginia player Treat Huey at the Relyaid $15K Men's Championships in Sacramento, California.

* * *
The University of Virginia ruled the Mid-Atlantic Clay Court Championships with Drew Courtney defeating teammate Sanam Singh for the singles title. In doubles, Sanam teamed with former Cavalier Milo Johnson for to take that trophy.

* * *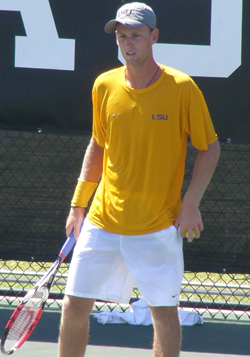 Michael Venus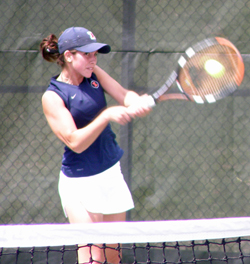 Leigh Finnegan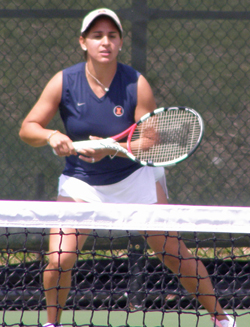 Marissa Lambropoulos
LSU's Michael Venus was the unseeded winner at the $10,000 Peoria Futures.

* * *
The ITA announced that membership will be aligned into 12 new Regions for all NCAA Division I men's and women's tennis programs, beginning with the fall 2009. For nearly 40 years Division I has been divided into only eight regions for the purpose of selection into NCAA championship events. The goal of the realignment, according to the ITA, "is to benefit the student-athlete well being and experience while being sensitive to the economic environment."

* * *
The Fighting Illini swept the ITA Summer Circuit Tournament at Washington University in St. Louis with Leigh Finnegan defeating teammate Marisa Lambropoulos, 4-6,6-1,1-0(7) in the singles and the Orange and Blue duo of Chelcie Abajian & Rachael White winning the doubles event over Marissa & Breanne Smutko.

* * *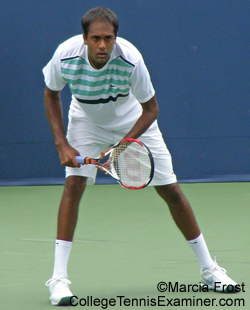 Rajeev Ram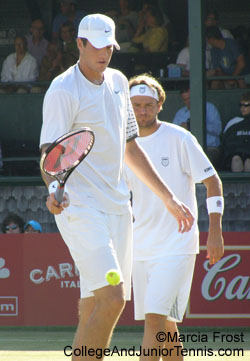 John Isner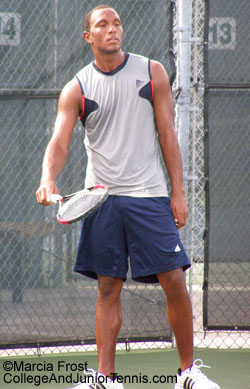 Marcus Fugate
NCAA Doubles champion (Illinois, 2003) Rajeev Ram won his first ATP title at the Campbell's Hall of Fame Tennis Championships. Rajeev had gotten in to the tournament as a lucky loser after Mardy Fish bowed out (to replace Andy Roddick at Davis Cup). He defeated Sam Querrey in the finals, 6-7(3),7-5,6-3.

* * *
In a repeat of the 2007 NCAA Championship -- with a different ending -- former Georgia Bulldog John Isner beat former Virginia Cavalier Somdev Devvarman (3-6,6-4,6-2) at the Kennedy Funding Invitational.

* * *
Former top junior Mathieu Montcourt died suddenly of a heart attack in July. The 24 year old Frenchman had been on the professional circuit since 2002.

* * *
At the $10,000 USTA Pro Circuit in Rochester, hometown favorite Marcus Fugate teamed with Wake Forest's Cory Parr to squeak by Ohio State's Chase Buchanan & Bryan Koniecko, 2-6,6-4,10-8.

* * *
WTT co-founder Billie Jean King presented Kayla Cyr and Heather Welch with the 2009 National Novo Nordisk Donnelly Awards. Both players have Type I Diabetes and will each receive a $5,000 scholarship to be used for education, tennis development and/or medical care.

* * *
Check out the latest schedule of USTA Campus Showdown events for juniors to play on college campuses around the country.

* * *
* * *
Ester Goldfeld
Alison Riske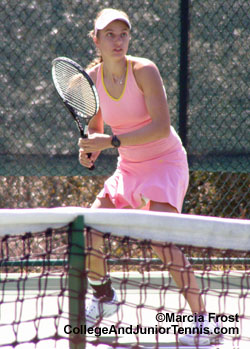 Jacqueline Cako
Former TCU player Macall Harkins garnered her first professional title when she teamed with junior Ester Goldfeld at the Via Christi Women's 10K.

* * *
Two incoming college players teamed to win the doubles championship at the $10,000 Hilton Head Tournament. Alison Riske (Vanderbilt) and Jacqueline Cako (Arizona State) won the event at the Van Der Meer Tennis Center.

* * *
The team that finishes at the top of the World TeamTennis rankings will receive a wildcard into the 2009 U.S. Open Mixed Doubles Championships.

* * *
Coaching Changes: Megan Bradley, who finished the University of Miami and went on to be a professional player and a broadcaster, will be taking over for Kathy Sell at Princeton University... John Roddick is the new men's head coach at the University of Oklahoma... Jeremy Wurtzman, a graduate of Ohio State who was most recently the assistant men's coach there, is taking over as the Denver women's head coach... Tommy Valentini has been named the head men's tennis coach at Gustavus Adolphus College, replacing 39 year coach Steve Wilkinson... Kyle Spencer is leaving the position as Baylor assistant coach to lead he University of Maryland men's tennis program... Illinois Associate Head Coach George Husack is leaving that school to take the same position at the University of Southern California... Former Oklahoma All-American Anda Perianu has been named assistant coach of Baylor's women's team... Central Florida Coach Stephanie Nickitas hired Tony Giannoni as her assistant... Dartmouth women's coach Bob Dallis announced the hiring of Jonathan McLaughlin as his assistant coach.

* * *
The Pac-10 penalzed the UCLA men's program for allowing an ineligible student-athlete to complete during the 2008 season. Because of the decision, The University of Southern California has been declared the 2008 Pac-10 Champion.

* * *
Spring 2009 CJT News
February 2009 CJT News
January 2009 CJT News