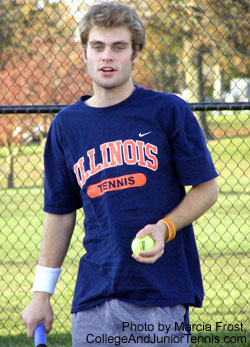 Dennis Nevolo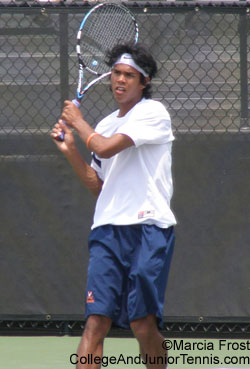 Somdev Devvarman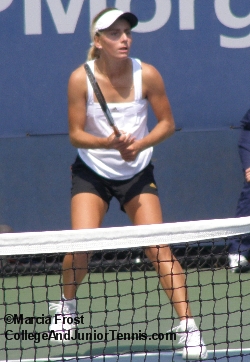 Ksenia Pervak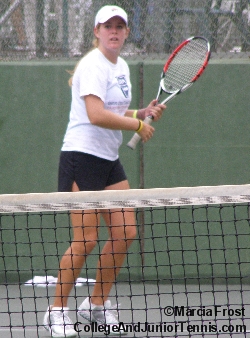 Kayla Duncan
Illinois Dennis Nevolo earned the first Big Ten Player of the Week honors of the year. The freshman had a 6-0 at the University of South Florida Invitational.

* * *
Thirteen year old American Madison Keys was the girls singles winner at the Coffee Bowl in Costa Rica while Venezuelan David Souto swept the boys titles, when he and doubles partner Jesus Bandres took that event. In the girls doubles, Veronica Cepede Royg of Paraguay and Cecilia Costa of Chile were the winners.

* * *
The Chennai Open in India proved to be quite a showcase for former college players. First, two-time NCAA champion Somdev Devvarman upset Carlos Moya. Then the University of Virginia graduate defeated 25th ranked Ivo Karlovic before losing to fifth seeded Rainer Schuettler in the finals. Meanwhile, former college stars Rajeev Ram (Illinois) and Eric Butorac (Gustavus Adolphus) teamed to win the doubles event.

* * *
It was the battle of the Russian "Ksenias" as Kirillova defeated Pervak for the singles trophy at the Loy Yang Power Traralgon International in Australia. France's Julien Obry was the boys winner in singles and doubles with Adrien Puget. Kristina Mladenovic & Silvia Njric were the girls' doubles winners.

* * *
Tennis Agent is a new international message boards for postings (in any language) on job, coach or camp opportunities.

* * *
Former player Sinan Sudas died in a kayak accident. Sinan was a member of the Central Florida men's team from 2004-08.

* * *
TCU freshman Kayla Duncan claimed the Winter Southern Closed Singles Championship with a 6-3,6-4 win over Ariel Caldwell in the finals.

* * *