The Men's & Women's USTA National Open Championships at the National Tennis Center was filled with college tennis players. Among those in the winners circle were University of Miami Freshman Josh Cohen (singles winenr) and Wake Forest players Brett Ross and Andrew Simpson. (doubles winners). For more results, click here

* * *
Simon Rea of Tennessee attempted to win a thrid New Zealand National singles title in a row. Unfortunately, he was stopped in the final by fourth-seeded James Shortall. The senior wants to earn a place on New Zealand's Davis Cup Team.

* * *
Coaching Changes... After a season and a half as head coach at Birmingham-Southern, Michael Metz has returned to Mississippi State as Assistant Men's Coach.

* * *
Information on incoming freshman, transfers and players who have left school for the pro circuit is now in our Status Report section.
---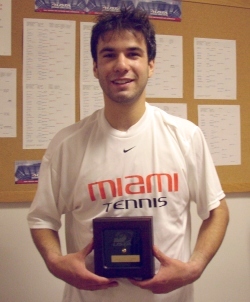 Josh Cohen
Andrew Simpson
& Brett Ross
Create an Amazon Wedding Registry
Return to:
College And Junior
Tennis Homepage