Premiere private co-ed camp on mountain lake setting seeking tennis instructors. Wekeela offers execellent salary packages, top facilities, an international staff consisting of professionals, experienced teachers and collegians, a warm, friendly, professional atmosphere, excellent instruction and a beautiful lakefront setting. Applicants must be college-age and above, be responsible and knowledgeable, and have a strong desire to work with children. Apply online at http://www.campwekeela.com or e-mail campwekeela@aol.com. Dates: June 18-August 21. Have a summer of a lifetime in beautiful Maine!
---
The BYU-Hawaii women have broken their own record of 103 consecutive dual match wins. As of March 8, 2005, they have completed their 108th win. The Seasiders have achieved an incredible 207-1 record since they began NCAA II play in 1998.

* * *
American University is the latest to announce they are dropping their tennis programs. Since 2002 the men's team has won the Patriot League Title every year and the women have won two out of three. Both programs have also received academic accolades. Send letters in support of keeping this program to: Dr. Benjamin Ladner-President, president@american.edu or Dr. Joni Comstock-Director of Athletics, comstock@american.edu.

* * *
A fire destroyed the tennis offices at Barton College. The damage destroyed equipment, stringing capabilities, uniforms and NCAA memorabilia and awards. The teams are in need of: Grips, String, a Stringing Machine, Balls for Practice and racquets-including any Wilson 5.2 oversized hyper-carbon frames and Head Satellite Tour 95. All inqiuiries regarding support should be directed to: Carolyn Brown, Vice President for Institutional Advancement, Barton College, P.O. Box 5000, Wilson, NC 27893, (252) 399-6367 or ehbrown@barton.edu.

* * *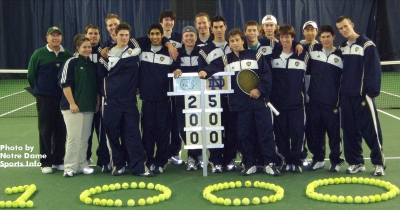 The Notre Dame men (shown above) became just the sixth Division I school to achieve a 1,000th all-time victories in men's tennis.

* * *
---
If you have information for Campus Notes
Contact us:E-Mail: Marcia@MarciaFrost.com
FAX: 516-883-5241
Join Fabletics & Get
2 Pairs High Quality Leggings for $24
























Return to:
College And Junior
Tennis Homepage